Vermont 50 Mile Trail Race 2004
| | |
| --- | --- |
| | 50 Mile trail Race / 50K trail race / 50 mile Mountain bike trail race |
| | 8700ft Ascent (+ 8700ft decent) |
| | 26th September 2004 |
| | Ascutney Mountain Resort, Brownsville Vermont, USA |
| | |
This race is primarily a 50 mile mountain bike event which is open to runners either running the full 50 miles or choosing the shorter 50K route with a cut off time of 12 hours for the course.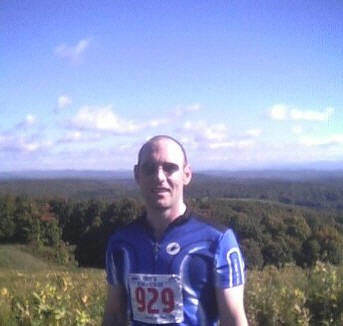 The terrain was predominantly off road with 2 miles being tarmac, 25 miles being dirt trails, 15 miles being single track and the remainder being dirt roads. The scenery in Vermont is mountains covered in wild forests which are turning to Autumn colours in September and October... extremely beautiful scenery :-)
After the Reach the Beach relay the week before which had torrential rain from the remnants of hurricane passing through, this weekend was clear blue skies and 75 degrees temperature with light winds. We had to register on the 25th and that is when we were given the course maps... as there were 700 mountain bikers doing the route before the hundred 50 mile runners, the navigation was follow the extremely well marked course and the tracks of the bikes.
The Mountain bikers left in waves starting at 6:15 and after the 3rd wave, all the 50 mile and the 50K runners started their run leaving promptly at 6:42am just as dawn had broke enough to see without a torch.
I ran the first 4 miles to check point 1 at a good comfortable pace but decided as I had only competed in the Reach Beach relay the previous weekend and less than 40 miles per week training that I would stick to my predefined schedule of completing the first 25 miles n 4H30 and then coasting home to finish inside 12 hour cut off time and let dozens of runners pass during the next 10 miles.
The scenery in the woods was magic as the vivid bright leaves were dropping to the ground and the sunlight was illuminating them through the tree tops creating a dazzling sparkling carpet to run on and through :-)
When the trails broke from the trees the views were out over the rest of the hills and mountains which were shimmering in their newly arriving autumn colours.
After deciding to walk up the hills and jog the flat and down hills I was pleased to pass through the 26 mile checkpoint in 4H 40 minutes, exactly on my predetermined schedule with very little / no stiffness or aches just the memories of hills and trails and the knowledge that the next checkpoint was 32 miles into the race where the 50K runners rejoin our route.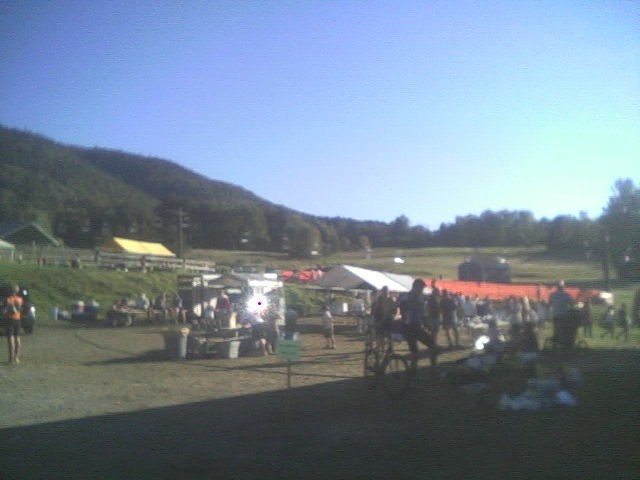 After just a couple of miles we had caught up with some slow mountain bikers and by 32 miles there were many bikers who could not climb the hills either pushing bikes up or pedalling so slow that I was walking faster than they could pedal... Never seen such a thing before.. quite mad really :-)
Walking up hills and running down the trails, the downs were short and sweet and the climbs took forever.... but after the 20 mile stage I never overtook a runner nor was I overtaken by any and walked / ran through to the finish in 9H 55 Mins 26 Seconds to finish in 30th place. If had more confidence at the start I would have definitely set the threshold higher and run much harder for the first 30 miles.... but without knowing the course or having run an ultra for a whole year, I was and am very happy to have had a strong enjoyable experience in awesome countryside keeoing some mountain bikers company on the many many hills :-)