Vermont 50 Mile Trail Race 2014
| | |
| --- | --- |
| | 50 Mile trail Race / 50K trail race / 50 mile Mountain bike trail race |
| | 5500ft Ascent (+ 5500ft decent) |
| | 28th September 2014 |
| | Ascutney Mountain Resort, Brownsville Vermont, USA |
| | |
| | Place Div Div Time Pace Name Ag G Race# City/state |
177 48 M4049 11:42:21 14:03 Colin Evans 43 M 1055 West Boylston MA
After not doing any triathlon or running events for over 18 month and with just limited training and carrying 15 pounds of unwanted weight... decided I would do the event 10 years after completing the course in 2004.
Goal if all went well was to beat the previous time.. but realistically.. to finish was the main priority.
This race is primarily a 50 mile mountain bike event which is open to runners either running the full 50 miles or choosing the shorter 50K route with a cut off time of 12 hours for the course. After weeks of cold weather and running 12.8 mile loop 4 to 6 days a week... race day started foggy and then clear blue sky.. no wind and temps up to 84 degrees.
Ran the first 12.5 miles in 2H in the fog... and then it was all sun.... and at mile 19 pouring sweat as get top of hill and no water left in bottle... realized no way can keep that pace up in the sun. as expected left calf cramped up solid after jarring on a root... and took 4 miles of walking to get to point where can shuffle downhill.. then a few more miles to get to point where can shuffle on flat and downhill.
But thankfully I did manage to shuffle and was able to complete the course in 11H 40m with no blisters or adverse effects..... walked the last 10 miles watching clock to make sure finish within the 12 hour cut off :-)
Chance came with me on the trip, we camped at the race site and she met me at the 3 support access points. Was happy that she broke down the camp before I finished so we were able to go straight home :-)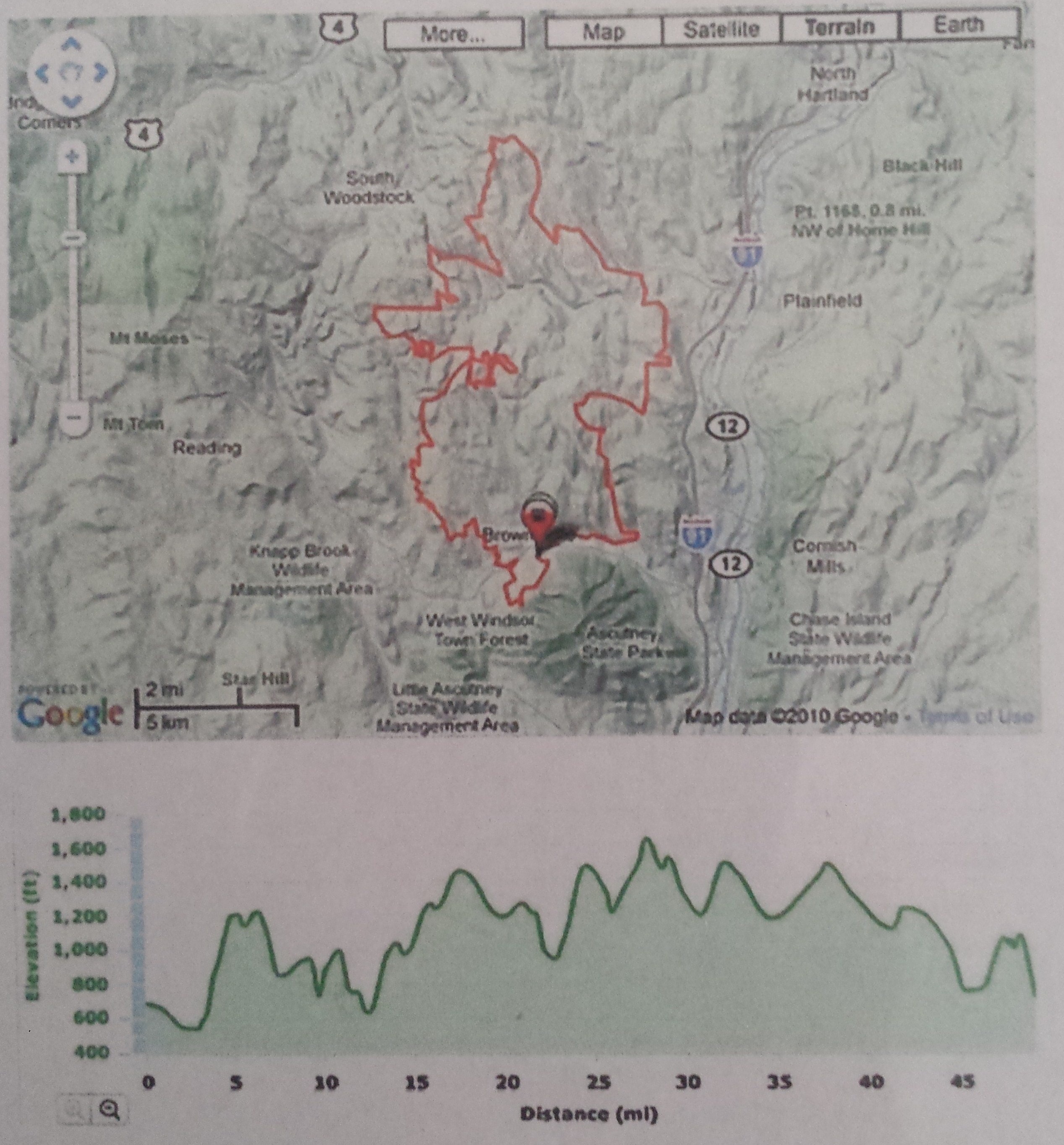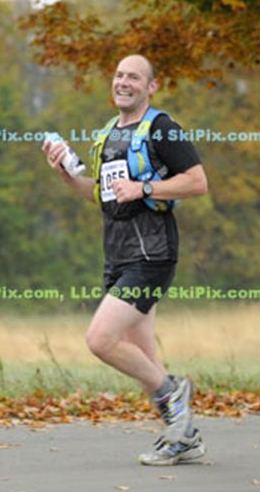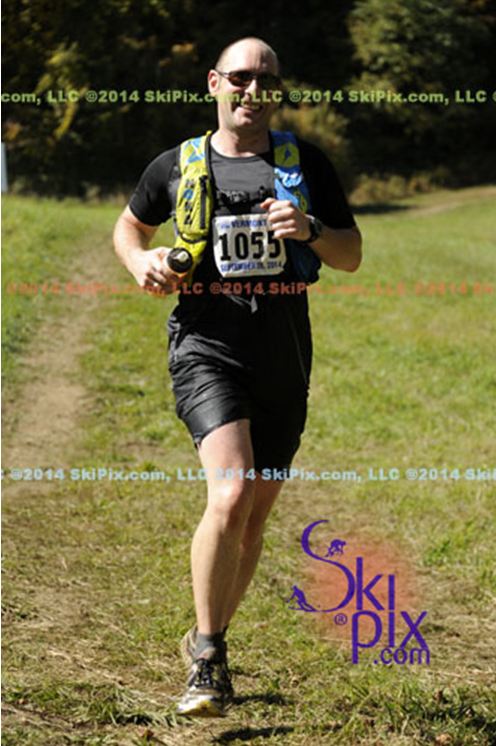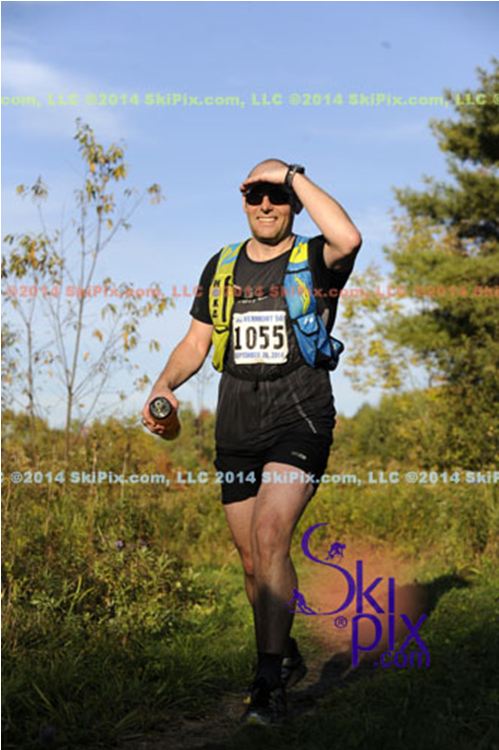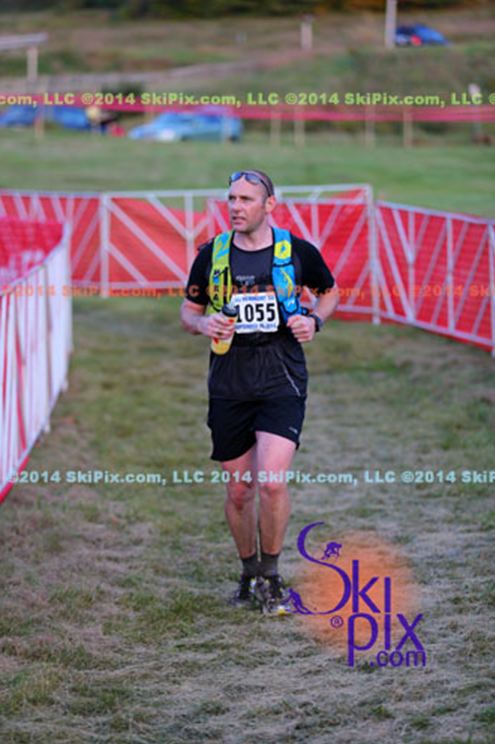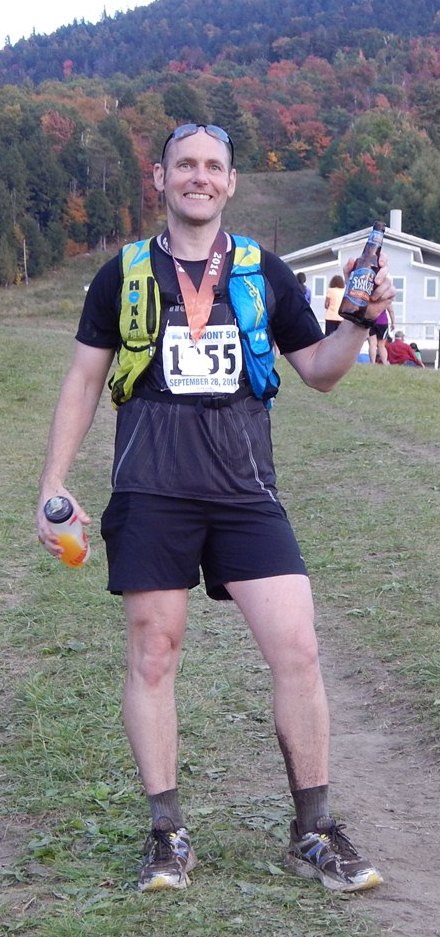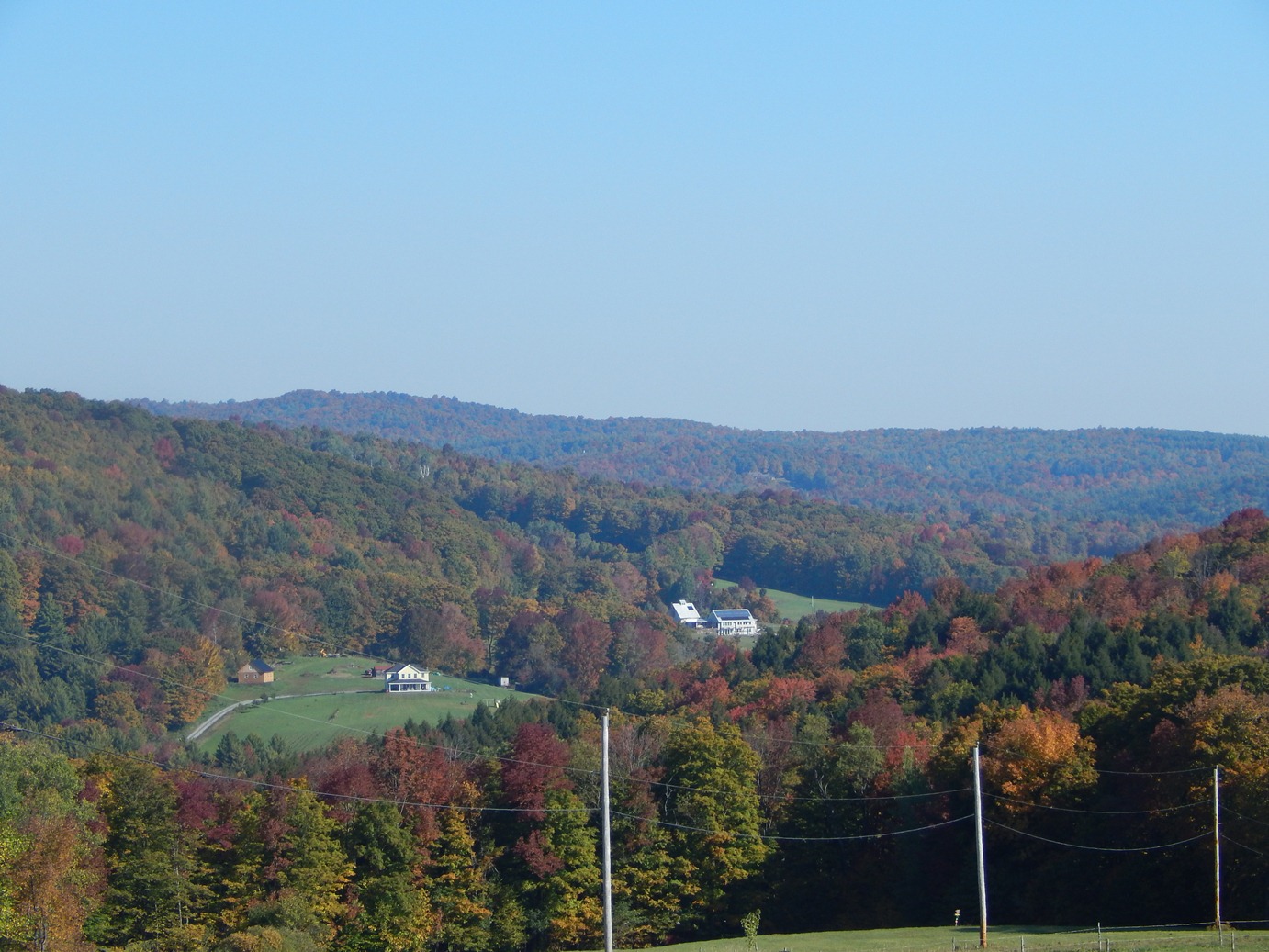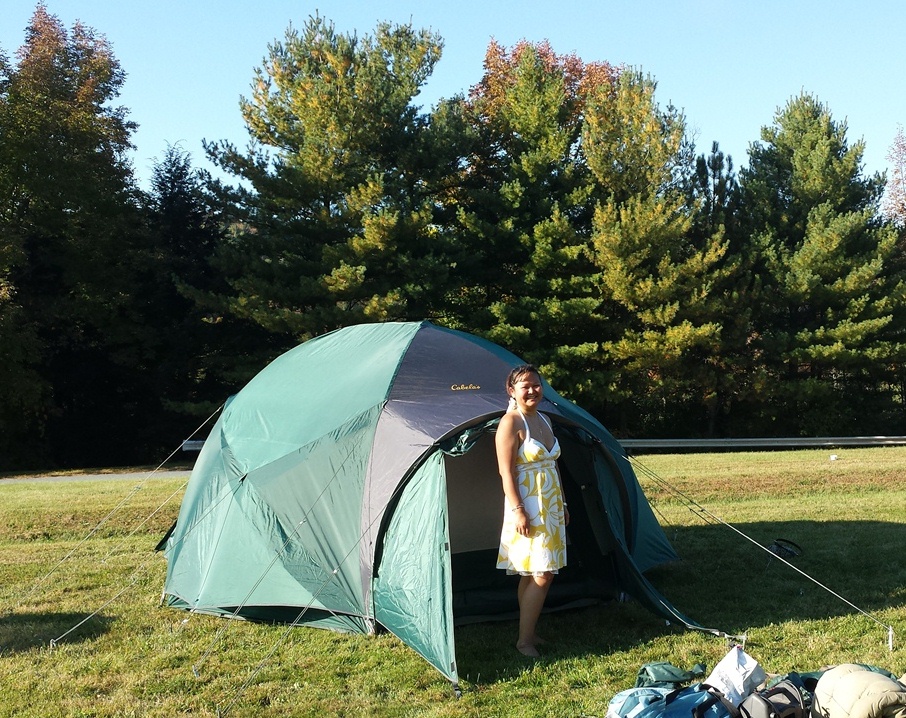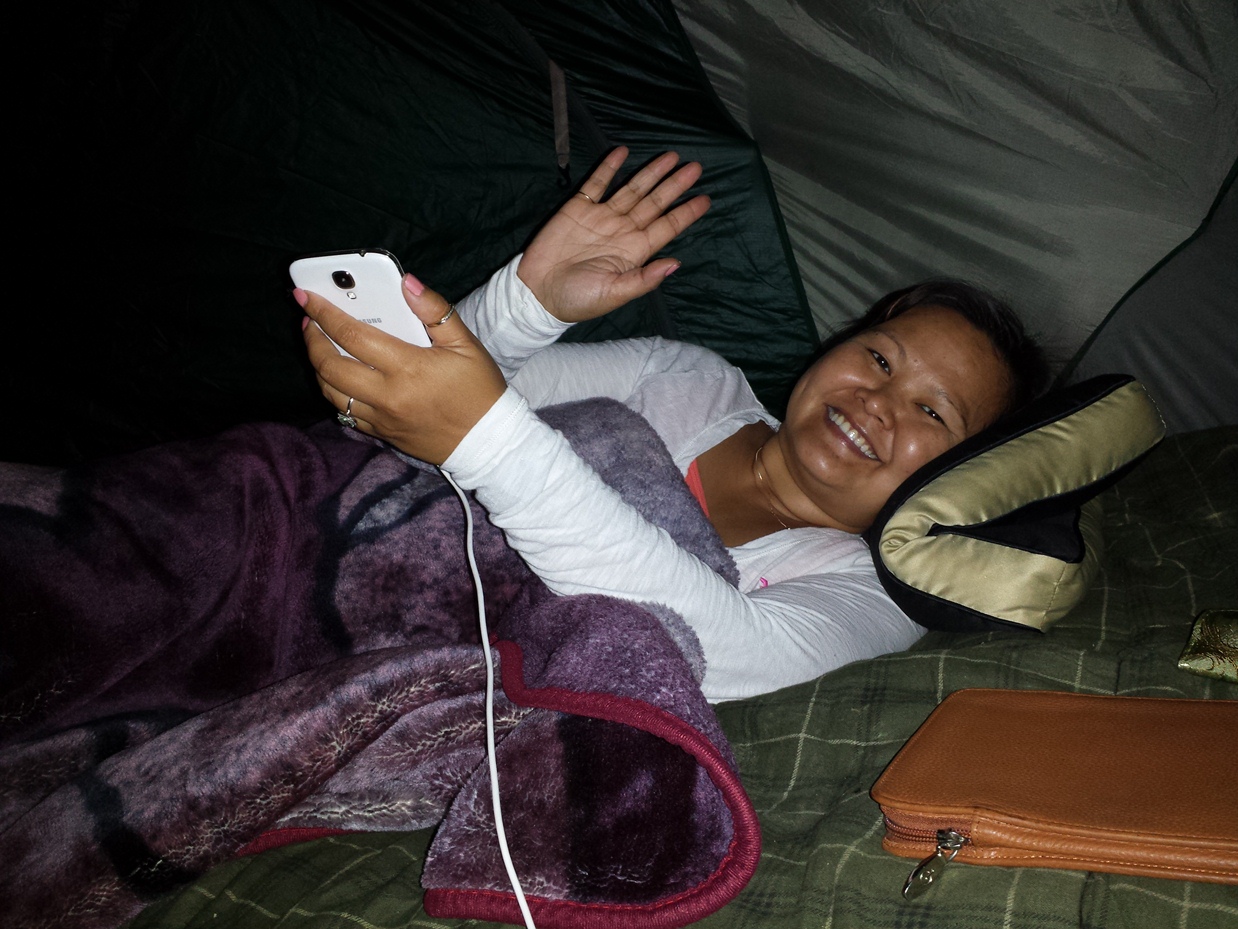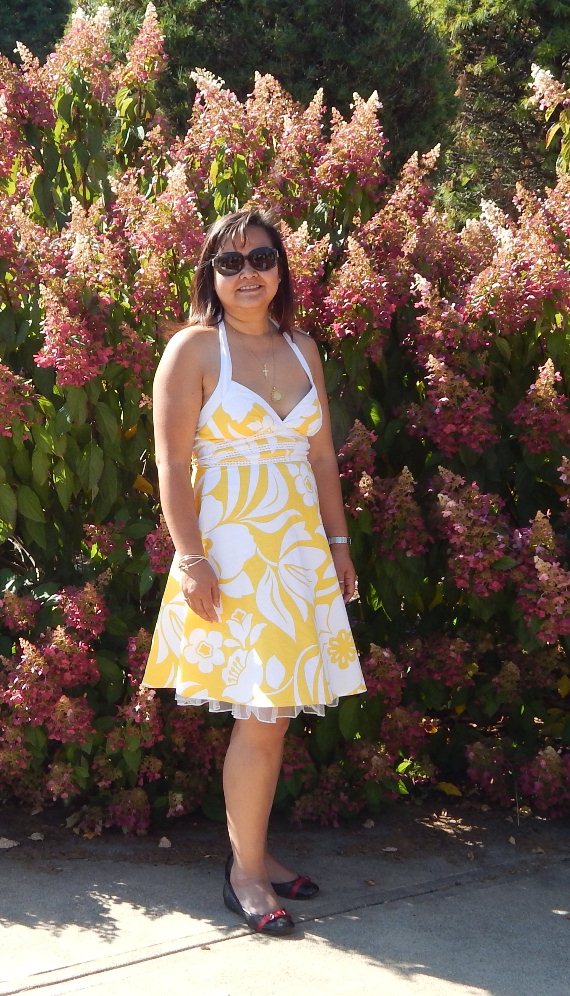 More pictures :-)
Results:
www.coolrunning.com/results/14/vt/Sep28_21stAn_set1.shtml
21st Annual VERMONT 50
Brownsville, VT, September 28, 2014
[50 Mile Age Group Results | Overall 50K Results | 50K Age Group Results |
Overall Winners (All Races) | 50 Mile Relay Results | Expert Class Bike Results
| Sport Class Bike Results | Novice Class Bike Results ]
Overall 50 Mile Results
Page 1
21st Annual VERMONT 50
50 Mile RUN
September 28, 2014 Event website: www.vermont50.com
Timing: Granite State Race Services www.gsrs.com Results Questions: steve@gsrs.com
===================================================================================
PRELIMINARY 50 MILE RUN RESULTS. ALL TIMES ARE UNOFFICIAL AND SUBJECT TO CHANGE
===================================================================================
Place Div Div Time Pace Name Ag G Race# City/state
===== === ===== ======= ===== ====================== == = ===== =======================
1 1 M3039 7:15:08 8:43 Kevin Tilton 32 M 1235 North Conway NH
2 2 M3039 7:20:20 8:49 Eric Ahern 37 M 976 Somerville MA
3 3 M3039 7:21:50 8:51 Alister Gardner 33 M 1073 Bromont QC
4 4 M3039 7:26:58 8:57 Jim Johnson 37 M 1102 Madison NH
5 1 M4049 7:30:52 9:02 Patrick Hamel 40 M 1089 Waterbury VT
6 2 M4049 7:36:35 9:08 Ted MacMahon 48 M 1134 Harvard MA
7 1 M2029 7:44:24 9:18 Matthew McCormick 24 M 1143 East Providence RI
8 2 M2029 7:45:31 9:19 Joseph Mutter 22 M 1166 Middlebury VT
9 5 M3039 7:46:08 9:20 Ben King 31 M 1115 Burlington VT
10 3 M2029 7:49:08 9:23 Eric Wyler 26 M 1256 Brighton MA
11 6 M3039 7:51:47 9:27 Jeremy Howard 38 M 1095 Hope ME
12 1 F2029 7:52:12 9:27 Sarah Keyes 29 F 1114 Saranac Lake NY
13 1 M5059 8:03:46 9:41 Tom Thurston 50 M 1232 Waterbury VT
14 7 M3039 8:05:59 9:44 Jeffrey Whittingham 39 M 1248 Waitsfield VT
15 2 F2029 8:08:07 9:46 Phoebe Novello 20 F 1172 West Windsor VT
16 4 M2029 8:08:07 9:46 Fabian Stocek 20 M 1225 Hanover NH
17 8 M3039 8:11:50 9:51 Adam St.Pierre 32 M 1220 Boulcer CO
18 3 M4049 8:16:07 9:56 Jim Eckert 44 M 1048 Rochester NH
19 4 M4049 8:22:03 10:03 Jason Fiegl 40 M 1066 Essex NY
20 1 F4049 8:22:13 10:03 Jennifer Mellen 49 F 1149 Uxbridge MA
21 9 M3039 8:23:56 10:05 Joshua Givens 38 M 1079 Burlington VT
22 5 M2029 8:24:14 10:06 Brandon Baker 27 M 985 New London NH
23 10 M3039 8:32:09 10:15 Justin Montgomery 38 M 1155 Claremont NH
24 2 M5059 8:32:09 10:15 Joe Holland 52 M 1093 Concord NH
25 11 M3039 8:33:20 10:16 Christopher Sussman 34 M 1227 Richmond VT
26 3 M5059 8:35:43 10:19 James Nelson 50 M 1169 West Hartford CT
27 6 M2029 8:36:10 10:20 Colton Gale 23 M 1072 Windsor CT
28 7 M2029 8:36:42 10:21 Thomas Perekslis 24 M 1184 Hanover NH
29 12 M3039 8:48:46 10:35 Jonathan Ferrell 31 M 1065 Philadelphia PA
30 2 F4049 8:49:13 10:36 Molly Housman 41 F 1511 Cornish Flat NH
31 13 M3039 8:51:05 10:38 Aaron Keene 34 M 1107 Sandwich MA
32 8 M2029 8:52:32 10:40 Zachary Beaulieu 21 M 993 Avon CT
33 1 F3039 8:56:15 10:44 Kelsey Allen 31 F 979 Sterling MA
34 4 M5059 8:56:21 10:44 Jack Pilla 56 M 1190 Charlotte VT
35 5 M4049 9:00:03 10:49 Jay Fauci 41 M 1062 White River Jct. VT
36 14 M3039 9:00:19 10:49 Luke Robins 34 M 1203 Jeffersonville VT
37 6 M4049 9:01:00 10:50 Jason Berry 40 M 997 Hinesburg VT
38 9 M2029 9:03:04 10:52 Brad Farrell 22 M 1061 Stowe VT
39 7 M4049 9:07:19 10:57 Mike Weigand 40 M 1243 Middlebury VT
40 1 M6069 9:09:40 11:00 Bertil Lind 60 M 1127 Kingston MA
41 15 M3039 9:10:13 11:01 Joe Delano 35 M 1039 New York NY
42 3 F4049 9:12:29 11:03 Vivien Taylor 40 F 1228 Sharon VT
43 3 F2029 9:12:35 11:04 Melinda Kelly 25 F 1111 Colchester CT
44 8 M4049 9:13:39 11:05 James Zschau 49 M 1261 Kingston MA
45 16 M3039 9:15:12 11:07 Matthew Grymek 35 M 1086 Somerville MA
46 9 M4049 9:16:22 11:08 John Toscano 46 M 1237 Salem NH
47 10 M2029 9:16:57 11:09 Daniel Lamonaca 28 M 1120 New York NY
48 11 M2029 9:17:29 11:09 Tom Callahan 26 M 1020 Jackson NH
49 17 M3039 9:17:43 11:10 Danny Ballentine 31 M 988 Newfane VT
50 5 M5059 9:26:31 11:20 Stephen Reed 56 M 1197 Penacook NH
9/30/2014 4:28AM
Page 2
21st Annual VERMONT 50
50 Mile RUN
September 28, 2014 Event website: www.vermont50.com
Timing: Granite State Race Services www.gsrs.com Results Questions: steve@gsrs.com
===================================================================================
PRELIMINARY 50 MILE RUN RESULTS. ALL TIMES ARE UNOFFICIAL AND SUBJECT TO CHANGE
===================================================================================
Place Div Div Time Pace Name Ag G Race# City/state
===== === ===== ======= ===== ====================== == = ===== =======================
51 10 M4049 9:26:46 11:21 Joel Kehm 48 M 1108 Middletown RI
52 4 F4049 9:28:41 11:23 Sheila Boyle 47 F 1006 Concord MA
53 6 M5059 9:31:27 11:26 Kenny Shardlow 55 M 1213 Johnston RI
54 7 M5059 9:31:39 11:26 John McGovern 50 M 1144 Kingston NY
55 8 M5059 9:32:34 11:28 Tracy Montoya 50 M 1156 Waterford CT
56 11 M4049 9:33:07 11:28 Lars Blackmore 45 M 999 Norwich VT
57 5 F4049 9:33:09 11:28 Keely Henderson 43 F 1091 Lincoln VT
58 9 M5059 9:35:15 11:31 Bob Ayers Jr 54 M 983 Colchester VT
59 12 M2029 9:36:58 11:33 Josh Elkes 23 M 1052 New York NY
60 10 M5059 9:37:11 11:33 Warren Angell 51 M 981 Chepachet RI
61 2 F3039 9:38:23 11:35 Amy Rusiecki 35 F 1208 South Deerfield MA
62 6 F4049 9:39:36 11:36 Jennifer Blastow 42 F 1001 Otisfield ME
63 11 M5059 9:39:44 11:36 Steven Snook 54 M 1219 Berlin NH
64 12 M5059 9:40:33 11:37 Curt Pandiscio 53 M 1182 Granby CT
65 12 M4049 9:41:04 11:38 Jeff Padgett 44 M 1179 Burlington VT
66 13 M4049 9:46:34 11:44 Cameron Chalmers 48 M 1023 Landgrove VT
67 13 M5059 9:48:46 11:47 J. Patrick Kennedy 50 M 1112 Cohasset MA
68 18 M3039 9:48:47 11:47 Matt Becker 39 M 994 Chelsea VT
69 19 M3039 9:50:50 11:49 Matthew Oehlschlaeger 36 M 1175 Clifton Park NY
70 20 M3039 9:54:23 11:54 Adam Russell 34 M 1210 Flanders NJ
71 14 M5059 9:55:18 11:55 Doug Hardy 57 M 1090 Norwich VT
72 14 M4049 9:55:18 11:55 Carsten Braun 45 M 1008 Greenfield MA
73 15 M4049 10:00:12 12:01 David Diriwachter 45 M 1041 Vineyard Haven MA
74 7 F4049 10:01:38 12:02 Caroline Lamothe 44 F 1121 Montr?al QC
75 16 M4049 10:01:43 12:03 Jean-Valery Coumans 46 M 1030 Lynnfield MA
76 8 F4049 10:02:27 12:03 Suzanna Smith-Horn 47 F 1218 Strafford VT
77 17 M4049 10:03:47 12:05 Hugh Tower-Pierce 40 M 1238 East Burke VT
78 1 F5059 10:04:51 12:06 Teresa Lust 50 F 1129 Etna NH
79 18 M4049 10:06:47 12:09 Terry Shearer 43 M 1214 Brownsville VT
80 13 M2029 10:07:23 12:09 Zakarias Gomes 26 M 1081 Arlington MA
81 21 M3039 10:08:21 12:10 Travis Gervais 38 M 1076 Essex Junction VT
82 9 F4049 10:09:10 12:11 Kristy Burns 40 F 1014 Middlebury VT
83 22 M3039 10:09:15 12:12 Thomas Feller 36 M 1063 Sterling MA
84 15 M5059 10:13:11 12:16 Mike Evans 56 M 1056 Lino Lakes MN
85 23 M3039 10:14:06 12:17 Andrew Crews 34 M 1032 Johnson VT
86 24 M3039 10:14:32 12:18 Matthew Cadieux 33 M 1018 South Hadley MA
87 25 M3039 10:14:40 12:18 Jacob Dorland 36 M 1043 Brooklyn NY
88 14 M2029 10:14:47 12:18 Jeffrey Eckert 29 M 1049 Yorktown VA
89 16 M5059 10:15:26 12:19 Thomas Nuovo 51 M 1173 Burlington VT
90 3 F3039 10:16:45 12:21 Nicole Gercke 38 F 1075 Providence RI
91 4 F3039 10:17:09 12:21 Crystal Ross 33 F 1205 Carver MA
92 5 F3039 10:17:09 12:21 Christina Hall 34 F 1088 Plymouth MA
93 19 M4049 10:17:43 12:22 Brian Walsh 44 M 1242 West Chester PA
94 26 M3039 10:18:11 12:22 Mark Rowe 35 M 1207 Springfield MA
95 6 F3039 10:21:38 12:26 Julie Riopel-Meunier 32 F 1200 Qu?bec QC
96 4 F2029 10:21:38 12:26 Annie Riopel-Meunier 28 F 1201 Sherbrooke QC
97 27 M3039 10:22:28 12:27 Robert Palmer 38 M 1181 Silver Spring MD
98 20 M4049 10:24:42 12:30 Mike Kirk 42 M 1116 Manchester MA
99 28 M3039 10:30:54 12:38 Joshua Bonifas 38 M 1003 Carmel CA
100 21 M4049 10:31:08 12:38 Davey Edwards 42 M 1050 S Glastonbury CT
9/30/2014 4:28AM
Page 3
21st Annual VERMONT 50
50 Mile RUN
September 28, 2014 Event website: www.vermont50.com
Timing: Granite State Race Services www.gsrs.com Results Questions: steve@gsrs.com
===================================================================================
PRELIMINARY 50 MILE RUN RESULTS. ALL TIMES ARE UNOFFICIAL AND SUBJECT TO CHANGE
===================================================================================
Place Div Div Time Pace Name Ag G Race# City/state
===== === ===== ======= ===== ====================== == = ===== =======================
101 2 F5059 10:31:20 12:38 Karin George 50 F 1074 Florence MA
102 22 M4049 10:31:24 12:38 Robert Small 47 M 1217 Stanhope NJ
103 29 M3039 10:31:41 12:39 Greg Rems 38 M 1199 Arlington VT
104 7 F3039 10:34:23 12:42 Rebecca Phelps 38 F 1188 Killington VT
105 23 M4049 10:34:24 12:42 Jay Hollingsworth 41 M 1094 Montpelier VT
106 8 F3039 10:36:03 12:44 Katharine Jenkins 35 F 1100 Auburn NH
107 24 M4049 10:36:40 12:44 Russell Longuemare 46 M 1128 Pembroke MA
108 15 M2029 10:37:00 12:45 Jonathan Sauer 28 M 1516 New York NY
109 5 F2029 10:37:01 12:45 Andrea Torrico 28 F 1236 New York NY
110 10 F4049 10:37:59 12:46 Kristen Kercher 44 F 1113 Bedford NH
111 25 M4049 10:38:19 12:46 Charles Joyal 44 M 1104 Feeding Hills MA
112 9 F3039 10:39:05 12:47 Jessica Racusin 39 F 1196 Middlebury VT
113 6 F2029 10:40:17 12:49 Anthea Dexter-Cooper 29 F 1040 Burlington VT
114 7 F2029 10:42:38 12:52 Karen Sun 25 F 1226 New York NY
115 26 M4049 10:44:17 12:54 David Curry 40 M 1034 Westford VT
116 11 F4049 10:45:31 12:55 Andrea Buono 46 F 1012 Unionville CT
117 12 F4049 10:46:28 12:56 Isabelle Girard 44 F 1078 Montr?al QC
118 13 F4049 10:46:43 12:57 Melissa Brown 45 F 1009 Londonderry VT
119 27 M4049 10:47:16 12:57 Oliver Truog 41 M 1239 Milton MA
120 28 M4049 10:47:17 12:57 David Dobrindt 43 M 1042 Milton MA
121 17 M5059 10:48:36 12:59 Steve Murray 51 M 1165 Milton MA
122 16 M2029 10:49:32 13:00 Paul Calabro 29 M 1019 Melrose MA
123 10 F3039 10:49:37 13:00 Carrie Wheeler 37 F 1245 Groveland MA
124 29 M4049 10:49:58 13:00 Leonard Huffman 41 M 1096 Bedminster NJ
125 11 F3039 10:50:49 13:01 Heather Flewelling 33 F 1068 Middlebury VT
126 30 M4049 10:51:06 13:02 Phil Erwin 46 M 1054 Wading River NY
127 31 M4049 10:51:07 13:02 Scott Mitchell 45 M 1152 Greenland NH
128 14 F4049 10:51:16 13:02 Jillian Madison 45 F 1135 Hanover MA
129 3 F5059 10:51:33 13:02 Carolyn Hicks 57 F 1092 Black Hawk CO
130 32 M4049 10:53:14 13:04 Scott Berk 47 M 996 Otisfield ME
131 30 M3039 10:53:16 13:04 Michael Krysiak 31 M 1117 Hamden CT
132 15 F4049 10:53:17 13:04 Tracyn Thayer 45 F 1230 Mason Township ME
133 33 M4049 10:53:24 13:05 Ronald Burns 41 M 1013 North Attleboro MA
134 34 M4049 10:53:28 13:05 Wayne Ball 40 M 986 Feeding Hills MA
135 31 M3039 10:53:32 13:05 Joel Pickering 35 M 1189 Hopkinton NH
136 35 M4049 10:53:43 13:05 Denis Childs 41 M 1024 Ware MA
137 12 F3039 10:53:55 13:05 Heather Rizzi 35 F 1202 Schenectady NY
138 36 M4049 10:54:01 13:05 Greg Moore 44 M 1159 Saranac Lake NY
139 32 M3039 10:56:49 13:09 Matthew Stephens 32 M 1223 Newton MA
140 18 M5059 10:58:19 13:10 Rob Flowers 55 M 1069 Darien CT
141 13 F3039 11:02:11 13:15 Elizabeth Nesbitt 32 F 1171 Burlington VT
142 19 M5059 11:03:08 13:16 Bill Tidd 51 M 1233 Alton Bay NH
143 37 M4049 11:03:09 13:16 Peter Angus 45 M 982 Enfield NH
144 38 M4049 11:03:09 13:16 Brian Pauling 42 M 1183 New London NH
145 20 M5059 11:04:03 13:17 Robert Davidson 50 M 1037 Andover NJ
146 39 M4049 11:08:22 13:23 Nathan Fernandez 43 M 1064 Chesapeake VA
147 4 F5059 11:09:46 13:24 Kim Marie Goff 53 F 1080 Gilford NH
148 40 M4049 11:10:42 13:25 Guy Alderdice Jr. 40 M 978 West Windsor VT
149 41 M4049 11:11:29 13:26 Geno Dube 45 M 1046 Manchester NH
150 21 M5059 11:15:08 13:31 Steve Giles 52 M 1077 Salisbury VT
9/30/2014 4:28AM
Page 4
21st Annual VERMONT 50
50 Mile RUN
September 28, 2014 Event website: www.vermont50.com
Timing: Granite State Race Services www.gsrs.com Results Questions: steve@gsrs.com
===================================================================================
PRELIMINARY 50 MILE RUN RESULTS. ALL TIMES ARE UNOFFICIAL AND SUBJECT TO CHANGE
===================================================================================
Place Div Div Time Pace Name Ag G Race# City/state
===== === ===== ======= ===== ====================== == = ===== =======================
151 33 M3039 11:15:27 13:31 Jules Moore 32 M 1158 Staten Island NY
152 16 F4049 11:18:11 13:34 Suzanne Marchesano 49 F 1138 Greenland NH
153 42 M4049 11:18:36 13:35 Tom Page 47 M 1180 York ME
154 34 M3039 11:18:52 13:35 Mike Lachapelle 34 M 1118 Somerville MA
155 43 M4049 11:19:13 13:36 Peter Stackpole 42 M 1221 Cincinnati OH
156 44 M4049 11:19:14 13:36 Matthew Omalia 44 M 1177 Belfast ME
157 8 F2029 11:21:08 13:38 Jane Farrell 25 F 1059 Washington DC
158 9 F2029 11:21:09 13:38 Megan Farrell 23 F 1060 Alton NH
159 45 M4049 11:22:48 13:40 James Oscovitch 49 M 1178 Byram NJ
160 22 M5059 11:23:23 13:41 Willie Lambert 52 M 1119 Bath ME
161 46 M4049 11:25:34 13:43 Fred Peterson 48 M 1185 Sanbornton NH
162 23 M5059 11:26:45 13:45 Ben Leber 51 M 1124 Bend OR
163 35 M3039 11:27:54 13:46 Andy Barrett 38 M 991 Portsmouth NH
164 36 M3039 11:28:59 13:47 Daniel Colon 35 M 1028 Whitestone NY
165 17 M2029 11:31:31 13:50 Colin Clarke 21 M 1025 Northfield VT
166 37 M3039 11:32:57 13:52 Thomas White 35 M 1247 Burlington VT
167 2 M6069 11:34:00 13:53 Bob Falconi 63 M 1057 Canton MA
168 47 M4049 11:34:07 13:53 Paul Cyr 45 M 1035 Gorham NH
169 38 M3039 11:34:22 13:54 Frank Hacket 33 M 1087 Medway MA
170 39 M3039 11:37:42 13:58 Jason Proulx 39 M 1194 Exeter NH
171 24 M5059 11:37:50 13:58 Michael Byl 52 M 1016 New York NY
172 25 M5059 11:37:52 13:58 Ron Roth 53 M 1206 Ridgefield CT
173 40 M3039 11:38:11 13:58 Dan Mattson 39 M 1140 Exeter NH
174 17 F4049 11:38:40 13:59 Beth Campbell 46 F 1021 Marshfield MA
175 5 F5059 11:39:26 14:00 Nancy Cook 50 F 1029 Belchertown MA
176 18 F4049 11:41:14 14:02 Molly McCann 44 F 1141 Palm Beach Gardens FL
177 48 M4049 11:42:21 14:03 Colin Evans 43 M 1055 West Boylston MA
178 49 M4049 11:45:10 14:07 Mike Stephenson 40 M 1224 Beverly MA
179 50 M4049 11:46:00 14:08 Fred Kelley 48 M 1110 West Windsor VT
180 19 F4049 11:47:04 14:09 Valerie Lydon 45 F 1130 Plainville MA
181 6 F5059 11:47:58 14:10 Joy Peterson 54 F 1186 Williston VT
182 41 M3039 11:48:51 14:11 Adam Bensle 36 M 995 Reading MA
183 51 M4049 11:48:53 14:11 Daniel Graovac 44 M 1085 Worcester MA
184 3 M6069 11:52:21 14:15 Mario Vargas 63 M 1240 Shaker Heights OH
185 1 F6069 11:53:17 14:16 Marla Buechner 61 F 1011 Jupiter FL
186 7 F5059 11:53:51 14:17 Celia Leber 50 F 1123 Bend OR
187 26 M5059 11:53:53 14:17 Brian Lawrey 50 M 1122 Andover NJ
188 27 M5059 11:53:56 14:17 Steve Jacobson 52 M 1098 Boca Raton FL
189 28 M5059 11:54:15 14:18 Stewart Dutfield 59 M 1047 Delmar NY
190 20 F4049 11:55:07 14:19 Bambi Jasmin 43 F 1099 Webster NY
191 4 M6069 11:56:54 14:21 Craig Whipple 62 M 1246 Barre VT
192 18 M2029 11:57:28 14:21 Ryan Deguzis 28 M 1038 Hartford CT
193 19 M2029 11:58:05 14:22 Nick Macdonald 27 M 1133 Melrose MA
194 29 M5059 12:00:39 14:25 John Bassette 55 M 992 Hartland VT
195 21 F4049 12:02:48 14:28 Christina Downey 44 F 1044 New Durham NH
196 30 M5059 12:12:44 14:40 Gilles Barbeau 59 M 989 Sutton QC
197 52 M4049 12:13:29 14:41 James Yates 46 M 1257 Brownsville VT
198 31 M5059 12:18:44 14:47 Robert Wood 57 M 1254 Whitesboro NY
199 42 M3039 12:20:31 14:49 Thomas Eggers 36 M 1051 South Boston MA
200 8 F5059 12:20:31 14:49 Leanne Tierney 50 F 1234 Boxford MA
9/30/2014 4:28AM
Page 5
21st Annual VERMONT 50
50 Mile RUN
September 28, 2014 Event website: www.vermont50.com
Timing: Granite State Race Services www.gsrs.com Results Questions: steve@gsrs.com
===================================================================================
PRELIMINARY 50 MILE RUN RESULTS. ALL TIMES ARE UNOFFICIAL AND SUBJECT TO CHANGE
===================================================================================
Place Div Div Time Pace Name Ag G Race# City/state
===== === ===== ======= ===== ====================== == = ===== =======================
201 22 F4049 12:22:08 14:51 Carin Zinter 41 F 1260 Sunderland MA
202 32 M5059 12:24:41 14:54 Brett Blanchard 51 M 1000 Pawlet VT
203 14 F3039 12:25:39 14:55 Meghan Lynch 34 F 1131 East Longmeadow MA
204 33 M5059 12:30:46 15:01 Dennis Stadelman 53 M 1222 Cicero NY
205 53 M4049 12:31:48 15:03 John Mudano 47 M 1163 Colebrook CT
9/30/2014 4:28AM