| | |
| --- | --- |
| | Round Rotheram 50 mile trail run |
| | 12th December 1998 |
| | 51 miles |
| | Rotheram, UK |
My first ultra.... it was 51 miles single loop 95% of hich was on footpaths and muddy tracks. The event is a combimed long distance walkers event and there was a staggered start for runners depending how fit you thought you were.. wlakers starting at 6am, slow runners at 8, medium at 9 and fast at 10. Thee was also an 8 man relay race on same course and they started at 10.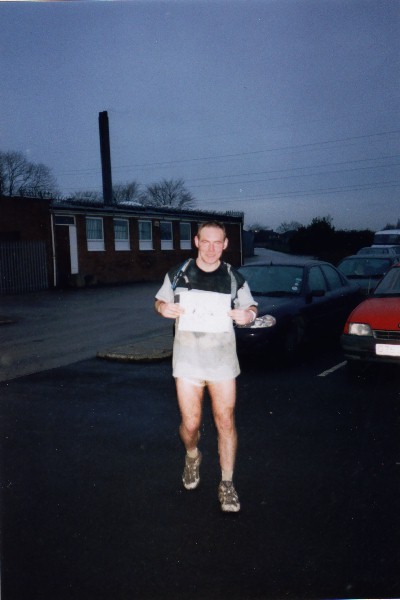 I started at 9am and the course was handwritten instructions.. pages of them with doodle maps which were designed to highlight all features on route.. i.e. 200 yards to corner of field, diagonally across field towards big tree, dog leg right to style. straight across field to style, head towards the farm buildings in the distance. go past barn and through style.. follow track for half mile.. etc. etc. etc.
Was very easy to get lost as it was unfamiliar area and easy to miss landmarks like missing gates..!! but did good first 30 miles before getting lost a few times, but finished last 6 miles very srong.
finished 16th place out of 150 runners.... Excellent friendly atmosphere all way round course and especially at the finish where the wee serving pie and peas..!!