| | |
| --- | --- |
| | Connemara Marathon |
| | 1st September 2002 |
| | 26.2 miles |
| | Connemara, Ireland |
| | |
| --- | --- |
| | 3 Hour 19 mins 21 secs |
| | www.connemarathon.com |
The Connemara Marathon is a very rural event and at 10:30 am it starts at Lough Inagh and finishes at Maams Cross in County Galway. The race was organised for the first time in 2002 in aid of CRI, a local heart foundation charity for the Galway Hospital.
12 of us did the full marathon and I finished in 3rd place...!!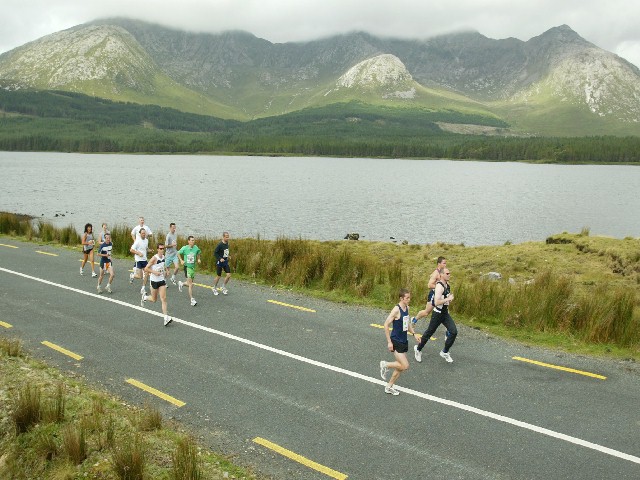 The whole race is in open countryside surrounded by the hills and lakes of connemara on quiet roads with few cars but many sheep..!! Above is a photo taken at start of race with all 12 full Marathon runners.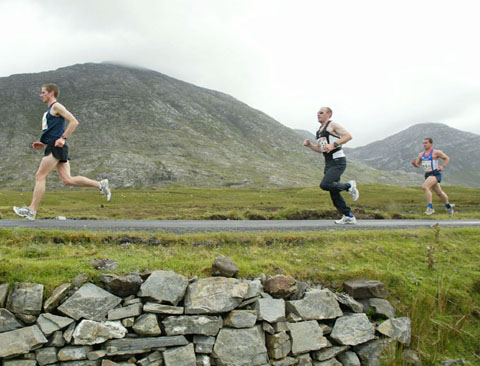 Above is a photo of Eric who won the race in 2H 57 mins followed by myself and Sebastien. After the first few miles we settled into our pace and were all alone until half way and the hills were long gradual slopes which we could run at almost normal pace prior to the halfway mark where you hit a big steep one followed by more undulations.
The first marathon runner to cross the half way officially started the half marathon race, and all runners finished at Maams Cross. Bellow is a photo of winnining Half Marathon runner who completed the hilly course in 1H 23 mins....!!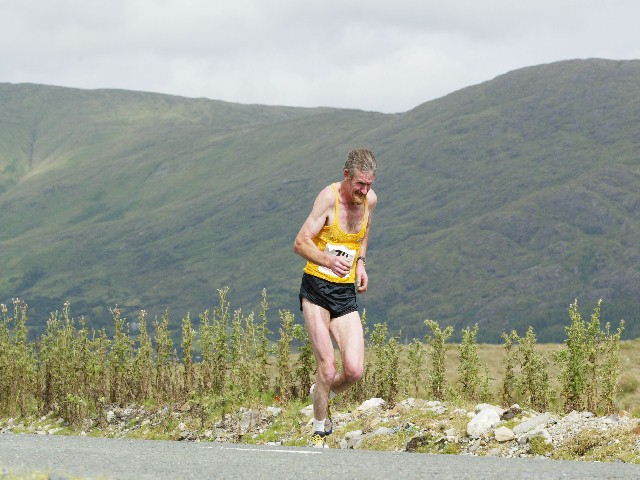 I finished third out of 12 full marathon runners after being overtaken at mile 23 whilst walking up the last hill...!! The second half had several long climbs over hills which explains why my first half was completed in 1H 27 mins and the full result was 3H 19 mins.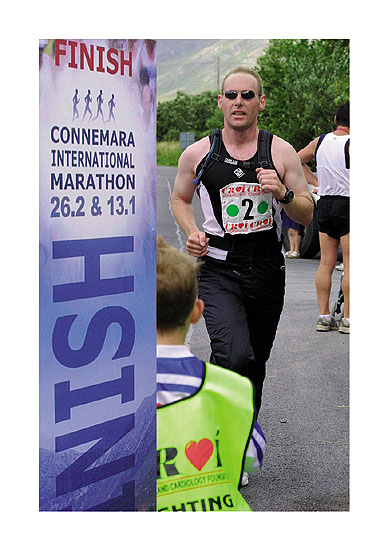 We were lucky with the weather although there was a strong headwind for the second half of the race. The Goretex trousers were hot to run in, but after just returning from Badwater, the colder climate would cause cramps and injury.. so Goretex it had to be..!!