Worcester Marathon 2012
Chip Gun
Place Name City Bib No Age Overall Time Time
13 Colin Evans West Boylston MA 2082 41 71 of 202 4:01:53.1 4:02:18.4
After torrential 3 inch rain on Saturday, Sunday 3rd was a nice part cloudy day which warmed up to 80 degrees by mid bay with very light breeze.
First 15 miles are hilly then fairly flat for remainder of run.
At 4 miles the half marathoners turn left whist full marathon runners turn right... just 200 ran the full.
The water stops had water and gatorade for the first 14 miles then just water from mile 14 to 20. My girlfriend Chance met me at mile 15 with a slim fast and at mile 20 with a drink. Stomach was aching prior to race but managed to run hard. 10 miles was dead on 1H30 and 20 miles dead on 3Hours.. then gassed out.. walked and jogged to finish as did everyone else in front and behind.
Safety was great.. police at every junction. Was good to finish first marathon in many years... I need to start running outside.. then can probably get some good times and finish top 10 in these smaller races like I did many years ago.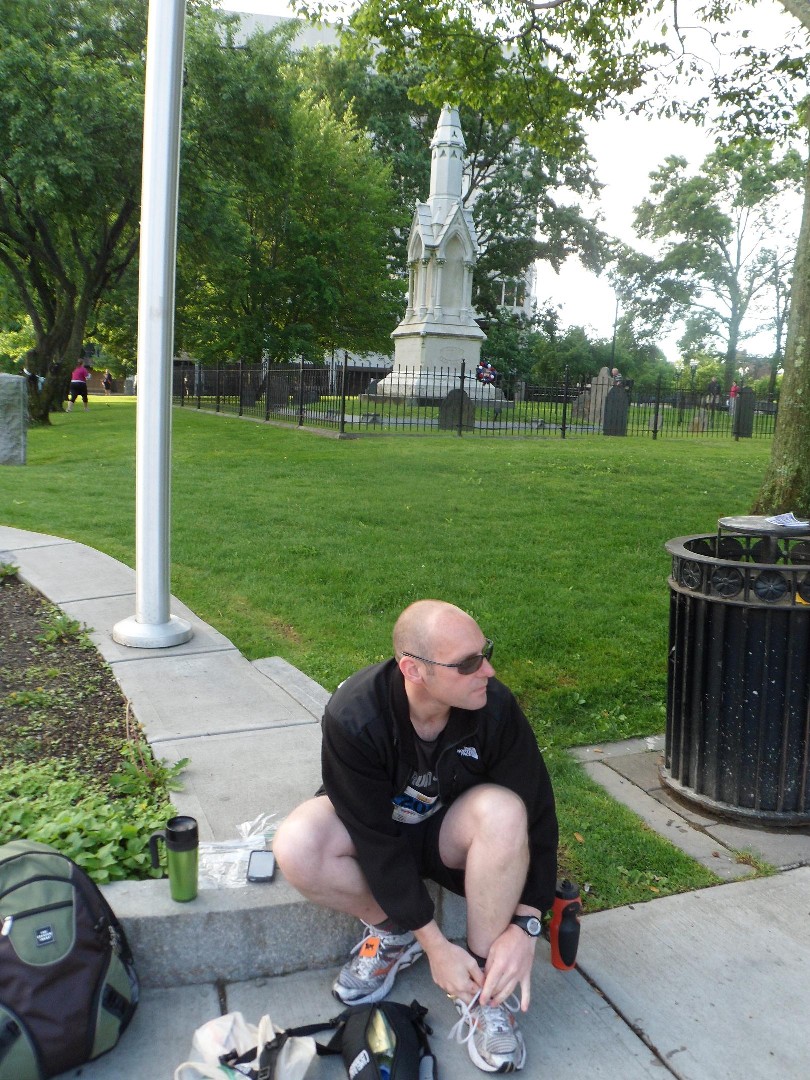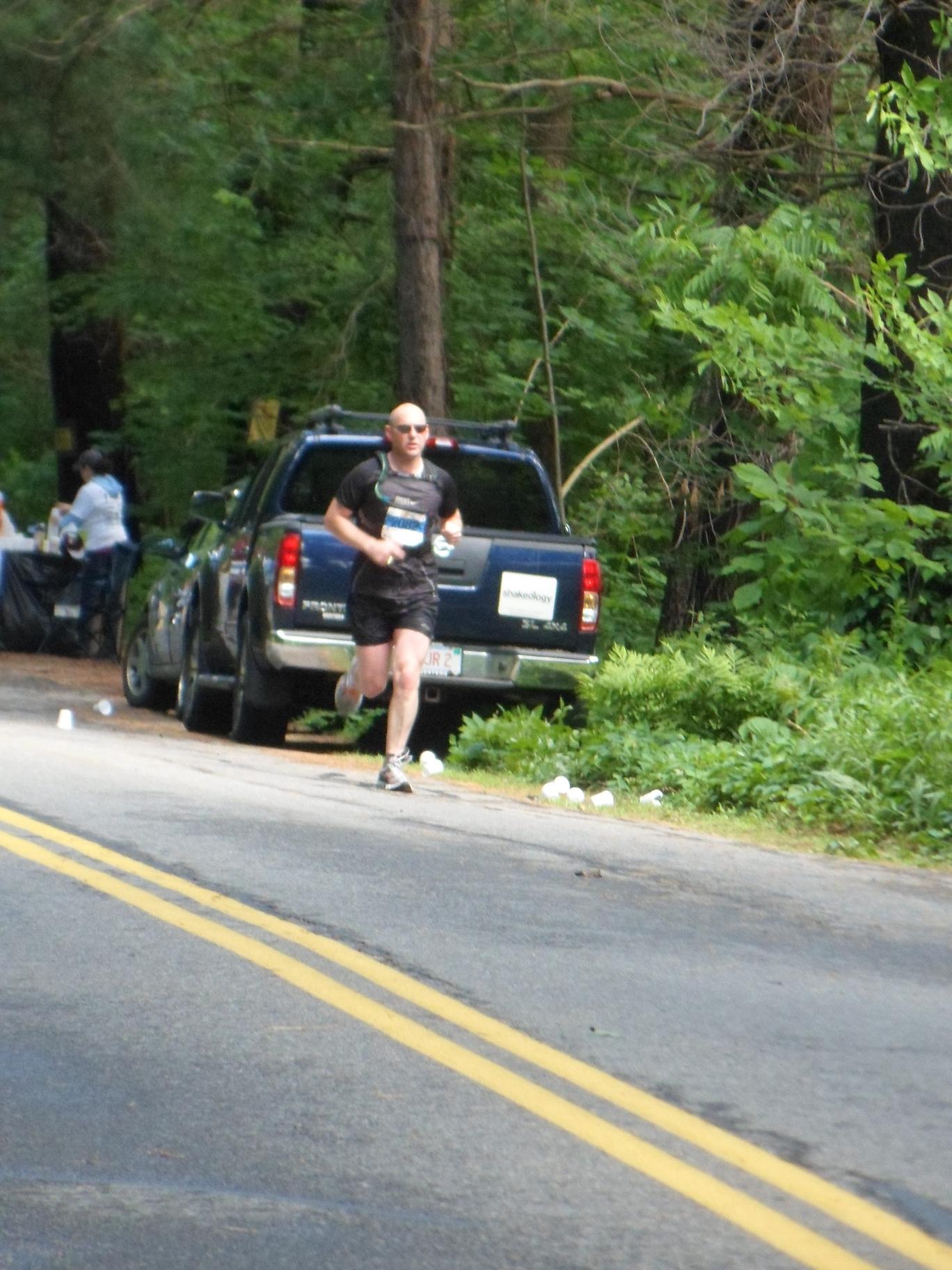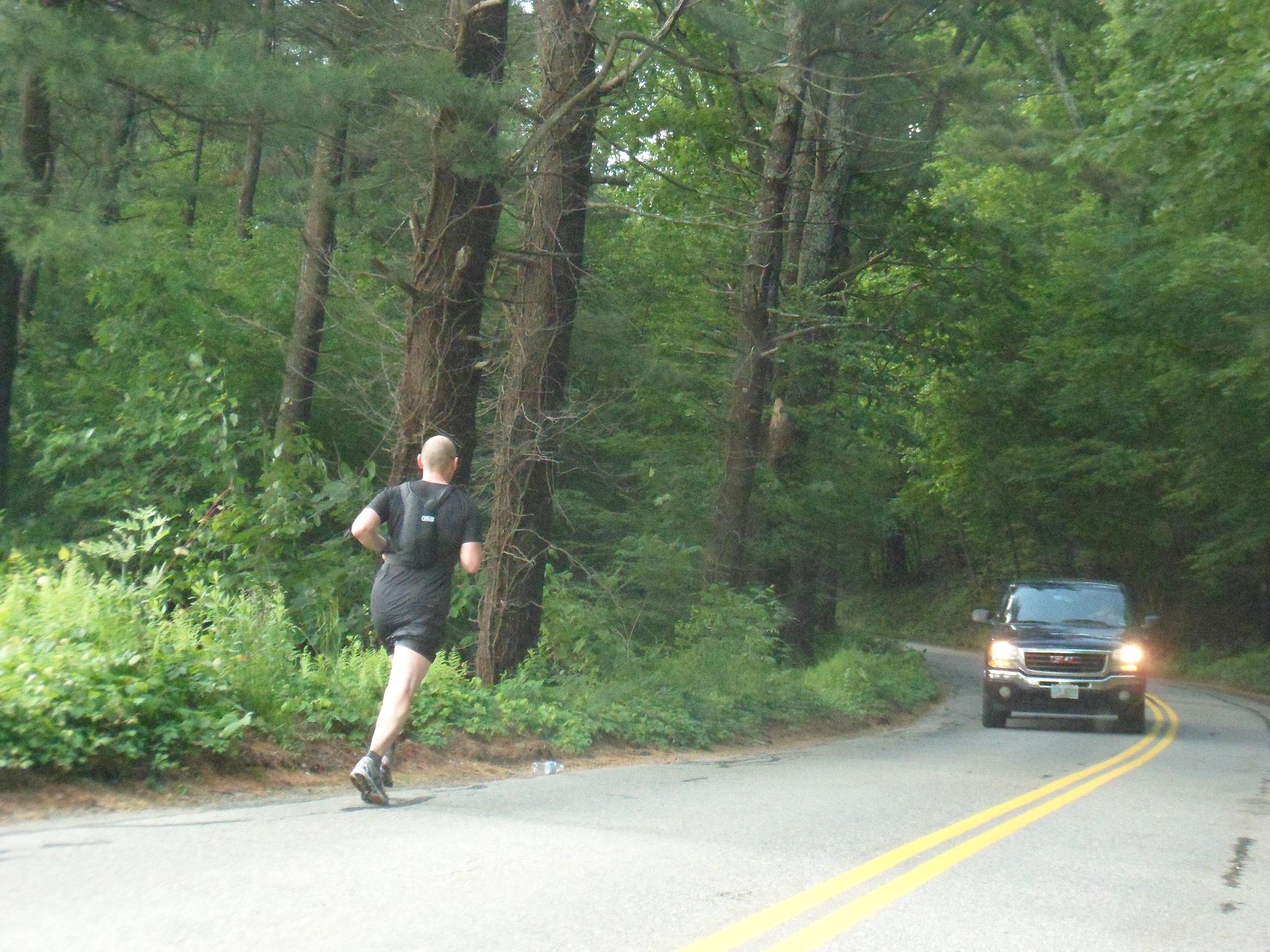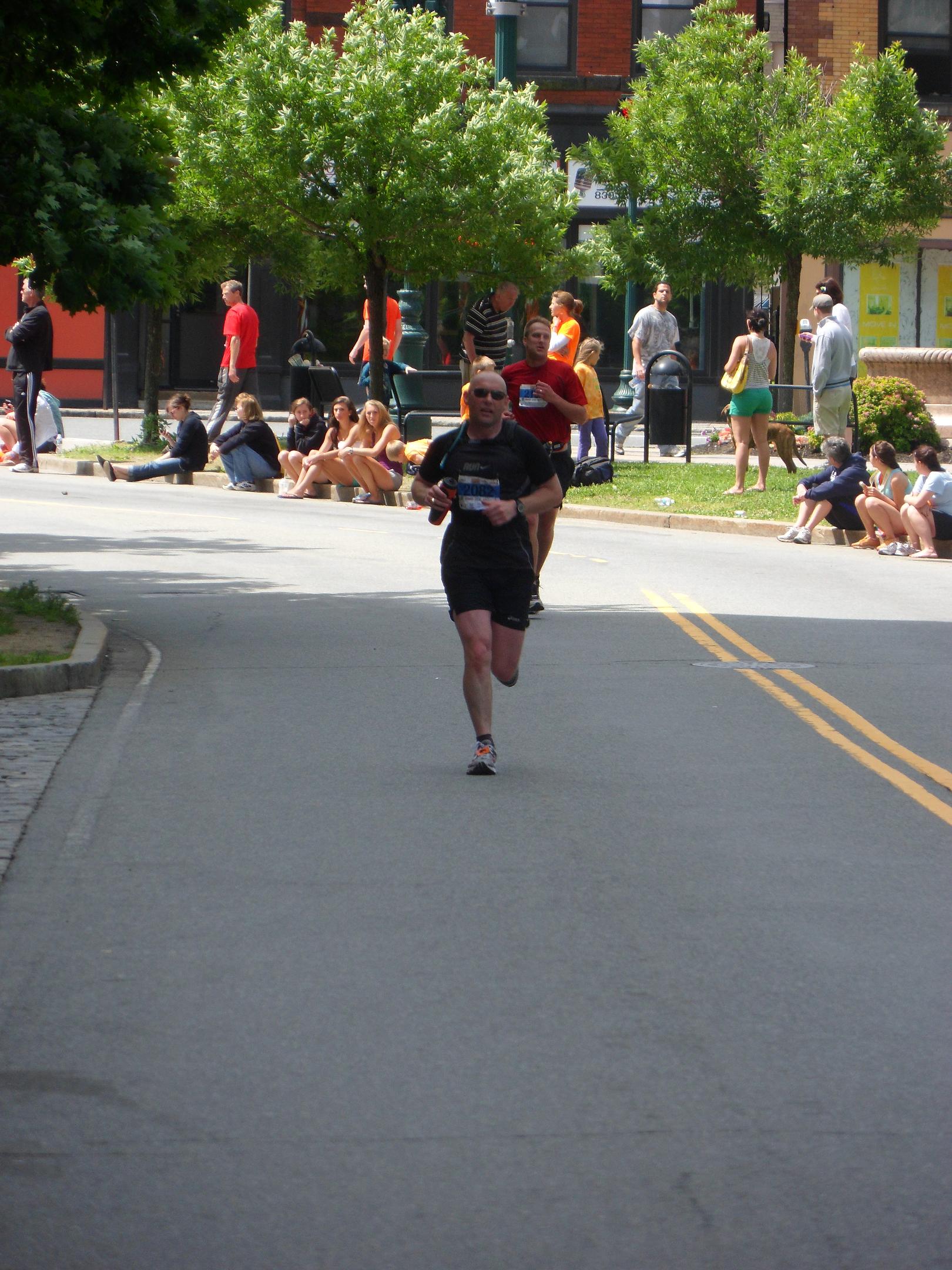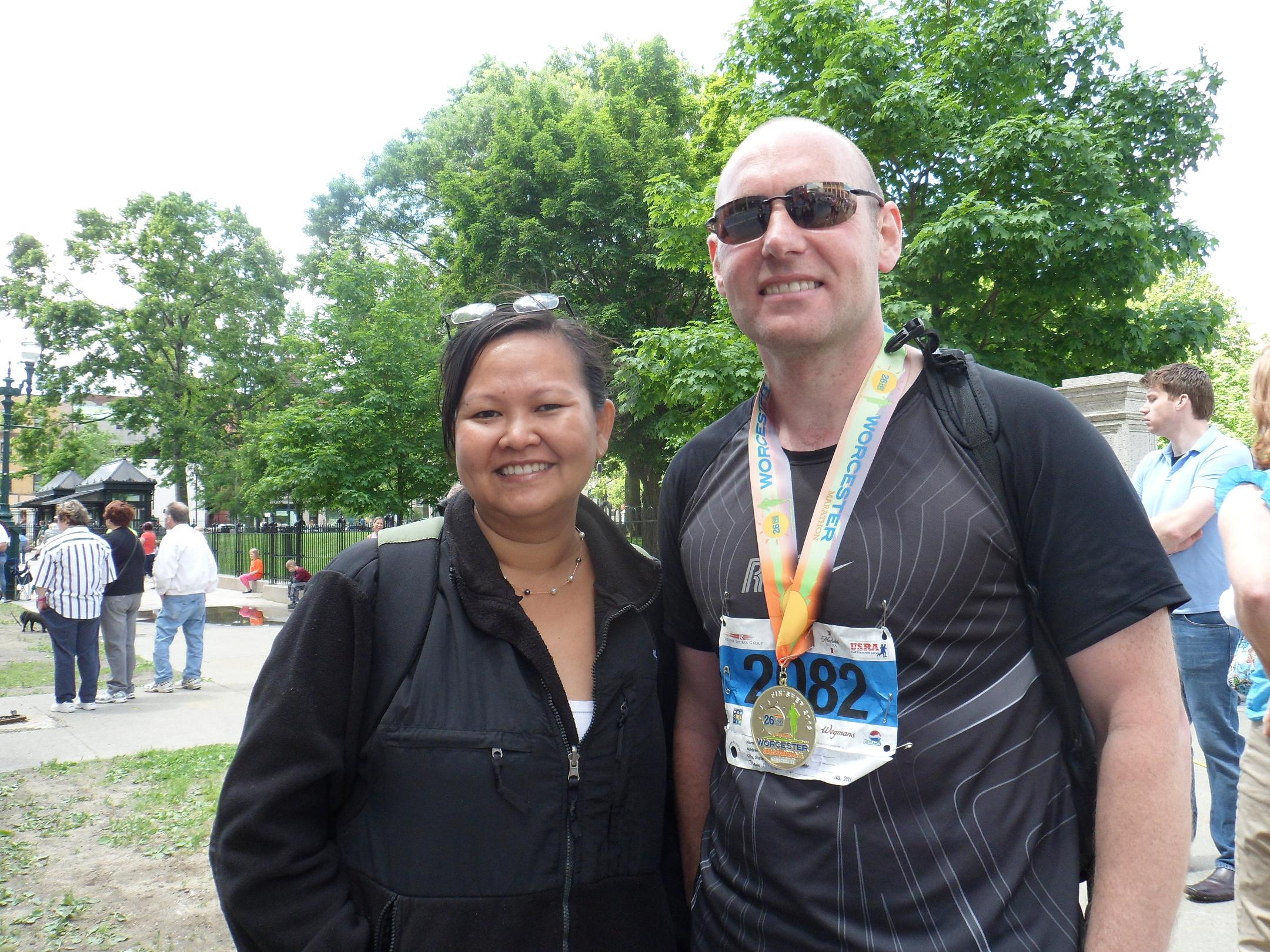 Course Map and Elevation graph:


Marathon
Overall Female Open Winners
                                                                                               Chip         Gun  
    Place    Name                              City              Bib No  Age   Overall         Time        Time  
       1    Amy Wachler                       Boston  MA            137   25       16      3:26:28.7   3:26:30.1

Overall Female Masters Winners
                                                                                               Chip         Gun  
    Place    Name                              City              Bib No  Age   Overall         Time        Time  
       1    cheryl bechunas                   sutton  MA           2014   41       20      3:29:24.4   3:29:43.1

Overall Female Grand Masters Winners
                                                                                               Chip         Gun  
    Place    Name                              City              Bib No  Age   Overall         Time        Time  
       1    Laura Nottie                      Cumberland  RI       2176   52       92      4:11:36.2   4:12:06.1

Female 15 to 19
                                                                                               Chip         Gun  
    Place    Name                              City              Bib No  Age   Overall         Time        Time  
       1    Michaela Swiatek                                       1687   19       34      3:40:03.9   3:40:43.9

Female 20 to 24
                                                                                               Chip         Gun  
    Place    Name                              City              Bib No  Age   Overall         Time        Time  
       1    Bridget May                       Worcester  MA         151   24       28      3:35:34.8   3:42:50.8
       2    Mary Angilly                      West Brookfield  MA  2004   24      107      4:20:14.2   4:20:39.9
       3    Sarah Ryzewski                    Spencer  MA           107   24      113      4:23:16.2   4:23:38.2
       4    Alyssa Johnson                    Worcester  MA        2116   21      121      4:25:44.9   4:25:44.9
       5    Stephanie Bond                    Lexington  MA        2028   21      130      4:33:55.0   4:34:15.8
       6    Kayla Boyer                       Worcester  MA        2030   21      141      4:40:18.6   4:40:35.3
       7    Vanessa Ward                      shrewsbury  MA        141   23      167      5:02:33.0   5:02:53.0
       8    Melissa De Fabrizio               North Grafton  MA    2059   24      168      5:02:44.5   5:02:53.7
       9    Amanda Kelly                      Dorchester  MA       2121   22      169      5:06:19.8   5:06:19.8
      10    Jane O'Hanley                     Cortlandt Manor  NY  2179   22      178      5:15:44.9   5:16:13.2
      11    Kayla Milewski                    Worcester  MA        2153   20      196      5:52:33.2   5:52:50.2
      12    Stefanie Melendez                 Worcester  MA        2152   24      199      6:14:27.5   6:14:27.5

Female 25 to 29
                                                                                               Chip         Gun  
    Place    Name                              City              Bib No  Age   Overall         Time        Time  
       1    Julie Monfreda                    Leicester  MA        2159   28       32      3:38:21.1   3:38:45.9
       2    Sarah Wood                        WORCESTER  MA         145   27       55      3:50:12.1   3:50:12.1
       3    Sarah Raabis                      Worcester  MA        2194   26       57      3:52:07.9   3:52:16.1
       4    Alicia Coughlin                   Worcester  MA        2050   25      101      4:16:39.6   4:16:57.1
       5    Katherine Page                    West Boylston  MA    2182   29      112      4:22:25.2   4:22:25.2
       6    Gina DeRosa                       Winthrop  MA         2063   29      114      4:23:50.7   4:23:50.7
       7    Katherine Munson                  New Canaan  CT       2167   26      129      4:33:27.2   4:33:27.2
       8    Anna Tobias                       Warwick  RI           132   27      134      4:37:15.1   4:37:20.3
       9    Michelle Hubbard                  Worcester  MA        2113   28      143      4:41:15.6   4:41:15.6
      10    Kim Murer                         Stratford  CT        2168   25      150      4:46:19.5   4:47:04.1
      11    Melissa Leslie                    rutland  MA          2136   29      152      4:46:37.7   4:46:57.5
      12    Andrea Mcnulty                    Worcester  MA        2151   29      173      5:09:33.4   5:10:22.3
      13    Rebecca Strait                    Worcester  MA         129   27      192      5:39:30.6   5:39:50.7

Female 30 to 34
                                                                                               Chip         Gun  
    Place    Name                              City              Bib No  Age   Overall         Time        Time  
       1    Julie Reitz                       Saint Charles  MO    2196   33       30      3:37:06.4   3:37:20.8
       2    Courtney Cruz                     North Grafton  MA    2053   32       38      3:44:19.8   3:44:47.6
       3    Julie Dupont-Woody                                      149   32       96      4:12:58.1   4:12:58.1
       4    Stacy Molinari                    Rutland  MA          2158   33      111      4:22:23.3   4:22:23.3
       5    Jessica Burgess                   Pembroke  MA         2037   30      117      4:24:39.5   4:24:39.5
       6    Elizabeth Cannell                 Rutland  MA          2040   31      122      4:25:51.0   4:25:51.0
       7    Kristin Miller                    Bow  NH              2155   30      194      5:44:42.3   5:44:42.3

Female 35 to 39
                                                                                               Chip         Gun  
    Place    Name                              City              Bib No  Age   Overall         Time        Time  
       1    Jane Bisaillon                    Whiting ills  MA     2024   38       42      3:44:45.2   3:45:05.2
       2    Emily Lotterhand                  W. Townsend  MA      2139   38       58      3:53:13.2   3:53:49.1
       3    Gretchen Monopoli                 Shrewsbury  MA       2160   36       61      3:53:37.3   3:53:37.3
       4    amy dufore                        manchester  NH       2074   35       67      3:57:52.8   3:58:28.5
       5    Tracy Vroeginday                  Plantsville  CT       136   39       68      3:59:49.5   3:59:55.5
       6    Kelly Allen                       Hardwick  MA         2002   38       77      4:05:02.3   4:05:37.5
       7    Stephanie Deschaine               Ashland  MA          2064   38      105      4:19:24.8   4:20:03.4
       8    Deb Peak                          Millbury  MA         2185   37      133      4:36:48.8   4:37:18.6
       9    Carri Gaudion                     Marietta  GA         2097   38      136      4:37:54.4   4:38:20.0
      10    Irlan Hebner                      Los angeles  CA      2107   38      160      4:53:55.7   4:54:07.4
      11    michelle hart                     leicester  MA        2105   36      170      5:07:30.4   5:07:48.1
      12    Julie Currier                     Holden  MA           2055   39      183      5:26:06.1   5:26:06.1

Female 40 to 44
                                                                                               Chip         Gun  
    Place    Name                              City              Bib No  Age   Overall         Time        Time  
       1    Victoria Schmida                  Sturbridge  MA        113   42       36      3:42:22.9   3:42:28.4
       2    Kim Morrison                      Whitinsville  MA     2162   42       41      3:44:41.8   3:45:03.2
       3    Elizabeth Morse                   Northborough  MA     2163   42       45      3:45:49.0   3:45:57.0
       4    Agnes Blomberg                    Sturbridge  MA       2026   41       84      4:07:43.9   4:07:50.4
       5    ANNA ELISA NESHEIWAT              CARMEL  NY           2171   42      144      4:42:20.5   4:42:26.5
       6    Donna Macauley                    Marlborough  MA      2143   44      145      4:43:09.4   4:43:46.1
       7    Dawn Domenico                     goffstown  NH        2070   41      159      4:53:51.2   5:01:16.6
       8    Cathy Carew                       Millbury  MA         2042   41      162      4:58:26.6   4:58:26.6
       9    Lisa Ruggiero                     Mendon  MA            106   42      172      5:09:13.4   5:09:56.7
      10    Karrie Janhunen                   Templeton  MA        2115   43      193      5:43:52.8   5:44:19.7
      11    Jennifer Nadeau                   Auburn  MA           2170   40      198      5:56:57.0   5:56:57.0
      12    Susan Dusoe                       Winchendon  MA       2076   40      202      6:33:50.2   6:34:14.9

Female 45 to 49
                                                                                               Chip         Gun  
    Place    Name                              City              Bib No  Age   Overall         Time        Time  
       1    Amy Forbes                        Ogunquit  ME         2087   47       23      3:30:59.0   3:34:47.7
       2    Sharon Morrow                     Whitinsville  MA      146   49       49      3:46:25.2   3:46:46.0
       3    Norine Courtemanche               Johnston  RI         2051   49       51      3:47:13.9   3:47:24.1
       4    Kristin Fafard                    Milford  MA          2083   45       87      4:09:25.9   4:09:25.9
       5    Gayle Petty                       Worcester  MA        2187   49      103      4:18:11.4   4:18:11.4
       6    Betsy Green-Baker                 West Boylston  MA    2103   46      104      4:18:11.9   4:18:11.9
       7    minerva kenney                    leicester  MA        2122   48      158      4:52:50.4   4:53:09.3

Female 50 to 54
                                                                                               Chip         Gun  
    Place    Name                              City              Bib No  Age   Overall         Time        Time  
       1    KATYA DIVARI                      ASHLAND  MA          2068   50      109      4:20:46.9   4:21:00.3
       2    Connie Cassarino                  Hubbardston  MA      2044   51      140      4:39:39.2   4:40:09.9
       3    Patti Bourque                     Worcester  MA        2029   53      180      5:22:28.4   5:22:28.4
       4    Linda Luthman                     Worcester  MA        2140   51      181      5:22:31.0   5:22:31.0
       5    Beth Davenport                    Santa Fe  NM         2058   51      182      5:24:12.1   5:24:12.1
       6    Tracey Newenhouse                 West Long Branch  N  2172   51      187      5:30:03.3   5:34:46.7

Female 55 to 59
                                                                                               Chip         Gun  
    Place    Name                              City              Bib No  Age   Overall         Time        Time  
       1    Nancy Fillmore                    Boxborough  MA       2086   58      148      4:43:56.2   4:43:56.2
       2    Deborah Knight                    Worcester  MA        2128   55      185      5:27:32.5   5:27:32.5

Overall Male Open Winners
                                                                                               Chip         Gun  
    Place    Name                              City              Bib No  Age   Overall         Time        Time  
       1    Zach Einterz                      Cambridge  MA        2080   26        1      2:47:59.8   2:48:02.5

Overall Male Masters Winners
                                                                                               Chip         Gun  
    Place    Name                              City              Bib No  Age   Overall         Time        Time  
       1    michael carroll                   millville  MA        2043   46        2      2:55:54.0   2:55:54.0

Overall Male Grand Masters Winners
                                                                                               Chip         Gun  
    Place    Name                              City              Bib No  Age   Overall         Time        Time  
       1    Brian Patrick Mulligan            Providence  RI       2166   51       13      3:22:27.9   3:22:31.9

Male 15 to 19
                                                                                               Chip         Gun  
    Place    Name                              City              Bib No  Age   Overall         Time        Time  
       1    Samuel Bernstein                  Newton  MA           2019   19       21      3:29:37.2   3:29:41.9
       2    Jeffery Pizarro                                         156   19       39      3:44:33.0   3:44:33.0
       3    Ethan Reinhardt                   Worcester  MA        2195   17       83      4:07:11.8   4:07:11.8
       4    Ian Rose                                                300   19       98      4:14:18.0   4:14:18.0
       5    austin Shafer                     goffstown  NH         116   17      115      4:24:17.6   4:24:17.6
       6    Zachary Fairbanks                 Worcester  MA        2084   17      203      6:40:18.8   6:40:18.8

Male 20 to 24
                                                                                               Chip         Gun  
    Place    Name                              City              Bib No  Age   Overall         Time        Time  
       1    Brendan Mormile                   Hamden  CT           2161   23       12      3:21:32.9   3:21:37.9
       2    robert kasierski                  rutland  MA          2119   20       26      3:32:56.1   3:33:01.2
       3    Daniel Klett                      Holden  MA           2127   24       35      3:40:23.2   3:40:23.2
       4    Garrett Danna                     Fiskdale  MA         2057   20       44      3:45:11.0   3:45:37.2
       5    Matthew Frederick                 Stamford  CT         2089   24       88      4:10:26.3   4:10:51.2
       6    Matthew Miller                    East Granby  CT      2156   21       97      4:13:33.8   4:14:04.7
       7    peter siclari                     providence  RI        117   24      124      4:27:38.7   4:27:38.7
       8    James Miller                      Bow  NH              2154   21      149      4:44:28.2   4:44:28.2
       9    Ethan Plue                                              154   21      165      5:01:24.1   5:01:55.3
      10    Coby Costa                        Bantam  CT           2049   21      166      5:01:25.0   5:01:56.4
      11    Tom Millett                       Memphis  TN          2157   24      191      5:38:48.0   5:39:14.5

Male 25 to 29
                                                                                               Chip         Gun  
    Place    Name                              City              Bib No  Age   Overall         Time        Time  
       1    Christopher Richard               New York  NY         2199   28        4      3:00:05.5   3:00:05.5
       2    DAVID OZAHOWSKI                   THETFORD  VT         2181   28        7      3:13:01.7   3:13:05.8
       3    Jeremy Scanlan                    Worcester  MA         109   29       10      3:18:34.6   3:18:37.0
       4    Matthew Schulze                   West Townsend  MA     114   26       29      3:36:37.1   3:36:37.1
       5    Joseph Sposato                    Somerville  MA        124   26       48      3:46:10.5   3:46:12.7
       6    Max Gordon                        Shrewsbury  MA       2100   25       59      3:53:26.1   3:53:26.1
       7    Kyle Fossey                       Lunenburg  MA        2088   26       76      4:04:59.1   4:04:59.1
       8    Chau Ho                           Saratoga Springs  N  2109   28       79      4:06:36.7   4:06:52.1
       9    Daniel Button                                          2015   25       80      4:06:52.4   4:07:06.9
      10    Michael Berkowitz                 Somerville  MA       2018   27       81      4:07:01.1   4:07:01.1
      11    Dan DeHart                        Boston  MA           2061   26       82      4:07:02.3   4:07:17.4
      12    Joshua Sigsworth                  East Bridgewater  M   118   27      135      4:37:15.9   4:37:20.9
      13    Josh Gardner                      Jupiter  FL          2095   27      147      4:43:13.2   4:43:13.2
      14    Mark Helfrick                     Holden  MA           2108   27      156      4:52:04.7   4:52:16.9
      15    Thomas Lore                       Southington  CT      2138   27      177      5:15:32.2   5:15:32.2

Male 30 to 34
                                                                                               Chip         Gun  
    Place    Name                              City              Bib No  Age   Overall         Time        Time  
       1    David Horton                      Natick  MA           2110   32        8      3:13:08.7   3:13:10.5
       2    Ryan Dodson                       Worcester  MA        2069   33       15      3:25:57.3   3:26:08.2
       3    Justin Bergeron                   Leicester  MA        2017   33       17      3:27:24.4   3:27:51.2
       4    Pierre Rondeau                    Johnston  RI          105   30       19      3:28:29.6   3:28:42.6
       5    Yi Wang                           Pawtucket  RI         140   30       22      3:30:47.5   3:30:52.4
       6    Jeff Kimball                      Westborough  MA      2124   32       27      3:33:02.9   3:33:15.1
       7    Jason Avakian                     Dudley  MA           2010   31       54      3:48:05.0   3:48:32.8
       8    Daniel Isenbergh                  Johnston  RI         2114   33       60      3:53:35.8   3:54:13.6
       9    Joe LaValle                       northboro  MA        2134   34       78      4:05:30.8   4:06:24.7
      10    Ryan Murphy                       Sturbridge  MA       2169   30       86      4:09:22.9   4:09:22.9
      11    Marc Blandin                      Plymouth  MA         2025   32      108      4:20:19.4   4:20:23.8
      12    Benjamin Terry                                         2072   30      123      4:25:52.5   4:26:18.3
      13    Josh Berg                         Worcester  MA        2016   33      125      4:29:38.0   4:29:46.1
      14    Chris Besaw                       East Brookfield  MA  2020   34      132      4:36:15.1   4:36:15.1
      15    Chris Edmonds                     West Roxbury  MA     2079   30      142      4:41:10.3   4:41:44.7
      16    Dion Mueller                      Grafton  MA          2165   32      151      4:46:32.5   4:47:09.4
      17    Joseph Prendergast                Worcester  MA        2193   31      154      4:48:53.0   4:48:53.0
      18    Jerry Ayantola                    Worcester  MA        2011   33      155      4:51:53.6   4:52:31.0
      19    Derek Levesque                    Worcester  MA        2137   34      195      5:44:45.2   5:44:45.2
      20    Danny Nguyen                      brockton  MA         2173   32      200      6:14:28.5   6:14:28.5

Male 35 to 39
                                                                                               Chip         Gun  
    Place    Name                              City              Bib No  Age   Overall         Time        Time  
       1    Joseph Bushey                     Tolland  CT          2038   39       37      3:43:51.2   3:43:51.2
       2    Paul Fullem                       Worcester  MA        2091   35       56      3:51:20.1   3:51:20.1
       3    Jose Rivera                       Webster  MA           101   38       66      3:56:04.0   3:56:07.6
       4    John Patraitis                    North Oxford  MA     2184   35       72      4:02:21.3   4:02:24.9
       5    Josh Edmed                        Lyme  CT             2078   37       89      4:11:06.0   4:11:06.0
       6    steven phelps                     douglas  MA          2189   39       94      4:12:49.1   4:12:49.1
       7    Michael Ginns                     Arlington  MA        2099   39       99      4:14:24.8   4:14:24.8
       8    Jacob Uba                                               153   38      110      4:21:49.0   4:21:51.0
       9    THOMAS HEAD                       WORCESTER  MA        2106   39      126      4:31:21.9   4:31:30.8
      10    Peter Pourzand                    Philadelphia  PA     2190   38      127      4:32:48.3   4:32:51.7
      11    Jeremy Prendergast                Chicago  IL          2192   35      153      4:47:10.9   4:47:10.9
      12    jeremey snow                      spencer  MA           119   36      176      5:14:51.2   5:14:51.2

Male 40 to 44
                                                                                               Chip         Gun  
    Place    Name                              City              Bib No  Age   Overall         Time        Time  
       1    Dave Kirk                         Sudbury  MA          2126   40        3      2:57:31.7   2:57:45.0
       2    Al Jones                          Uxbridge  MA         2117   40        5      3:04:56.0   3:04:56.0
       3    Andrew Biancheri                  Westborough  MA      2022   43        9      3:14:19.1   3:14:19.1
       4    James Chaves                      Providence  RI       2047   41       18      3:28:12.7   3:28:12.7
       5    Eric Bremberg                     Saugus  MA           2034   41       31      3:38:12.3   3:38:25.2
       6    James Kavanaugh                   Pawtucket  RI        2120   43       33      3:39:35.5   3:39:48.8
       7    Thomas Valentine                  Paxton  MA            134   44       50      3:46:47.6   3:46:47.6
       8    Eric Sampson                      Leicester  MA         108   40       62      3:53:49.7   3:54:26.2
       9    Fran Curtis                       Westminster  MA      2056   44       64      3:55:04.6   3:55:36.9
      10    Daniel Schwartz                   Shrewsbury  MA       1543   40       65      3:55:34.3   3:55:44.8
      11    Peter Welland                     Shrewsbury  MA        142   40       69      4:00:03.0   4:00:23.1
      12    Craig Colebourn                   Oxford  MA           1095   41       70      4:00:29.0   4:00:29.0
      

13    Colin Evans                       West Boylston  MA    2082   41       71      4:01:53.1   4:02:18.4


      14    Jeremy Roche                      Gardner  MA           102   41       73      4:04:02.3   4:04:12.2
      15    Scott Stevens                     Holden  MA            128   42       95      4:12:49.9   4:12:52.3
      16    Bill Schade                       Marlborough  MA       110   41      106      4:19:36.4   4:19:36.4
      17    Mike McNamara                     Hopkinton  MA        2149   44      119      4:24:58.5   4:25:06.1
      18    John Roman                        Harrisburg  PA        103   43      128      4:33:24.7   4:33:24.7
      19    Tom Winston                       Millbury  MA          143   44      131      4:35:45.2   4:35:45.2
      20    Al Del Re                         Northboro  MA        2062   41      137      4:37:58.9   4:38:49.0
      21    Chris Phelan                      East Hampstead  NH   2188   41      139      4:38:53.5   4:38:53.5
      22    Shaukat Soofi                     worcester  MA         121   42      175      5:11:28.6   5:11:30.3
      23    Anthony Prendergast               Worcester  MA        2191   43      179      5:16:33.5   5:16:33.5

Male 45 to 49
                                                                                               Chip         Gun  
    Place    Name                              City              Bib No  Age   Overall         Time        Time  
       1    David Audet                       Concord  NH          2006   47        6      3:09:03.4   3:09:05.1
       2    Phillip Stern                     Newton  MA            127   49       11      3:20:24.9   3:20:24.9
       3    Edward O'Donnell                  Holden  MA           2178   48       24      3:31:23.4   3:31:31.9
       4    Tim Benison                       Auburn  MA            152   46       43      3:45:10.0   3:45:10.0
       5    Robert Lux                        Pawtucket  RI        2141   46       52      3:47:14.3   3:47:24.4
       6    John Augusto                      Worcester  MA        2008   48       53      3:47:58.3   3:48:06.9
       7    Joe Beyer                         Concord  MA          2021   49       90      4:11:20.9   4:11:29.5
       8    George Donahue                    Lunenburg  MA        2071   49      138      4:38:19.6   4:38:36.0
       9    Steven Ninteau                    Orange  MA           2174   46      163      4:58:30.4   4:58:30.4
      10    Jim Snow                          Worcester  MA         120   48      164      4:59:10.0   4:59:10.0
      11    Robert Sullivan                   Shrewsbury  MA        130   47      171      5:08:41.6   5:08:41.6
      12    Bob Champlin                      MA  MA               2045   49      197      5:53:18.4   5:53:24.4

Male 50 to 54
                                                                                               Chip         Gun  
    Place    Name                              City              Bib No  Age   Overall         Time        Time  
       1    Michael Auger                     Westminster  MA      2007   52       14      3:25:16.8   3:25:22.3
       2    Scott Schaeffer-Duffy             Worcester  MA         111   53       25      3:32:31.0   3:32:34.4
       3    Michael Topalan                                         122   50       40      3:44:39.5   3:44:44.4
       4    Larry Bradley                     Winchester  MA       2032   54       47      3:46:04.4   3:46:26.1
       5    Larry Cline                                             174   53       91      4:11:27.0   4:11:27.0
       6    Jim Lambert                       Charlton  MA         2132   50      102      4:17:46.9   4:17:46.9
       7    Roger Wright                                            189   51      118      4:24:46.6   4:24:50.2
       8    Craig Macauley                    Marlborough  MA      2142   50      146      4:43:10.1   4:43:46.4
       9    Paul Anderson                     Hewitt  TX           2003   52      161      4:54:22.4   4:54:31.5
      10    Ira Gardner                       Jamaica  NY          2094   52      184      5:26:33.1   5:26:53.5
      11    Doug Hanson                       Greenville  RI       2104   53      186      5:28:11.1   5:28:11.1
      12    Steve Grant                                            1632   53      188      5:30:39.2   5:30:39.2
      13    Michael Braun                     Worcester  MA        2033   50      190      5:35:13.0   5:35:13.0

Male 55 to 59
                                                                                               Chip         Gun  
    Place    Name                              City              Bib No  Age   Overall         Time        Time  
       1    Harry Lepp                        Danielson  CT        2135   55       46      3:46:01.8   3:46:01.8
       2    Michael Seretto                   Leominster  MA        115   57       74      4:04:20.6   4:04:36.0
       3    Stephen Barrett                   Canterbury  NH       2013   57       75      4:04:49.5   4:05:07.5
       4    Donald King                       Stow  MA             2125   57       93      4:11:55.9   4:12:11.3
       5    Daniel Nolan                      Athol  MA            2175   57      100      4:14:34.2   4:15:03.2
       6    Steve Feeley                      West Boylston  MA    2085   57      116      4:24:21.4   4:24:50.9
       7    scott perrapato                   south burlington  V  2186   56      120      4:25:11.6   4:25:11.6
       8    Lee Dickey                        Dracut  MA           2065   58      157      4:52:40.6   4:52:46.0
       9    Jonathan Knight                   Worcester  MA        2129   55      189      5:33:29.7   5:33:29.7
      10    Kevin Bradley                     Shrewsbury  MA       2031   55      201      6:21:51.9   6:22:11.2

Male 60 to 64
                                                                                               Chip         Gun  
    Place    Name                              City              Bib No  Age   Overall         Time        Time  
       1    james gawle                       webster  MA          2098   60       63      3:54:29.1   3:54:29.1
       2    David Dietrich                    Greenville  NY       2067   61       85      4:08:23.5   4:08:30.0

Male 65 to 69
                                                                                               Chip         Gun  
    Place    Name                              City              Bib No  Age   Overall         Time        Time  
       1    Philip Cannell                    Rutland  MA          2041   65      174      5:09:42.1   5:09:42.1

Marathon Handcycle
Male 0-99
                                                                                               Chip         Gun  
    Place    Name                              City              Bib No  Age   Overall         Time        Time  
       1    Marty Ayotte                      Worcester  MA        2012   58        1      2:41:49.8   2:41:49.8