Patriots Half Ironman 2012
16 June 2012
1.2 Mile swim; 56 Mile Bike; 13.1 Mile run (completed the run as part relay team)
4 Hour 48:04
Website: Sun Multisport event Patriot Half
Location:

Cathedral Camp in East Freetown, MA. 2012

Results:
Place No. Team Name Final Div Rank Swim Tran1 Rank Bike Tran2 Rank Run Penalty
===== ===== ============================== ======= ======= ==== ======= ======= ==== ======= ======= ==== ======= =======
1 789 VMPS 4:48:04 MTEAM 1 32:57 2:43 1 2:20:40 2:57 3 1:44:50 4:00
The Patriot Half was held Saturday, June 16, 2012 at Cathedral Camp in East Freetown, MA. 2012 marks the sixth year of the Patriot which features a 1.2 mile swim in Long Pond, the largest fresh water body of water in Masssachusetts, a 2-loop bike course offering 56 miles of beautiful, flat roads with a few rolling hills and a 13.1 mile run along country roads, farms and lakes with aid stations at every mile
On this hot and sunny day, I had privilege to be part of a relay team containing an elite swimmer David Lyons and elite biker Don Vescio.
Starting in wave 10 on the swim, Dave had great swim.... Don went rest room before the bike during transition adding some time to the split :-) Then Don proceeded to crush the bike course averaging over 24 mile per hour. When I started the run I was probably 25th person out of the transition area onto the run course amongst elite triathlete.
It was awesome feeling.. people didn't realize I was just the runner in relay team and you see how you are treated differently when in the elite category...!!!
I ran hard.. heart rate was in high 160+ and spiking in the 170's and managed to complete the course in 1H 44. 50 which is as close to 1H45 like I promised as you can get. The course was hillier than the previous half marathon and hotter so was very pleased to finish the run 2 mins faster.
Chance and Breanna came to watch.. was great to have them at the race.. and to meet them at the finish line :-)
1.2 mile swim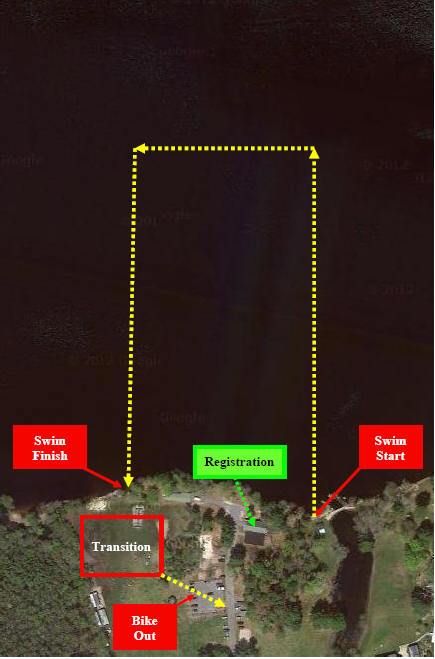 56 Mile Bike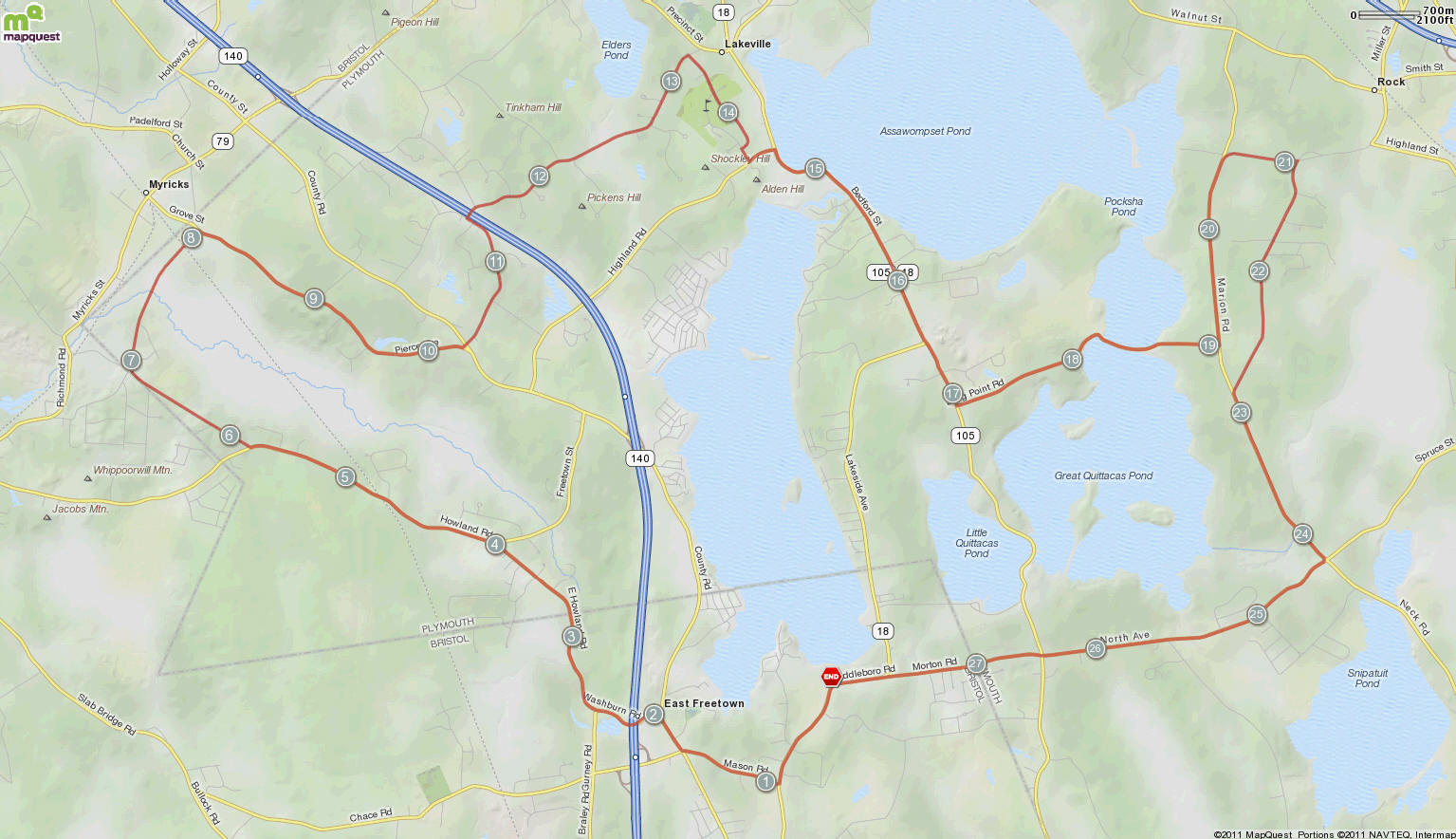 13.1 mile run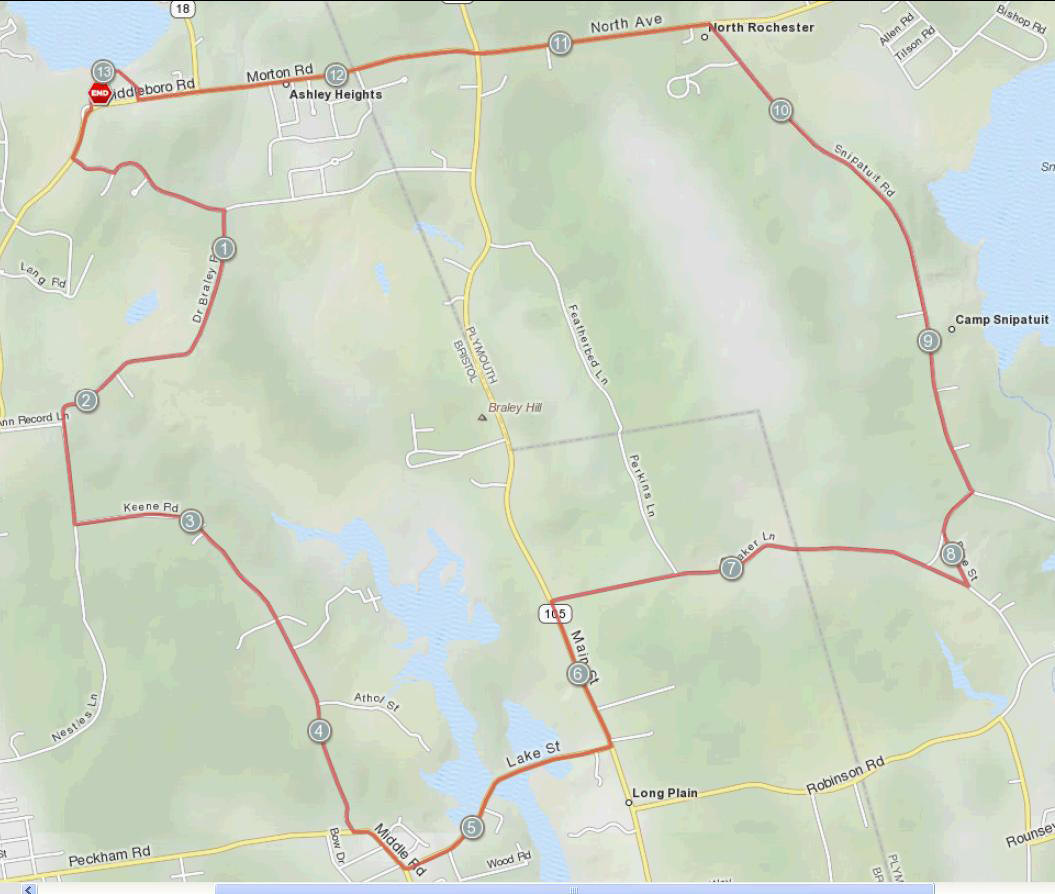 Complete Relay Team Results
                                                        6th ANNUAL PATRIOT HALF
                                               HALF: SWIM 1.2mi / BIKE 56mi / RUN 13.1mi

                                       EAST FREETOWN, MA     SATURDAY, JUNE 16, 2012     7:00 AM

Place No.   Team Name                      Final   Div     Rank Swim    Tran1   Rank Bike    Tran2   Rank Run     Penalty 
===== ===== ============================== ======= ======= ==== ======= ======= ==== ======= ======= ==== ======= ======= 
    1   789 VMPS                           4:48:04 MTEAM      1   32:57    2:43    1 2:20:40    2:57    3 1:44:50    4:00 
    2   794 CARLA SILVA                    5:14:57 XTEAM      2   33:09    1:19    2 3:07:13    1:45    1 1:31:32         
    3   790 COHEN CREW                     5:36:51 XTEAM      5   45:23    1:01    3 3:14:42    1:18    2 1:34:29         
    4   792 THE HONEY BADGERS              5:52:18 FTEAM      3   33:56    1:04    4 3:19:06    1:35    5 1:56:38         
    5   791 MOTULIIA RELAY                 6:36:31 FTEAM      6   53:56    1:44    6 3:43:02    2:03    4 1:55:47         
    6   795 TOWNIES                        6:43:09 FTEAM      4   43:46    1:31    5 3:23:13    2:26    6 2:32:14         


Relay Team Overall Winners
                             MALE TEAM WINNERS

    1   789 VMPS                      4:48:04 
                 David Lyons                 
                 Don Vescio                   
                 Colin Evans          


                            FEMALE TEAM WINNERS

    1   792 THE HONEY BADGERS         5:52:18 
                 Kathryn Bruning             
                 Julie Wolfson                
                 Amy Wolfson          


                            MIXED TEAM WINNERS

    1   794 CARLA SILVA               5:14:57 
                 Carla Silva                 
                 Jane Couto                   
                 Brian Govednik       


6th ANNUAL PATRIOT HALF
HALF: SWIM 1.2mi / BIKE 56mi / RUN 13.1mi
EAST FREETOWN, MA SATURDAY, JUNE 16, 2012 7:00 AM
Place No. Name Hometown Final Div/Tot Div Rank Swim Tran1 Rank Bike Tran2 Rank Run Penalty
===== ===== =========================== ===================== ======= ======== ======= ==== ======= ======= ==== ======= ======= ==== ======= =======
1 502 Timothy Tapply SHERBORN MA 4:12:10 1/11 EOPN-M 13 30:05 1:08 7 2:22:50 1:39 1 1:16:30
2 10 David Lamoureux LAKEVILLE MA 4:13:54 2/11 EOPN-M 1 27:26 1:22 4 2:21:19 1:28 4 1:22:20
3 323 David Sek NORTH ANDOVER MA 4:16:31 1/35 M3034 10 29:18 1:19 12 2:26:00 1:32 2 1:18:23
4 422 James Strain BOSTON MA 4:19:18 1/92 M4044 11 29:21 1:07 5 2:21:41 1:35 6 1:25:36
5 459 David Connery SHELBURNE VT 4:22:47 2/92 M4044 93 34:16 2:01 2 2:15:22 1:35 17 1:29:35
6 246 Brett Hellstedt NORTH YARMOUTH ME 4:25:54 3/11 EOPN-M 30 31:13 1:54 10 2:24:44 1:40 9 1:26:25
7 367 Marc Capobianco NORTH READING MA 4:27:00 1/55 M3539 55 32:47 1:54 9 2:24:17 2:09 7 1:25:55
8 227 Colin Cook PEPPERELL MA 4:28:27 2/35 M3034 34 31:31 0:57 15 2:27:23 1:27 12 1:27:10
9 5 Patrick McCrann BARRINGTON RI 4:32:41 4/11 EOPN-M 91 34:13 1:41 18 2:27:57 2:04 11 1:26:47
10 9 Michael Lamoureux MILTON MA 4:32:48 5/11 EOPN-M 41 32:11 1:39 13 2:26:25 1:46 24 1:30:49
11 445 Adrian Rishworth SAUNDERSTOWN RI 4:35:39 3/92 M4044 63 33:09 1:39 28 2:31:43 1:53 13 1:27:17
12 87 John Lariviere N SCITUATE RI 4:35:57 1/66 M4549 25 31:07 1:51 22 2:29:51 2:08 28 1:31:02
13 436 Robert Straznitskas TIVERTON RI 4:36:25 4/92 M4044 17 30:25 1:05 26 2:31:21 1:34 31 1:32:02
14 319 Ryan Lyesiuk GARDNER MA 4:36:48 3/35 M3034 158 37:12 1:54 17 2:27:46 1:45 15 1:28:13
15 471 Joseph Rogers LYNDEBOROUGH NH 4:37:42 2/66 M4549 97 34:35 1:35 31 2:32:54 2:18 8 1:26:22
16 338 Corey Strauch SPRING BROOK TWP. PA 4:37:54 4/35 M3034 94 34:29 2:12 19 2:28:50 1:49 20 1:30:36
17 45 Dave Sousa BROCKTON MA 4:38:06 6/11 EOPN-M 32 31:25 1:06 21 2:29:39 1:55 35 1:34:03
18 311 Lukasz (luke) Willenberg BRISTOL RI 4:38:15 7/11 EOPN-M 174 37:38 1:35 20 2:29:05 1:59 14 1:28:00
19 236 David Englert RIDGEFIELD CT 4:38:34 3/66 M4549 87 34:06 1:37 25 2:30:18 1:36 27 1:30:59
20 392 Dustin Baker NORTH CHELMSFORD MA 4:41:21 5/92 M4044 111 35:13 3:11 73 2:39:23 2:41 3 1:20:55
21 332 Victor Brown III BRIGHTON MA 4:41:33 2/55 M3539 20 30:39 1:40 90 2:41:05 1:44 10 1:26:26
22 182 Matthew Musiak EASTHAMPTON MA 4:42:01 5/35 M3034 3 28:11 2:26 58 2:37:45 3:06 19 1:30:34
23 22 Lisbeth Kenyon BARRINGTON RI 4:43:31 1/8 EOPN-F 33 31:28 1:30 34 2:33:18 2:20 38 1:34:56
24 21 Amanda Kourtz RAYNHAM MA 4:44:43 2/8 EOPN-F 142 36:36 2:17 77 2:39:56 2:00 5 1:23:56
25 358 David Lusignan WOODSTOCK CT 4:44:59 3/55 M3539 173 37:37 1:58 43 2:35:29 1:42 16 1:28:16
26 91 Jason Seekell CHARLESTOWN RI 4:45:45 4/55 M3539 170 37:33 2:00 30 2:32:27 2:31 29 1:31:16
27 233 Carrie McCusker CAPE ELIZABETH ME 4:46:32 3/8 EOPN-F 56 32:50 1:26 41 2:34:37 1:49 44 1:35:52
28 299 Sean Fleming MEDWAY MA 4:46:38 1/21 M2529 39 31:52 1:29 84 2:40:26 1:56 26 1:30:57
29 52 Stephen Darke NEW YORK NY 4:46:41 5/55 M3539 162 37:23 2:04 33 2:33:10 1:50 32 1:32:17
30 365 Adam Manewell WEYMOUTH MA 4:47:00 6/55 M3539 77 33:48 2:00 68 2:38:47 1:42 22 1:30:44
31 403 Marcus Chapman EAST SANDWICH MA 4:47:13 6/92 M4044 141 36:34 2:18 46 2:35:57 2:25 18 1:30:00
32 297 Andy Brower BELCHERTOWN MA 4:48:23 6/35 M3034 202 38:24 1:39 44 2:35:44 1:42 25 1:30:55
33 495 Marc Richardson ARLINGTON MA 4:49:38 4/66 M4549 47 32:18 1:43 55 2:37:26 2:09 46 1:36:05
34 77 Ken Szekretar Jr NEW YORK NY 4:51:21 7/55 M3539 151 36:51 1:52 54 2:37:22 1:37 34 1:33:41
35 346 Nilton Motta MIDDLEBORO MA 4:51:24 8/55 M3539 403 44:17 2:22 6 2:21:51 1:26 81 1:41:29
36 644 Kristen Lamb MARBLEHEAD MA 4:51:39 1/30 F3539 104 34:57 1:36 50 2:36:56 2:05 47 1:36:07
37 469 Jason Lilly MARSTONS MILLS MA 4:52:56 7/92 M4044 131 36:18 2:54 56 2:37:36 1:44 37 1:34:27
38 48 Erik Wells BRIDGEWATER MA 4:53:00 8/11 EOPN-M 58 32:54 1:28 40 2:34:31 1:45 87 1:42:25
39 206 Jason Leggett WINDHAM ME 4:53:08 8/92 M4044 83 34:01 2:04 23 2:30:04 2:43 104 1:44:17
40 353 Matt Barrows NORFOLK MA 4:53:09 9/55 M3539 333 41:52 2:11 24 2:30:15 1:36 55 1:37:17
41 387 Steve Rosenthal NORTH READING MA 4:53:11 9/92 M4044 85 34:05 1:50 65 2:38:13 2:13 50 1:36:52
42 239 Norman Kim WESTFORD MA 4:53:26 1/25 M5054 71 33:34 2:04 125 2:45:00 2:11 21 1:30:40
43 491 Sean Londergan MONTPELIER VT 4:53:39 5/66 M4549 18 30:26 2:45 76 2:39:53 2:03 61 1:38:36
44 461 Kent Damon CAMBRIDGE MA 4:54:06 6/66 M4549 50 32:24 1:51 51 2:36:59 2:50 71 1:40:04
45 428 Derek Flood DORCHESTER MA 4:54:32 10/92 M4044 38 31:49 1:34 99 2:42:00 2:20 49 1:36:50
46 507 Paul Neat HINGHAM MA 4:55:27 7/66 M4549 24 31:05 2:22 98 2:41:55 2:08 57 1:37:58
47 88 Steven Lewis EAST GREENWICH RI 4:55:54 2/25 M5054 95 34:31 1:24 64 2:38:03 1:57 69 1:40:01
48 366 Zebulon Nelessen NEW YORK NY 4:56:04 10/55 M3539 79 33:52 2:12 16 2:27:25 2:07 162 1:50:29
49 173 Martha Berrouard GRANBY MA 4:56:56 1/42 F4549 80 33:53 1:33 100 2:42:03 2:18 54 1:37:10
50 647 Jennifer Schoenberg HARVARD MA 4:57:25 1/40 F4044 26 31:07 1:53 101 2:42:14 2:09 70 1:40:03
51 19 Mariana Lara Albert MONTPELIER VT 4:57:43 4/8 EOPN-F 113 35:17 1:51 91 2:41:14 1:50 56 1:37:33
52 132 Al (buddy) Puerini CRANSTON RI 4:58:09 7/35 M3034 219 38:54 3:22 61 2:37:54 3:41 36 1:34:20
53 229 Richard Hostler MERRIMACK NH 4:58:12 11/55 M3539 164 37:24 1:19 36 2:33:46 2:12 100 1:43:33
54 486 Andrew Waples FRANKLIN MA 4:58:14 8/66 M4549 352 42:31 2:17 62 2:37:55 2:15 33 1:33:19
55 4 Dean McElwain REHOBOTH MA 4:58:32 9/11 EOPN-M 48 32:20 1:09 72 2:39:11 1:58 102 1:43:56
56 20 Kimberly Shattuck BRIDGEWATER MA 4:58:34 5/8 EOPN-F 57 32:50 1:06 102 2:42:33 1:34 76 1:40:33
57 601 Sarah Newcomb ORLEANS MA 4:58:49 1/36 F3034 6 28:45 1:30 143 2:46:36 2:43 65 1:39:16
58 169 Patrick Smith SALEM MA 4:58:51 3/25 M5054 254 39:45 1:34 37 2:33:47 2:38 79 1:41:09
59 506 Patrick McGahan CHAPEL HILL NC 4:59:11 9/66 M4549 46 32:15 1:41 204 2:52:17 2:12 23 1:30:47
60 126 Kevan Hauver BARRINGTON RI 4:59:23 12/55 M3539 239 39:24 1:49 27 2:31:33 2:22 75 1:40:17 4:00
61 278 Sean McNeil CANTON MA 4:59:34 1/5 M2024 221 38:56 1:19 70 2:39:03 2:20 58 1:37:58
62 302 Sean Battis NORWALK CT 4:59:35 8/35 M3034 64 33:16 2:17 110 2:43:31 2:20 59 1:38:12
63 82 Kyle Browning NORFOLK MA 4:59:36 13/55 M3539 2 28:07 2:17 85 2:40:49 2:32 120 1:45:53
64 513 Todd Kenyon BARRINGTON RI 4:59:42 10/66 M4549 28 31:12 1:31 32 2:32:57 2:39 166 1:51:25
65 477 John Werner BROOKLINE MA 5:00:35 11/92 M4044 43 32:14 1:20 162 2:48:15 1:51 52 1:36:57
66 682 Rob Simms COHASSET MA 5:02:11 1/23 M5559 66 33:24 2:02 39 2:34:22 2:25 157 1:49:58
67 295 Sean Robar DARTMOUTH MA 5:02:42 2/21 M2529 54 32:43 1:55 184 2:50:27 1:38 45 1:36:01
68 441 Paul Maxted SOUTH BURLINGTON VT 5:02:43 12/92 M4044 137 36:23 2:24 86 2:40:53 2:06 78 1:40:58
69 17 Amy Mausser WILLIMANTIC CT 5:02:56 6/8 EOPN-F 105 34:58 1:11 104 2:42:40 1:28 89 1:42:39
70 279 Joe Weber GARDNER MA 5:03:00 2/5 M2024 146 36:39 1:18 94 2:41:31 2:02 82 1:41:32
71 473 Thomas Connor LEOMINSTER MA 5:03:24 11/66 M4549 190 38:09 2:26 11 2:24:45 2:38 206 1:55:28
72 185 Sam Burlingame BROOKLYN NY 5:04:41 9/35 M3034 108 35:04 1:06 120 2:44:28 2:24 83 1:41:41
73 303 Brett Crossland PAWTUCKET RI 5:05:11 10/35 M3034 274 40:21 1:44 109 2:43:27 2:42 53 1:36:58
74 470 Daniel Lambrecht NORWOOD MA 5:05:16 3/21 M2529 42 32:14 2:30 134 2:45:47 1:44 93 1:43:03
75 354 Alex Ciota BALLSTON SPA NY 5:05:44 14/55 M3539 126 36:14 2:17 89 2:41:02 2:01 103 1:44:12
76 479 Robert Fitton WESTPORT MA 5:05:48 12/66 M4549 40 31:59 2:04 66 2:38:15 1:44 176 1:51:48
77 412 Frederick MacDonald SEEKONK KY 5:05:49 13/92 M4044 224 38:58 3:03 95 2:41:34 2:02 73 1:40:14
78 186 Anthony Chan FLUSHING NY 5:05:53 3/5 M2024 415 44:37 1:49 82 2:40:23 2:13 51 1:36:53
79 251 Cliff Hesson DUXBURY MA 5:06:01 13/66 M4549 65 33:22 2:17 105 2:42:41 2:09 117 1:45:34
80 238 Peter Floss LITTLETON MA 5:06:06 14/66 M4549 414 44:35 3:18 78 2:39:57 3:13 39 1:35:05
81 208 Charles Sagerstrom SHREWSBURY MA 5:06:13 15/66 M4549 390 43:49 2:29 59 2:37:46 2:23 67 1:39:48
82 288 Rob Duguay WATERBURY CT 5:06:27 4/21 M2529 60 32:57 1:13 167 2:48:28 2:27 80 1:41:24
83 121 Luis De Freitas JOHNSTON RI 5:06:52 15/55 M3539 183 37:51 1:57 117 2:44:15 2:37 74 1:40:14
84 296 Steve Su HOBOKEN NJ 5:06:58 5/21 M2529 106 35:01 1:53 47 2:36:16 1:58 177 1:51:53
85 619 Keri Murray CUMBERLAND RI 5:06:59 7/8 EOPN-F 150 36:49 1:49 63 2:37:57 1:50 144 1:48:35
86 110 Kenneth Sparrow HAVERHILL MA 5:07:09 14/92 M4044 198 38:19 2:36 71 2:39:07 2:18 110 1:44:51
87 181 Geert Mol WEST SUFFIELD CT 5:07:22 15/92 M4044 260 39:50 3:20 53 2:37:14 3:52 95 1:43:08
88 779 Dave White ROCKLAND MA 5:07:35 16/55 M3539 334 41:52 2:54 42 2:34:45 1:54 125 1:46:11
89 14 Keri Boyle WELLESLEY MA 5:07:36 2/30 F3539 59 32:55 1:47 87 2:40:54 2:16 155 1:49:45
90 144 Tim Dewland BRIGHTON MA 5:07:37 11/35 M3034 168 37:28 3:00 145 2:46:45 2:07 60 1:38:20
91 419 Zane Zeeh BOXFORD MA 5:07:53 16/92 M4044 51 32:24 2:39 123 2:44:47 2:06 122 1:45:59
92 390 Vincent Zinssner BELMONT MA 5:08:07 17/92 M4044 286 40:39 1:36 69 2:38:47 1:55 112 1:45:10
93 124 Roland Goodell FRANKLIN MA 5:08:12 16/66 M4549 238 39:22 1:14 45 2:35:55 2:37 151 1:49:05
94 232 Ted Darling CAPE ELIZABETH ME 5:08:21 17/66 M4549 242 39:30 1:48 35 2:33:30 2:06 169 1:51:28
95 595 Claire Wright ANCASTER ON 5:08:43 2/36 F3034 27 31:09 1:30 225 2:54:13 2:04 68 1:39:49
96 391 Joel Allen GILBERTSVILLE PA 5:08:51 18/92 M4044 52 32:33 2:14 49 2:36:24 1:58 207 1:55:43
97 61 John Withrow SCOTCH PLAINS NJ 5:09:12 17/55 M3539 144 36:37 1:28 52 2:37:10 2:21 175 1:51:37
98 421 Jeffrey Arsenault HAMPTON NH 5:09:26 19/92 M4044 84 34:03 2:19 81 2:40:06 2:10 164 1:50:50
99 389 Michael Whipple YARMOUTH ME 5:09:35 18/55 M3539 319 41:34 1:28 116 2:44:06 1:44 77 1:40:44
100 799 Richard Lee NEEDHAM MA 5:09:47 20/92 M4044 235 39:21 2:28 106 2:43:05 2:25 88 1:42:30
101 632 Caitlin Salyer WESTON MA 5:10:05 3/30 F3539 22 30:58 2:19 138 2:46:16 3:13 136 1:47:21
102 78 Maria Valdes NEW YORK NY 5:10:25 3/36 F3034 101 34:50 1:29 148 2:46:51 1:35 119 1:45:41
103 27 Brian Buchanan NEWPORT RI 5:10:26 18/66 M4549 149 36:47 1:44 115 2:44:03 2:41 115 1:45:14
104 119 Ed Cullen WAKEFIELD RI 5:10:55 6/21 M2529 23 31:03 2:30 121 2:44:34 2:44 159 1:50:06
105 583 Kristin Su SOUTH HADLEY MA 5:11:04 1/21 F2529 288 40:39 2:55 122 2:44:41 2:45 72 1:40:06
106 380 Brian Dwyer DEDHAM MA 5:11:15 19/55 M3539 36 31:45 1:41 38 2:33:56 1:58 284 2:01:57
107 652 Diana Lajoie SEEKONK MA 5:12:09 2/40 F4044 121 35:49 1:43 112 2:43:53 2:12 143 1:48:34
108 86 Michelle Gosselin PROVIDENCE RI 5:12:09 2/21 F2529 335 41:54 3:14 169 2:48:53 2:27 43 1:35:42
109 210 Rick Levin CALDWELL NJ 5:12:12 1/8 M6064 89 34:10 2:07 146 2:46:45 2:12 130 1:47:00
110 312 Frank Andrescavage ARLINGTON MA 5:12:19 12/35 M3034 301 40:59 2:53 159 2:48:06 3:42 48 1:36:41
111 418 Steven Wladis FAYETTEVILLE NY 5:13:10 21/92 M4044 132 36:19 3:08 137 2:46:04 3:09 107 1:44:32
112 127 Robert Lux PAWTUCKET RI 5:13:34 19/66 M4549 120 35:45 2:49 211 2:53:01 3:07 62 1:38:54
113 355 Kevin Corriveau SOUTHWICK MA 5:14:05 20/55 M3539 231 39:09 3:00 140 2:46:23 2:29 94 1:43:05
114 558 Steven Smolenski WINDHAM NH 5:14:21 2/23 M5559 138 36:27 2:27 129 2:45:21 2:53 133 1:47:14
115 49 Eric Wheeler FALMOUTH MA 5:14:21 21/55 M3539 246 39:38 2:05 79 2:39:57 4:00 147 1:48:43
116 639 Heidi Moulison GEORGETOWN MA 5:14:22 4/30 F3539 103 34:56 2:08 174 2:49:33 3:22 106 1:44:25
117 714 Alison Leavitt PORTLAND ME 5:14:34 1/18 F5054 117 35:38 2:23 195 2:51:13 2:10 96 1:43:11
118 536 James Piper ASHBY MA 5:14:38 4/25 M5054 342 42:05 2:45 103 2:42:34 3:26 101 1:43:50
119 423 Rudolph Bleakley Jr NORWALK CT 5:14:53 22/92 M4044 176 37:41 1:44 3 2:18:22 2:40 401 2:14:29
120 340 Tim Weeden STURBRIDGE MA 5:14:59 22/55 M3539 74 33:36 2:46 182 2:50:18 3:35 109 1:44:45
121 347 Stuart Salyer WESTON MA 5:15:23 23/55 M3539 230 39:09 3:01 156 2:47:37 2:38 92 1:43:00
122 327 Dana Gravina BARRINGTON RI 5:15:33 13/35 M3034 212 38:43 4:08 178 2:49:50 3:17 66 1:39:37
123 713 Della Jennings HARVARD MA 5:15:49 2/18 F5054 118 35:40 1:56 136 2:45:54 2:48 153 1:49:33
124 604 Rachel Wasserman WEST ROXBURY MA 5:16:37 4/36 F3034 49 32:22 2:39 201 2:51:41 2:18 138 1:47:39
125 180 Lauren Mendoza AGAWAM MA 5:16:44 5/36 F3034 196 38:17 1:36 183 2:50:25 1:52 108 1:44:35
126 179 Elena Massa-Musiak EASTHAMPTON MA 5:16:47 6/36 F3034 99 34:41 1:54 236 2:55:49 2:37 84 1:41:47
127 641 Tammy Toth SALEM NH 5:17:10 5/30 F3539 249 39:40 1:46 97 2:41:52 1:53 179 1:52:01
128 515 Chris Litty ELLINGTON CT 5:17:12 20/66 M4549 78 33:51 1:52 185 2:50:27 2:35 142 1:48:28
129 798 Mathieu Nelessen LAWRENCEVILLE NJ 5:17:13 24/55 M3539 37 31:48 3:38 80 2:40:04 3:12 247 1:58:32
130 379 Brian Dubey DUDLEY MA 5:17:20 23/92 M4044 225 39:00 2:18 188 2:51:00 2:10 91 1:42:53
131 550 Michel Gagne ST-ROMUALD QC 5:17:30 3/23 M5559 110 35:12 2:22 126 2:45:12 2:27 182 1:52:20
132 360 Jared Watson BOSTON MA 5:17:59 25/55 M3539 7 28:56 3:58 119 2:44:20 3:26 228 1:57:21
133 15 Kelsey Abbott FREEPORT ME 5:18:16 8/8 EOPN-F 19 30:37 2:02 247 2:56:47 1:53 129 1:46:59
134 292 Joseph Saulnier HYANNIS MA 5:18:34 7/21 M2529 67 33:25 2:01 48 2:36:18 2:53 302 2:04:00
135 175 Dave Couture BROAD BROOK CT 5:18:36 24/92 M4044 139 36:27 2:24 197 2:51:17 2:26 124 1:46:04
136 178 Bob Goodrow SPRINGFIELD MA 5:18:54 4/23 M5559 267 40:07 2:15 88 2:40:56 2:06 187 1:53:32
137 351 Neil Washington LONDONDERRY NH 5:19:01 26/55 M3539 157 37:08 2:30 171 2:49:13 2:11 139 1:48:01
138 400 Renaud Bardon WINCHESTER MA 5:19:36 25/92 M4044 214 38:46 2:19 67 2:38:16 3:24 221 1:56:53
139 221 Rich Partridge NEEDHAM MA 5:19:51 26/92 M4044 140 36:32 2:14 152 2:47:00 2:31 173 1:51:36
140 675 Kari Gathen ALBANY NY 5:19:57 3/40 F4044 387 43:43 3:58 222 2:53:45 2:54 41 1:35:38
141 649 Darcey Bartel WELLESLEY MA 5:20:13 4/40 F4044 184 37:51 3:28 192 2:51:10 2:35 113 1:45:11
142 531 Roger Spring WAREHAM MA 5:20:42 5/25 M5054 134 36:19 3:01 144 2:46:37 5:29 152 1:49:18
143 723 Patsy Sullivan CHELMSFORD MA 5:20:51 3/18 F5054 5 28:27 1:40 266 2:58:18 2:36 156 1:49:51
144 481 Jack Hinchy WELLESLEY MA 5:21:02 21/66 M4549 294 40:47 2:41 280 2:59:17 2:56 40 1:35:23
145 277 Meirav Werbel BARRINGTON RI 5:21:06 5/40 F4044 449 45:44 2:37 135 2:45:50 3:25 99 1:43:31
146 41 Paul Ghelfi BRIDGEWATER MA 5:21:14 22/66 M4549 119 35:44 3:33 139 2:46:17 2:04 189 1:53:38
147 530 Mike Marks SUDBURY MA 5:21:26 6/25 M5054 16 30:16 2:10 157 2:47:55 2:36 246 1:58:31
148 85 Nicholas Gernt CRANSTON RI 5:21:27 14/35 M3034 218 38:52 2:46 130 2:45:26 2:57 168 1:51:27
149 23 Karl Amber BERKLEY MA 5:21:40 27/92 M4044 302 40:59 1:43 164 2:48:22 1:54 148 1:48:43
150 672 Lynn Thornton HARVARD MA 5:21:40 6/40 F4044 45 32:15 1:52 166 2:48:23 2:34 216 1:56:38
151 51 Geoff Clark NORTH PLAINFIELD NJ 5:21:46 23/66 M4549 518 48:33 2:36 83 2:40:25 3:07 131 1:47:06
152 321 Robert Otto WELLESLEY MA 5:22:02 15/35 M3034 395 43:56 2:00 74 2:39:34 2:20 196 1:54:13
153 458 David Clott HOPKINTON MA 5:22:41 28/92 M4044 381 43:39 2:39 92 2:41:16 3:40 170 1:51:29
154 596 Christina Binder SOMERVILLE MA 5:22:42 7/36 F3034 227 39:05 3:42 228 2:54:25 2:41 90 1:42:51
155 324 Pete Wierzbinski CAMBRIDGE MA 5:23:14 16/35 M3034 272 40:18 4:33 237 2:55:53 3:32 63 1:38:59
156 434 Derek Munn NEWTON MA 5:23:14 29/92 M4044 130 36:17 1:38 173 2:49:31 2:03 191 1:53:46
157 426 Kelley Connolly NEEDHAM MA 5:23:35 30/92 M4044 178 37:43 3:23 221 2:53:41 3:56 111 1:44:53
158 177 Marc Glettenberg ENFIELD CT 5:23:51 1/19 CLYDE 300 40:58 4:33 113 2:43:55 3:58 161 1:50:29
159 183 Angela Rice AGAWAM MA 5:23:51 6/30 F3539 163 37:24 1:47 57 2:37:38 2:35 307 2:04:29
160 235 Peter Racicot WEYMOUTH MA 5:23:51 2/19 CLYDE 61 32:57 2:01 165 2:48:23 3:56 215 1:56:37
161 778 Mark Vautour NEWTON MA 5:24:02 10/11 EOPN-M 561 52:44 2:49 118 2:44:17 2:16 85 1:41:57
162 437 Andrew Blake WESTPORT CT 5:24:06 31/92 M4044 102 34:52 2:22 75 2:39:42 2:20 311 2:04:52
163 424 Steeve Breton NATICK MA 5:24:33 32/92 M4044 206 38:33 2:20 170 2:49:12 2:25 180 1:52:04
164 484 Douglas Roberts, WILLINGTON CT 5:24:39 24/66 M4549 341 42:03 3:25 147 2:46:48 2:27 158 1:49:58
165 504 Mike Koenig BOXFORD MA 5:24:46 25/66 M4549 4 28:11 2:02 114 2:44:01 2:07 350 2:08:28
166 42 Shannon Porges WEST BRIDGEWATER MA 5:25:00 2/42 F4549 250 39:41 2:26 205 2:52:20 1:56 145 1:48:40
167 432 Rob Hudock SAN DIEGO CA 5:25:04 33/92 M4044 148 36:46 2:28 96 2:41:48 3:28 272 2:00:35
168 136 Christopher Souza FALL RIVER MA 5:25:15 27/55 M3539 72 33:34 2:01 160 2:48:11 2:53 248 1:58:37
169 33 Richard Hatch PLYMPTON MA 5:25:15 34/92 M4044 487 47:27 3:11 132 2:45:38 3:02 121 1:45:58
170 447 Keith Simonds HOLLIS NH 5:25:39 35/92 M4044 82 34:00 1:44 229 2:54:29 2:08 185 1:53:20
171 133 Brad Semle UXBRIDGE MA 5:25:48 36/92 M4044 8 29:02 2:51 281 2:59:22 2:41 178 1:51:54
172 331 Jeremie Boucher JAMAICA PLAIN MA 5:26:14 28/55 M3539 223 38:57 3:37 8 2:23:42 3:39 419 2:16:20
173 363 Justin Hayes NORTH ANDOVER MA 5:26:36 29/55 M3539 172 37:36 2:12 343 3:04:39 3:04 64 1:39:08
174 213 Ian Rusk SUDBURY MA 5:27:02 26/66 M4549 265 40:06 3:11 153 2:47:01 2:28 197 1:54:18
175 433 Michael Koppang HOLDEN MA 5:27:12 37/92 M4044 289 40:40 2:51 142 2:46:30 3:11 192 1:54:02
176 431 Daniel Hill NORTH ANDOVER MA 5:27:35 38/92 M4044 351 42:30 3:18 131 2:45:31 2:38 190 1:53:40
177 414 Gary Pokraka FALMOUTH MA 5:27:50 39/92 M4044 423 45:05 3:18 208 2:52:28 2:41 105 1:44:19
178 551 William Hubner CAMBRIDGE MA 5:28:21 5/23 M5559 116 35:34 3:43 207 2:52:25 2:19 198 1:54:22
179 416 Christopher Towle JOHNSON VT 5:28:49 40/92 M4044 203 38:28 2:28 189 2:51:08 2:24 199 1:54:24
180 413 Shawn Magoon SHELBURNE VT 5:28:49 41/92 M4044 243 39:33 2:24 180 2:50:10 2:34 195 1:54:11
181 336 John Staudenmayer AMHERST MA 5:29:28 42/92 M4044 12 29:57 2:23 163 2:48:18 2:28 328 2:06:24
182 317 Christopher Veilleux BRIGHTON MA 5:29:40 17/35 M3034 166 37:27 1:32 172 2:49:29 2:13 252 1:59:00
183 243 Derek Holte MARSHFIELD MA 5:29:48 43/92 M4044 339 42:03 3:47 133 2:45:43 4:44 188 1:53:33
184 393 Evan Berg NEEDHAM MA 5:29:50 44/92 M4044 279 40:34 2:44 304 3:00:21 2:58 97 1:43:14
185 289 Ben Lakin CAMBRIDGE MA 5:30:04 8/21 M2529 189 38:07 2:45 341 3:04:30 2:41 86 1:42:03
186 511 Nelson Wirtz BREWSTER MA 5:30:05 27/66 M4549 81 34:00 1:57 230 2:54:50 2:28 222 1:56:53
187 541 George Paganis IPSWICH MA 5:30:15 6/23 M5559 187 38:03 3:12 108 2:43:23 2:45 296 2:02:53
188 58 Mark Simmer WEST NEW YORK NJ 5:30:18 9/21 M2529 115 35:29 2:50 307 3:00:47 2:29 149 1:48:45
189 384 Sergei Nemirovsky BEDFORD MA 5:30:42 45/92 M4044 53 32:39 1:31 238 2:56:00 2:53 235 1:57:40
190 417 Jessen Wehrwein NEWBURYPORT MA 5:30:55 46/92 M4044 31 31:20 1:57 373 3:07:04 2:15 141 1:48:21
191 265 Kimberly Ashworth NORTH ATTLEBORO MA 5:31:00 7/40 F4044 410 44:26 2:19 253 2:57:15 1:51 114 1:45:11
192 294 Jameson Bull MEDFORD MA 5:31:26 10/21 M2529 177 37:41 1:57 161 2:48:15 3:05 270 2:00:30
193 584 Gretchen Swarr NORWALK CT 5:31:33 3/21 F2529 270 40:14 1:37 181 2:50:17 1:51 233 1:57:36
194 801 Zeus Estrada BOXBORO MA 5:31:35 7/25 M5054 385 43:40 2:28 219 2:53:28 3:09 150 1:48:51
195 671 Karin Schreur BASKING RIDGE NJ 5:32:00 8/40 F4044 308 41:12 2:16 128 2:45:18 6:31 218 1:56:45
196 548 Charlie Tillett WAYLAND MA 5:32:05 7/23 M5559 107 35:03 1:52 292 2:59:44 2:18 184 1:53:10
197 326 Bertrand Dehouk NEW YORK NY 5:32:11 18/35 M3034 15 30:16 2:35 190 2:51:08 2:54 316 2:05:21
198 603 Allison Rossi ROCHESTER MA 5:33:19 8/36 F3034 313 41:18 2:35 297 2:59:53 2:26 132 1:47:09
199 451 Stas Antons REHOBOTH MA 5:33:21 28/66 M4549 434 45:15 2:15 234 2:55:38 3:01 134 1:47:14
200 125 Matt Hatch WARWICK RI 5:33:27 30/55 M3539 188 38:06 2:47 268 2:58:28 2:54 165 1:51:13
201 256 Pascal Fuchs FAIRFIELD CT 5:33:53 47/92 M4044 505 48:06 2:46 111 2:43:46 3:04 211 1:56:13
202 343 Kevin Lee JAMAICA PLAIN MA 5:35:06 31/55 M3539 511 48:14 3:39 60 2:37:50 3:05 290 2:02:21
203 718 Jan Dik BOXFORD MA 5:35:11 4/18 F5054 29 31:12 1:50 272 2:58:42 3:03 269 2:00:26
204 503 William Hinchman BRYN MAWR PA 5:35:34 29/66 M4549 191 38:12 2:03 194 2:51:13 2:46 277 2:01:22
205 24 Julie Appel EAST BRIDGEWATER MA 5:35:58 9/36 F3034 129 36:17 1:44 216 2:53:14 2:40 287 2:02:05
206 28 Michael Cavanaugh MIDDLEBORO MA 5:36:33 30/66 M4549 307 41:08 3:40 313 3:01:22 2:54 137 1:47:30
207 485 Bill Starz BERKLEY MA 5:36:49 31/66 M4549 315 41:28 3:15 262 2:58:04 2:38 167 1:51:27
208 454 Nicholas Bokavich DENNISPORT MA 5:36:56 48/92 M4044 88 34:08 2:45 176 2:49:44 4:28 322 2:05:53
209 420 Raymond Adapon STAMFORD CT 5:37:05 49/92 M4044 298 40:54 3:31 154 2:47:17 4:00 278 2:01:25
210 272 Cortney Mittelsteadt WAYLAND MA 5:37:48 3/19 CLYDE 204 38:31 4:22 226 2:54:16 2:30 242 1:58:11
211 775 Erik Hamel CUMBERLAND RI 5:38:51 4/19 CLYDE 355 42:36 3:15 199 2:51:31 3:33 239 1:57:57
212 200 Jason Williams HARTFORD CT 5:38:52 19/35 M3034 216 38:47 2:21 187 2:50:39 1:59 313 2:05:09
213 115 Leslie Battle WARWICK RI 5:38:54 1/20 ATHENA 401 44:13 4:08 227 2:54:22 2:07 193 1:54:05
214 425 Bill Catauro CRANSTON RI 5:38:56 50/92 M4044 264 40:03 2:56 220 2:53:35 2:41 261 1:59:44
215 430 Robbie Goffin BROOKLYN NY 5:39:02 51/92 M4044 421 45:00 3:35 283 2:59:22 3:03 140 1:48:04
216 257 Irve Goldman REDDING CT 5:39:32 8/25 M5054 98 34:40 1:48 273 2:58:58 3:37 271 2:00:31
217 489 Julian Fleming RIDGEFIELD CT 5:39:34 32/66 M4549 478 47:01 2:38 168 2:48:37 2:25 251 1:58:54
218 663 Keli Scott-Ciota BALLSTON SPA NY 5:39:40 9/40 F4044 73 33:35 2:47 198 2:51:29 3:38 348 2:08:12
219 357 Ryan James MEDFORD MA 5:39:41 32/55 M3539 299 40:54 4:55 231 2:55:12 4:36 194 1:54:06
220 142 Melissa Tanguay JAMAICA PLAIN MA 5:39:48 10/36 F3034 364 42:58 2:56 319 3:02:04 2:18 154 1:49:34
221 770 Lisa Franklin ANNANDALE NJ 5:39:53 2/20 ATHENA 201 38:22 2:57 151 2:46:57 3:06 352 2:08:32
222 543 Robert Cummings BOSTON MA 5:39:56 8/23 M5559 323 41:39 7:09 392 3:09:32 5:56 42 1:35:42
223 325 Matthew Culp PROVIDENCE RI 5:40:06 20/35 M3034 236 39:21 5:19 340 3:04:23 4:08 128 1:46:56
224 569 Mallory Morgan BEDFORD MA 5:40:14 4/21 F2529 195 38:15 2:44 302 3:00:15 3:12 208 1:55:50
225 196 Karen Brown OLD GREENWICH CT 5:40:15 5/18 F5054 186 38:01 3:05 251 2:57:01 3:16 250 1:58:53
226 719 Julie Valenti DANVERS MA 5:40:17 6/18 F5054 394 43:54 2:57 206 2:52:21 4:18 220 1:56:49
227 415 Matt Regan PROVIDENCE RI 5:40:29 52/92 M4044 136 36:20 2:25 259 2:57:51 2:19 280 2:01:36
228 698 Cheryl Tracy-Debraccio SCOTIA NY 5:40:41 3/42 F4549 392 43:52 3:00 263 2:58:07 4:07 174 1:51:36
229 81 Adam Bottrill GREENLAND NH 5:40:43 33/55 M3539 209 38:38 3:57 209 2:52:38 2:47 294 2:02:44
230 685 Jennifer Brennan ALLENTOWN PA 5:41:01 4/42 F4549 44 32:14 1:59 353 3:05:50 2:10 249 1:58:49
231 348 Michael Adams STAMFORD CT 5:41:02 34/55 M3539 208 38:37 2:05 300 3:00:03 2:37 236 1:57:41
232 727 Janet Barnes BOXFORD MA 5:42:11 1/11 F5559 337 41:59 2:24 252 2:57:08 3:29 226 1:57:13
233 398 Raymond Reilly CRANSTON RI 5:42:22 53/92 M4044 405 44:19 3:48 149 2:46:53 3:20 303 2:04:05
234 409 Neil Hornstein WAYLAND MA 5:42:25 54/92 M4044 492 47:35 2:26 215 2:53:11 3:01 213 1:56:13
235 611 Kristi Carver THREE BRIDGES NJ 5:42:25 11/36 F3034 325 41:40 2:58 239 2:56:03 4:12 232 1:57:32
236 165 Robert Desmarais LITCHFIELD NH 5:42:30 33/66 M4549 258 39:48 3:11 294 2:59:47 2:29 227 1:57:16
237 224 Karma Tousignant LUNENBURG MA 5:42:35 7/30 F3539 263 40:02 3:40 408 3:10:56 4:30 98 1:43:29
238 457 Marc Clerc LAKEVILLE MA 5:42:44 55/92 M4044 155 37:01 2:20 288 2:59:41 2:30 275 2:01:14
239 34 Scott Hitchcock MARSHFIELD MA 5:42:54 56/92 M4044 262 39:56 3:17 249 2:56:50 3:18 258 1:59:35
240 455 Joseph Camillo MIDDLEBORO MA 5:42:58 34/66 M4549 226 39:04 3:29 210 2:52:48 4:34 299 2:03:04
241 787 Kevin Olsen MILFORD NH 5:43:06 5/19 CLYDE 167 37:28 2:45 93 2:41:22 2:18 444 2:19:15
242 134 Erin Shreve PROVIDENCE RI 5:43:08 12/36 F3034 199 38:19 2:42 295 2:59:50 2:42 259 1:59:36
243 660 Andrea Lamb WARWICK RI 5:43:26 10/40 F4044 458 46:12 2:40 217 2:53:16 4:34 219 1:56:46
244 622 Christine Muchard NEWTON MA 5:43:27 8/30 F3539 247 39:38 2:04 213 2:53:02 3:26 314 2:05:19
245 345 Ryan Miller FRAMINGHAM MA 5:43:51 35/55 M3539 135 36:20 5:20 418 3:12:18 3:34 126 1:46:21
246 375 Rod Azadan BOSTON MA 5:43:55 57/92 M4044 491 47:31 2:11 177 2:49:48 2:46 281 2:01:41
247 505 Gerald Lanagan MATTAPOISETT MA 5:44:15 35/66 M4549 278 40:34 4:12 250 2:56:52 3:37 253 1:59:03
248 578 Claire Costanza OLD TOWN ME 5:45:00 5/21 F2529 123 36:01 2:21 428 3:12:59 3:15 160 1:50:25
249 561 Ron Darress LYNBROOK NY 5:45:11 2/8 M6064 391 43:51 2:23 244 2:56:38 2:27 265 1:59:54
250 242 Bjorn Gillsater LARCHMONT NY 5:45:23 36/66 M4549 304 41:01 2:45 315 3:01:30 2:41 230 1:57:28
251 635 Kelly Gill WESTWOOD MA 5:45:37 9/30 F3539 193 38:13 3:03 275 2:59:00 5:36 263 1:59:48
252 782 Chris Anderson CONCORD NC 5:45:44 6/19 CLYDE 124 36:07 2:21 107 2:43:16 2:50 421 2:17:13 4:00
253 31 Jacqueline Francisco DARTMOUTH MA 5:46:41 11/40 F4044 275 40:28 2:10 420 3:12:25 2:57 146 1:48:42
254 223 Kathleen Hayward FITCHBURG MA 5:46:53 7/18 F5054 425 45:08 3:16 298 2:59:57 3:33 203 1:55:01
255 201 Todd Houghton TAUNTON MA 5:47:12 58/92 M4044 356 42:39 3:03 248 2:56:48 2:46 285 2:01:58
256 313 Joseph Bellantuoni LOWELL MA 5:47:15 21/35 M3034 469 46:43 2:00 383 3:08:44 3:21 127 1:46:28
257 163 Bill Rivers BRIDGEWATER MA 5:47:36 22/35 M3034 400 44:13 4:17 264 2:58:12 6:28 200 1:54:28
258 249 Ashley Cavicchi PEMBROKE MA 5:47:45 6/21 F2529 240 39:26 2:22 398 3:09:55 3:50 181 1:52:13
259 310 Daniel Nolan SHREWSBURY, MA MA 5:48:06 23/35 M3034 143 36:36 2:21 303 3:00:19 5:28 301 2:03:24
260 465 William Joyce NEWTON MA 5:48:15 37/66 M4549 406 44:22 3:05 326 3:02:45 3:22 201 1:54:43
261 402 Ed Berbine LAKEVILLE MA 5:48:50 59/92 M4044 354 42:35 2:28 310 3:00:59 3:11 260 1:59:39
262 215 David Pelly BOSTON MA 5:49:00 60/92 M4044 453 46:06 2:31 243 2:56:36 1:58 238 1:57:51 4:00
263 195 Diane Stokes NORTHBORO MA 5:49:51 5/42 F4549 296 40:49 1:30 202 2:51:54 2:04 391 2:13:35
264 259 Susan Stuart FAIRFIELD CT 5:49:51 2/11 F5559 436 45:21 2:21 186 2:50:34 3:06 353 2:08:32
265 128 James McLoughlin PROVIDENCE RI 5:49:52 61/92 M4044 228 39:06 1:48 203 2:52:14 2:29 398 2:14:17
266 490 Joshua Larson ORLEANS MA 5:49:56 38/66 M4549 348 42:20 2:00 311 3:01:05 1:50 293 2:02:43
267 563 William Curran RYE NY 5:50:04 3/8 M6064 382 43:40 3:35 316 3:01:31 3:51 231 1:57:29
268 131 Snow Powers PROVIDENCE RI 5:50:08 1/2 F2024 197 38:18 1:54 284 2:59:32 3:04 340 2:07:22
269 222 Richard Savage NEEDHAM MA 5:50:17 9/25 M5054 21 30:41 2:30 158 2:48:02 4:19 386 2:12:47 12:00
270 170 Heidi Videto BRAINTREE MA 5:50:22 3/20 ATHENA 332 41:52 2:05 241 2:56:27 3:34 330 2:06:26
271 55 Evan Odim SCOTCH PLAINS NJ 5:50:36 24/35 M3034 524 49:12 1:26 233 2:55:18 2:16 291 2:02:26
272 524 David Sullivan WAKEFIELD MA 5:50:37 10/25 M5054 569 54:27 2:17 287 2:59:40 2:59 135 1:47:15 4:00
273 683 Tammy Ryan-Callahan CARVER MA 5:50:50 12/40 F4044 566 53:53 3:26 191 2:51:08 4:27 240 1:57:58
274 534 Edward Stein RYE NY 5:50:52 11/25 M5054 411 44:28 2:19 141 2:46:25 3:01 406 2:14:40
275 776 Kevin O'Neil DARIEN CT 5:51:06 7/19 CLYDE 370 43:18 3:12 29 2:31:45 4:12 499 2:28:41
276 72 Karen Mateo NEW YORK NY 5:51:06 13/40 F4044 211 38:43 4:07 357 3:06:06 3:08 254 1:59:04
277 651 Lori Keough SEEKONK MA 5:51:54 14/40 F4044 276 40:28 2:54 411 3:11:16 2:18 202 1:54:59
278 202 Shelley Rapoza MANSFIELD MA 5:52:21 15/40 F4044 277 40:32 2:59 338 3:04:09 2:34 288 2:02:09
279 364 Gustaf Lipin NEWTON MA 5:52:46 36/55 M3539 165 37:24 2:08 254 2:57:16 3:14 385 2:12:46
280 198 Walter Pacosa WEST SPRINGFIELD MA 5:52:48 9/23 M5559 512 48:15 2:28 224 2:53:56 2:19 321 2:05:52
281 797 Christian Rodriguez HOLLIS NH 5:52:58 62/92 M4044 476 46:57 5:39 255 2:57:17 3:12 266 1:59:54
282 636 Julie Golden NEW YORK NY 5:53:10 4/20 ATHENA 450 45:46 3:47 218 2:53:19 3:35 334 2:06:45
283 2 Gregory Sans NEW YORK NY 5:53:13 11/21 M2529 427 45:10 2:32 265 2:58:12 2:02 315 2:05:19
284 684 Laura Singer NORTH YARMOUTH ME 5:53:14 16/40 F4044 408 44:23 2:21 289 2:59:42 2:41 304 2:04:08
285 320 Mark Nickerson FRAMINGHAM MA 5:53:16 25/35 M3034 154 37:01 4:53 179 2:50:02 3:18 432 2:18:04
286 96 Tim Dunham BOXFORD MA 5:53:22 39/66 M4549 353 42:31 2:57 196 2:51:15 3:00 392 2:13:41
287 456 Brendan Cavanaugh SCITUATE MA 5:53:23 63/92 M4044 241 39:26 3:53 245 2:56:43 3:21 365 2:10:02
288 154 Adam Cohen WORCESTER MA 5:53:33 37/55 M3539 194 38:13 3:55 291 2:59:43 5:13 331 2:06:29
289 388 Ted Webster COHASSET MA 5:53:35 64/92 M4044 329 41:44 2:53 448 3:15:38 2:52 163 1:50:30
290 655 Karin Chen AMHERST NH 5:53:48 17/40 F4044 517 48:32 2:10 334 3:03:35 2:31 225 1:57:01
291 139 Kate Wexler BARRINGTON RI 5:53:49 13/36 F3034 573 56:09 2:34 155 2:47:21 3:01 310 2:04:46
292 109 Paul Sedgwick TEWKSBURY MA 5:54:18 8/19 CLYDE 68 33:27 3:25 175 2:49:41 6:47 449 2:21:00
293 575 Alissa Popovich CAMBRIDGE MA 5:54:33 7/21 F2529 500 47:57 5:22 305 3:00:30 5:22 205 1:55:25
294 371 Ray Minihan BALTIMORE MD 5:54:36 38/55 M3539 508 48:09 5:01 309 3:00:52 2:33 241 1:58:03
295 588 Brittany Sipos NEWTON MA 5:54:46 8/21 F2529 76 33:47 4:06 405 3:10:38 4:11 286 2:02:04
296 589 Linda Bent NORFOLK MA 5:54:48 14/36 F3034 428 45:11 2:39 368 3:06:46 2:50 229 1:57:23
297 624 Germaine Earle-Cruickshanks BOSTON MA 5:54:48 10/30 F3539 256 39:47 2:42 274 2:58:59 4:29 356 2:08:53
298 99 Melanie Hire DRACUT MA 5:54:50 8/18 F5054 244 39:35 3:36 379 3:08:18 3:55 256 1:59:28
299 407 Yann Gellot READING MA 5:54:54 65/92 M4044 185 38:01 3:34 299 3:00:03 4:41 355 2:08:38
300 203 Eric Army CRANSTON RI 5:54:57 26/35 M3034 261 39:55 3:17 321 3:02:08 6:35 298 2:03:03
301 306 Dennis Harsley Jr RIVERDALE NJ 5:55:04 27/35 M3034 290 40:42 2:19 385 3:08:54 4:41 245 1:58:30
302 50 Jennifer Applebee FANWOOD NJ 5:55:10 11/30 F3539 305 41:02 2:34 352 3:05:43 2:55 297 2:02:58
303 796 Eirette Santiago HOLLIS NH 5:55:22 12/30 F3539 489 47:29 3:10 232 2:55:17 3:40 320 2:05:47
304 498 Peter Alexander TAUNTON MA 5:55:37 40/66 M4549 534 49:37 3:54 371 3:06:52 3:43 171 1:51:32
305 552 Steven Omalley DUNSTABLE MA 5:55:48 10/23 M5559 371 43:20 3:59 267 2:58:28 3:47 325 2:06:15
306 69 Rebecca Goodson NEW YORK NY 5:55:54 15/36 F3034 109 35:06 3:25 406 3:10:38 3:59 295 2:02:47
307 141 Ryan Cohlhepp WESTBOROUGH MA 5:56:29 39/55 M3539 317 41:30 2:34 200 2:51:34 3:22 426 2:17:31
308 273 Michelle Mittelsteadt WAYLAND MA 5:56:33 18/40 F4044 92 34:14 3:22 365 3:06:36 2:43 318 2:05:39 4:00
309 281 Kurt Harsley BOONTON NJ 5:56:56 4/5 M2024 127 36:16 1:54 390 3:09:26 3:45 317 2:05:37
310 712 Lisa Frazier SCARBOROUGH ME 5:57:23 6/42 F4549 363 42:55 2:23 270 2:58:40 2:53 369 2:10:32
311 250 Kevin McLaughlin MEDFIELD MA 5:57:24 11/23 M5559 75 33:43 3:42 256 2:57:18 4:01 438 2:18:42
312 189 Erica Sheckler EMMAUS PA 5:57:27 16/36 F3034 9 29:07 2:06 279 2:59:14 2:54 468 2:24:07
313 590 Kathryn Egnaczak CHERRY VALLEY MA 5:57:43 9/21 F2529 152 36:54 1:37 312 3:01:15 3:24 403 2:14:36
314 92 Damien Bailey ATKINSON NH 5:57:50 9/19 CLYDE 69 33:29 3:57 124 2:44:55 3:56 514 2:31:33
315 191 Michele Cellai WAYLAND MA 5:58:04 19/40 F4044 159 37:15 3:50 349 3:05:24 2:41 357 2:08:55
316 517 Bill Seton NORWELL MA 5:58:13 41/66 M4549 273 40:19 5:08 290 2:59:43 5:58 338 2:07:08
317 268 Keith Couto RUMFORD RI 5:58:19 66/92 M4044 523 49:04 4:20 328 3:02:48 5:40 214 1:56:29
318 220 Tim Davis NEEDHAM MA 5:58:21 10/19 CLYDE 266 40:07 3:17 324 3:02:37 3:50 354 2:08:33
319 147 Jay Kruger NEW BEDFORD MA 5:58:35 40/55 M3539 153 36:55 4:40 363 3:06:22 3:54 335 2:06:46
320 535 Stephen McNeil CANTON MA 5:58:45 12/25 M5054 599 1:02:52 1:22 193 2:51:10 3:38 262 1:59:44
321 716 Kelly Spring WAREHAM MA 5:58:48 7/42 F4549 445 45:38 4:28 463 3:18:14 4:26 123 1:46:03
322 397 Donald Nester COVENTRY RI 5:58:55 67/92 M4044 563 52:59 3:51 240 2:56:15 3:17 292 2:02:35
323 287 David Sturgeon PORTSMOUTH NH 5:58:57 12/21 M2529 229 39:07 2:10 344 3:04:43 2:35 368 2:10:25
324 286 Joe Martelly SALEM MA 5:58:57 13/21 M2529 528 49:17 1:19 285 2:59:36 3:05 319 2:05:42
325 557 Donald Basso HOPEDALE MA 5:59:08 12/23 M5559 90 34:12 4:11 484 3:22:36 2:53 204 1:55:18
326 613 April Childs NEWPORT RI 5:59:38 17/36 F3034 133 36:19 3:13 282 2:59:22 4:32 417 2:16:14
327 284 Andrew Gangemi SPARKILL NY 6:00:13 14/21 M2529 603 1:08:23 3:14 278 2:59:10 3:58 116 1:45:30
328 711 Debi Caprio ROCKLAND MA 6:00:27 9/18 F5054 465 46:35 3:18 355 3:06:05 6:13 243 1:58:19
329 574 Beth McArdle SMITHFIELD RI 6:00:32 10/21 F2529 316 41:29 4:17 431 3:13:18 3:47 237 1:57:43
330 704 Lynda Johnson SCARBOROUGH ME 6:00:36 8/42 F4549 182 37:49 1:59 269 2:58:32 2:14 415 2:16:04 4:00
331 523 Dieter Pohl PROVIDENCE RI 6:01:02 13/25 M5054 448 45:43 3:55 351 3:05:34 4:04 282 2:01:47
332 657 Sara Hilliard NORWALK CT 6:01:17 20/40 F4044 175 37:39 3:17 314 3:01:24 4:23 404 2:14:37
333 670 Bry Roskoz AMSTERDAM 6:01:41 21/40 F4044 362 42:55 2:46 348 3:05:11 2:39 347 2:08:12
334 260 Stephanos Bacon SOUTHBOROUGH MA 6:02:11 42/66 M4549 336 41:58 3:43 214 2:53:03 4:20 443 2:19:08
335 664 Dawnie Amado-Desmarais LITCHFIELD NH 6:02:31 22/40 F4044 472 46:50 1:47 435 3:13:37 2:40 234 1:57:39
336 602 Keri Ouellette NEW YORK NY 6:02:33 18/36 F3034 86 34:05 1:51 460 3:17:54 2:38 323 2:06:07
337 187 Jennifer Ashbrook WALLINGFORD PA 6:02:38 9/42 F4549 397 44:01 3:37 359 3:06:13 2:38 324 2:06:11
338 118 Norine Courtemanche JOHNSTON RI 6:02:40 10/42 F4549 447 45:41 2:23 277 2:59:10 4:07 375 2:11:21
339 609 Nadine Rieben SEEKONK MA 6:02:41 19/36 F3034 205 38:32 3:19 393 3:09:34 4:53 329 2:06:25
340 678 Susan Smith SCITUATE MA 6:03:15 23/40 F4044 468 46:42 5:30 391 3:09:29 4:54 217 1:56:42
341 328 Russell Martin DRACUT MA 6:03:44 28/35 M3034 438 45:30 3:26 333 3:03:32 3:59 339 2:07:20
342 322 Nicholas Picardo ARLINGTON MA 6:03:56 29/35 M3034 338 42:00 4:07 465 3:18:33 3:17 210 1:56:01
343 591 Angela Fain NY NY 6:04:20 20/36 F3034 542 49:52 5:41 464 3:18:25 4:44 118 1:45:40
344 245 Jerry Doyle WEST NEWBURY MA 6:05:04 13/23 M5559 282 40:36 4:08 395 3:09:43 3:07 342 2:07:32
345 573 Rebecca Teubl TIVOLI NY 6:05:09 11/21 F2529 398 44:02 2:58 360 3:06:16 2:25 360 2:09:31
346 708 Dolly Courtemanche EPSOM NH 6:05:31 11/42 F4549 480 47:06 4:31 258 2:57:37 2:54 390 2:13:25
347 290 Kyle Nevin ORANGEBURG NY 6:05:48 15/21 M2529 432 45:13 2:34 354 3:05:58 2:32 361 2:09:32
348 633 Hilary Alford SOUTHBOROUGH MA 6:06:17 13/30 F3539 527 49:13 3:17 436 3:13:42 6:43 186 1:53:24
349 443 Stephen Murphy MANCHESTER CENTER VT 6:06:29 68/92 M4044 422 45:04 4:32 367 3:06:45 4:36 279 2:01:34 4:00
350 707 Helen Brena FALMOUTH ME 6:06:37 12/42 F4549 253 39:44 3:28 474 3:20:37 3:42 255 1:59:07
351 335 Daniel Hansen SOUTH BOSTON MA 6:06:49 41/55 M3539 147 36:42 2:29 361 3:06:16 2:41 439 2:18:44
352 73 Justin Model NEW YORK NY 6:06:53 69/92 M4044 210 38:40 3:43 372 3:06:58 4:49 384 2:12:45
353 159 Brian McNally CLINTON MA 6:06:55 43/66 M4549 310 41:15 3:12 384 3:08:48 3:33 367 2:10:09
354 520 Bill Alden STERLING MA 6:06:55 14/25 M5054 412 44:32 3:04 350 3:05:28 3:44 366 2:10:08
355 174 Jeffrey Castonguay FEEDING HILLS MA 6:07:01 44/66 M4549
356 634 Janette Davis NEW GLOUCESTER ME 6:07:08 14/30 F3539 324 41:40 3:28 386 3:08:55 6:48 326 2:06:19
357 645 Carolyn Lee LARCHMONT NY 6:07:23 15/30 F3539 431 45:12 2:32 440 3:14:53 2:54 283 2:01:55
358 662 Lisa Roy LONDONDERRY NH 6:07:26 24/40 F4044 498 47:56 3:07 308 3:00:52 4:33 372 2:11:00
359 538 Donald Lassman NEEDHAM MA 6:07:32 15/25 M5054 62 33:00 4:29 317 3:01:41 3:11 473 2:25:13
360 314 Jeffrey Caldwell PROVIDENCE RI 6:07:41 30/35 M3034 358 42:48 3:31 329 3:03:02 3:15 408 2:15:07
361 452 Andrew Beeber PORTSMOUTH RI 6:08:18 70/92 M4044 537 49:46 3:11 366 3:06:42 3:58 308 2:04:42
362 120 John Cullinane RICHMOND RI 6:08:24 42/55 M3539 287 40:39 2:00 318 3:01:46 3:16 446 2:20:45
363 527 James Bruce NORTHBOROUGH MA 6:08:44 16/25 M5054 340 42:03 2:08 235 2:55:43 2:52 479 2:26:00
364 688 Melissa Moeckel LANCASTER MA 6:08:53 13/42 F4549 418 44:48 2:20 242 2:56:28 3:17 454 2:22:02
365 97 Don Ferguson NEWBURYPORT MA 6:09:17 14/23 M5559 420 44:55 4:04 380 3:08:19 3:36 349 2:08:24
366 492 Gia Luong MALDEN MA 6:09:37 45/66 M4549 233 39:19 7:05 342 3:04:34 4:24 397 2:14:15
367 533 John Scalese FREMONT NH 6:09:38 17/25 M5054 402 44:15 3:23 296 2:59:50 3:58 435 2:18:13
368 138 Michael Vallee BRISTOL RI 6:09:46 18/25 M5054 521 49:00 6:50 458 3:17:45 3:53 183 1:52:21
369 620 Sarah Poplawski MALDEN MA 6:10:07 21/36 F3034 486 47:25 3:07 375 3:07:40 3:28 351 2:08:29
370 244 Ruth Brediger LYNN MA 6:10:14 10/18 F5054 433 45:13 2:25 422 3:12:29 3:13 336 2:06:56
371 359 Daniel Plosky WEST SPRINGFIELD MA 6:10:25 43/55 M3539 192 38:12 5:52 388 3:09:21 4:06 388 2:12:55
372 439 David Lehman WESTON MA 6:10:34 71/92 M4044 114 35:25 3:52 212 2:53:01 3:51 529 2:34:28
373 621 Gia Didonato-Sroczenski WEBSTER MA 6:10:41 16/30 F3539 251 39:41 2:48 498 3:24:21 4:18 257 1:59:34
374 580 Tamara Hester DOVER NH 6:10:58 12/21 F2529 459 46:14 3:08 325 3:02:39 3:31 411 2:15:27
375 597 Emily Cohen SOMERVILLE MA 6:11:22 22/36 F3034 435 45:17 3:16 378 3:08:13 4:00 370 2:10:37
376 438 Patrick Duffy MARSHFIELD MA 6:11:24 72/92 M4044 217 38:49 4:40 339 3:04:23 6:14 423 2:17:21
377 466 Robert Lammey ACTON MA 6:11:38 73/92 M4044 520 48:59 4:07 301 3:00:11 3:55 400 2:14:27
378 39 Janet Nightingale RANDOLPH MA 6:11:46 11/18 F5054 343 42:06 3:02 415 3:11:50 5:49 358 2:09:01
379 405 Alan Deane WESTBOROUGH MA 6:11:48 74/92 M4044 380 43:32 6:01 389 3:09:23 5:12 343 2:07:42
380 510 John Sibley DUXBURY MA 6:12:38 46/66 M4549 424 45:05 5:18 449 3:15:38 5:23 276 2:01:15
381 581 Samantha Pitter CAMBRIDGE MA 6:12:39 13/21 F2529 14 30:05 3:31 472 3:20:19 3:42 407 2:15:02
382 676 Kristin O'Mara SCARBOROUGH ME 6:12:46 25/40 F4044 312 41:17 3:14 276 2:59:09 3:11 478 2:25:57
383 300 Robert McMillan WESTPORT MA 6:13:01 16/21 M2529 374 43:23 2:27 246 2:56:45 2:24 493 2:28:04
384 36 Norman Keating EAST WEYMOUTH MA 6:13:49 31/35 M3034 215 38:47 3:33 271 2:58:41 3:48 501 2:29:03
385 89 Dayna Safran-Muller BARRINGTON RI 6:14:01 26/40 F4044 284 40:38 3:35 331 3:03:25 3:13 462 2:23:12
386 143 Laurie Damianos WALTHAM MA 6:14:02 5/20 ATHENA 145 36:38 2:57 335 3:03:59 4:14 480 2:26:16
387 112 Steven Ahern WAKEFIELD RI 6:14:04 47/66 M4549 451 45:55 3:42 503 3:25:35 2:41 212 1:56:13
388 570 Julia Byers SEATTLE WA 6:14:11 14/21 F2529 156 37:03 2:11 414 3:11:45 2:29 447 2:20:45
389 307 Erik Helmuth WORCESTER MA 6:14:16 32/35 M3034 345 42:15 3:33 519 3:27:38 3:56 224 1:56:56
390 544 David Douglas WACCABUC NY 6:14:21 15/23 M5559 207 38:35 3:55 347 3:05:08 2:45 467 2:24:00
391 519 Tom Vickerman MADISON CT 6:14:29 48/66 M4549 413 44:33 3:36 399 3:09:56 3:52 383 2:12:34
392 341 Keith Foster WORCESTER MA 6:14:43 44/55 M3539 551 51:28 3:18 127 2:45:13 2:50 515 2:31:58
393 769 Elizabeth Adams MATTAPOISETT MA 6:14:51 6/20 ATHENA 234 39:20 4:28 346 3:05:03 2:58 442 2:19:04 4:00
394 140 Nicholas Wisdom NEWPORT RI 6:14:52 45/55 M3539 554 51:38 1:48 381 3:08:20 2:06 373 2:11:03
395 280 William Murphy CINCINNATI OH 6:15:06 5/5 M2024 200 38:21 3:00 434 3:13:31 4:39 413 2:15:37
396 521 Avi Korenshtein COMMACK NY 6:15:07 19/25 M5054 553 51:33 6:22 376 3:07:51 4:39 309 2:04:43
397 440 Greg Luiz RUMFORD RI 6:15:09 75/92 M4044 488 47:29 3:26 426 3:12:51 3:27 345 2:07:57
398 248 Ashley Steeves SALEM MA 6:15:12 2/2 F2024 366 43:06 4:10 407 3:10:49 4:20 387 2:12:49
399 71 Elizabeth Han NEW YORK NY 6:15:44 17/30 F3539 540 49:51 4:43 468 3:19:30 3:14 244 1:58:28
400 291 Adam Piccirilli WALTHAM MA 6:15:52 17/21 M2529 125 36:07 1:41 261 2:58:00 2:43 543 2:37:23
401 614 Courtney Dennee WEBSTER NY 6:15:53 23/36 F3034 470 46:44 2:53 541 3:31:08 3:35 172 1:51:34
402 518 Philip Tatro GRAFTON MA 6:16:11 49/66 M4549 222 38:56 6:57 492 3:23:47 5:24 274 2:01:09
403 254 Angela Magnarelli BRIDGEWATER MA 6:16:16 24/36 F3034 589 57:32 3:04 345 3:05:03 5:37 312 2:05:01
404 509 Keith Rollag MILLIS MA 6:16:45 50/66 M4549 572 56:04 5:57 336 3:04:04 6:20 306 2:04:22
405 497 Jason Stephens AUBURN MA 6:17:17 51/66 M4549 295 40:49 2:23 433 3:13:29 2:28 433 2:18:10
406 108 David Sedgwick GEORGETOWN MA 6:17:52 11/19 CLYDE 320 41:35 3:11 409 3:11:07 3:53 395 2:14:07 4:00
407 362 Jeremy Fiset W.NEWTON MA 6:18:02 46/55 M3539 531 49:27 4:00 382 3:08:21 3:49 381 2:12:27
408 659 Marissa Hughes ROCHESTER MA 6:19:03 27/40 F4044 446 45:40 4:11 430 3:13:14 5:14 371 2:10:45
409 102 Joy Lepage FRANKLIN NH 6:19:07 7/20 ATHENA 515 48:25 2:58 323 3:02:29 3:00 455 2:22:17
410 568 Arielle Krieger NEW YORK NY 6:19:22 15/21 F2529 389 43:48 3:35 488 3:23:10 4:36 305 2:04:15
411 592 Stephanie Mabunga NEW YORK NY 6:19:23 16/21 F2529 467 46:41 2:56 509 3:26:06 2:41 273 2:01:00
412 370 Ned Greene MEDFORD MA 6:19:53 47/55 M3539 586 57:20 1:36 402 3:10:25 3:03 341 2:07:32
413 532 Alan Daniels WAKEFIELD RI 6:20:16 20/25 M5054 346 42:16 3:03 429 3:13:02 5:02 420 2:16:55
414 478 Paul Farina CHELMSFORD MA 6:20:19 52/66 M4549 309 41:14 6:40 356 3:06:05 4:38 452 2:21:43
415 60 Jessica Withrow SCOTCH PLAINS NJ 6:21:37 18/30 F3539 565 53:42 2:42 403 3:10:31 2:28 379 2:12:17
416 542 K.C. Perry PASCOAG RI 6:21:53 16/23 M5559 419 44:49 4:26 459 3:17:53 4:50 364 2:09:57
417 449 John Teehan NORTH EASTON MA 6:21:54 76/92 M4044 322 41:38 4:40 416 3:12:05 5:50 429 2:17:42
418 656 Sara Christian BRAINTREE MA 6:21:58 28/40 F4044 474 46:55 3:07 526 3:28:53 3:09 267 1:59:56
419 661 Stacey Hess ATTLEBORO MA 6:22:45 14/42 F4549 160 37:17 3:05 482 3:22:34 3:33 418 2:16:19
420 553 Thoams Regan SOUTH BOSTON MA 6:23:07 17/23 M5559 536 49:46 4:40 223 2:53:48 5:37 502 2:29:19
421 66 Christine Freda NEW YORK NY 6:23:24 25/36 F3034 530 49:25 3:34 421 3:12:28 2:35 410 2:15:23
422 693 Erica Dinner SIMSBURY CT 6:23:31 15/42 F4549 314 41:27 3:33 475 3:20:39 3:43 396 2:14:11
423 529 Gregory Lehman MADISON CT 6:23:34 21/25 M5054 269 40:11 2:17 320 3:02:08 4:02 532 2:34:57
424 117 Karen Champagne BLACKSTONE MA 6:24:12 16/42 F4549 466 46:37 2:44 437 3:13:46 2:47 399 2:14:19 4:00
425 783 Brady Finney HAVERHILL MA 6:24:13 12/19 CLYDE 169 37:29 2:55 442 3:15:27 5:15 460 2:23:09
426 105 Jay Powell TYNGSBORO MA 6:24:20 18/23 M5559 481 47:09 8:31 516 3:26:51 4:55 223 1:56:55
427 59 Gaurav Singhal NEW YORK NY 6:24:33 18/21 M2529 607 1:12:03 6:21 370 3:06:50 3:26 209 1:55:54
428 253 Paul Latimer RAYNHAM MA 6:25:06 48/55 M3539 349 42:24 2:59 364 3:06:28 2:13 510 2:31:05
429 468 Joe Lifrak REHOBOTH MA 6:25:58 77/92 M4044 525 49:12 5:14 397 3:09:53 5:34 416 2:16:07
430 217 Elizabeth Burton BASKING RIDGE NJ 6:26:01 17/42 F4549 237 39:21 3:30 439 3:14:08 2:24 486 2:26:39
431 190 David Trent BETHLEHEM PA 6:26:08 78/92 M4044 496 47:50 5:10 400 3:09:58 4:24 440 2:18:48
432 339 Jeffrey Sweeney GARDINER NY 6:26:15 49/55 M3539 513 48:21 3:22 453 3:17:05 3:29 394 2:14:00
433 399 Matthew Allder LITTLE COMPTON RI 6:26:16 79/92 M4044 293 40:45 2:15 332 3:03:30 3:47 536 2:36:01
434 512 John Benevides NEW BEDFORD MA 6:26:53 53/66 M4549 575 56:32 3:35 410 3:11:08 3:27 377 2:12:13
435 261 Peggy Dorval BOYLSTON MA 6:27:01 19/30 F3539 555 51:41 2:56 452 3:16:29 3:32 380 2:12:26
436 26 Alberta Bermingham PEMBROKE MA 6:27:09 3/11 F5559 471 46:45 4:42 387 3:08:56 4:56 453 2:21:52
437 1 Minda Dentler NEW YORK NY 6:28:15 1/1 PARA-F 584 57:06 5:32 584 3:48:59 5:11 30 1:31:28
438 373 Leonardo Ruiz BOGOTA 6:28:22 50/55 M3539 248 39:39 3:19 306 3:00:35 4:32 554 2:40:18
439 463 Robert Gibbons NEW YORK NY 6:28:24 80/92 M4044 538 49:49 2:41 260 2:57:52 3:48 527 2:34:15
440 104 Janice Phillips NORTH ANDOVER MA 6:28:30 8/20 ATHENA 430 45:12 3:51 461 3:18:13 3:27 430 2:17:49
441 537 Michael Gordon MADISON CT 6:28:54 22/25 M5054 509 48:10 4:27 419 3:12:24 5:57 431 2:17:58
442 114 Samir Batla RUMFORD RI 6:28:59 81/92 M4044 441 45:32 3:25 322 3:02:28 7:11 483 2:26:24 4:00
443 207 Sharon Foster HUDSON MA 6:29:04 18/42 F4549 588 57:31 4:12 454 3:17:09 3:09 337 2:07:04
444 785 Tony Knight PLYMPTON MA 6:29:38 82/92 M4044 376 43:25 3:49 412 3:11:20 5:10 477 2:25:55
445 43 William Roth FAIRHAVEN MA 6:29:42 13/19 CLYDE 344 42:10 5:55 293 2:59:45 10:28 513 2:31:27
446 577 Megan Cady COVENTRY RI 6:29:54 17/21 F2529 350 42:26 4:05 544 3:31:31 5:11 333 2:06:42
447 146 Ira Sills CAMBRIDGE MA 6:30:03 1/2 M6569 255 39:46 3:42 451 3:16:28 6:34 445 2:19:34 4:00
448 562 Tom Pandiscio WORCESTET MA 6:30:41 4/8 M6064 601 1:04:03 3:05 362 3:06:18 4:51 382 2:12:27
449 771 Afton Templin NORTH ATTLEBORO MA 6:30:56 9/20 ATHENA 439 45:30 3:03 469 3:19:54 4:04 436 2:18:27
450 654 Tara Boye COHASSET MA 6:30:58 29/40 F4044 456 46:10 2:49 501 3:25:15 3:47 389 2:12:58
451 47 Lori Watkins MARION MA 6:31:10 19/42 F4549 581 56:53 2:36 438 3:13:52 3:18 402 2:14:32
452 582 Leah Schwebel STORRS CT 6:31:35 18/21 F2529 306 41:03 2:41 523 3:28:12 3:50 414 2:15:50
453 385 Christopher Ray MEDWAY MA 6:31:59 51/55 M3539 347 42:17 4:33 476 3:20:41 5:36 441 2:18:55
454 627 Erika Woodbury WEYMOUTH MA 6:32:39 20/30 F3539 245 39:37 4:11 537 3:30:46 4:15 393 2:13:51
455 194 Stephen Desio WESTBOROUGH MA 6:32:47 54/66 M4549 384 43:40 2:55 504 3:25:35 3:14 425 2:17:25
456 378 Christian Di Vernieri NASHUA NH 6:33:09 83/92 M4044 532 49:33 4:22 423 3:12:37 4:08 457 2:22:32
457 162 Elisabeth O'Brien KINGSTON MA 6:33:23 20/42 F4549 455 46:10 5:46 512 3:26:27 5:38 359 2:09:25
458 487 Will Power Byron MILFORD CT 6:33:25 14/19 CLYDE 330 41:46 2:48 286 2:59:38 2:27 568 2:46:47
459 53 William Higgins WESTFIELD NJ 6:33:29 55/66 M4549 291 40:42 3:01 447 3:15:37 5:46 497 2:28:25
460 103 Lori Meuse METHUEN MA 6:33:43 10/20 ATHENA 558 52:18 2:26 457 3:17:42 2:45 437 2:18:35
461 192 Maura Mulligan Mccrann BARRINGTON RI 6:33:45 30/40 F4044 442 45:33 3:52 543 3:31:24 5:12 344 2:07:45
462 689 Sue Monahan WHATELY MA 6:34:02 21/42 F4549 507 48:09 2:20 444 3:15:28 3:20 470 2:24:47
463 638 Jill Lifrak REHOBOTH MA 6:35:16 21/30 F3539 557 52:18 4:04 496 3:24:08 3:38 374 2:11:10
464 150 Theresa Newton BALLSTON SPA NY 6:35:56 22/42 F4549 495 47:47 4:11 507 3:25:49 6:05 376 2:12:05
465 772 Christine Reuther WALLINGFORD PA 6:36:44 11/20 ATHENA 326 41:41 3:21 466 3:18:50 6:17 485 2:26:36
466 514 Kevin Koen SALEM MA 6:36:55 56/66 M4549 388 43:44 4:41 477 3:21:32 4:36 456 2:22:25
467 172 Jeffrey Merritt PEMBROKE MA 6:37:12 57/66 M4549 549 51:17 4:24 478 3:21:39 4:19 412 2:15:35
468 8 Igor Gurevich ASHFORD CT 6:38:02 11/11 EOPN-M 514 48:23 4:07 499 3:24:27 5:55 409 2:15:11
469 216 Elizabeth Broos BASKING RIDGE NJ 6:38:08 4/11 F5559 252 39:43 3:37 487 3:22:56 3:30 496 2:28:24
470 494 Michael Puleo TEWKSBURY MA 6:38:23 58/66 M4549 122 35:50 3:48 450 3:16:17 8:00 530 2:34:30
471 70 Deborah Greenstein TEANECK NJ 6:38:55 31/40 F4044 368 43:09 4:44 432 3:13:24 4:06 522 2:33:33
472 101 Randy Leach CHELMSFORD MA 6:38:57 15/19 CLYDE 171 37:34 2:13 377 3:07:55 4:18 569 2:46:59
473 350 Vincent Tumminello WEST ISLIP NY 6:39:02 52/55 M3539 297 40:53 2:55 374 3:07:29 3:53 562 2:43:54
474 674 Joanne Como CHICHESTER NH 6:39:20 32/40 F4044 590 58:09 3:53 358 3:06:12 4:46 482 2:26:22
475 780 Joseph Grant WALPOLE MA 6:39:26 16/19 CLYDE 375 43:23 2:58 257 2:57:29 6:44 571 2:48:54
476 725 Candy O'Toole CHESTER NH 6:40:03 12/18 F5054 373 43:23 4:03 563 3:35:46 4:39 378 2:12:15
477 160 Kimberly Wamback WORCESTER MA 6:40:13 22/30 F3539 360 42:53 4:28 467 3:18:58 5:29 498 2:28:28
478 571 Sara Delande BOSTON MA 6:40:20 19/21 F2529 367 43:07 5:13 491 3:23:41 4:42 464 2:23:40
479 559 Michael Grupp PROVIDENCE RI 6:40:43 19/23 M5559 477 46:59 4:32 556 3:34:02 5:26 363 2:09:45
480 539 E Quinn NAPERVILLE IL 6:40:52 23/25 M5054 100 34:47 5:21 505 3:25:35 5:32 503 2:29:37
481 488 Steven Cornell E. FREETOWN MA 6:41:01 59/66 M4549 578 56:40 5:43 330 3:03:15 5:25 505 2:30:01
482 695 Brenda Hall ATTLEBORO MA 6:41:08 23/42 F4549 506 48:08 3:20 427 3:12:52 2:45 526 2:34:04
483 730 Katherine Benevides SOMERSET MA 6:41:11 5/11 F5559 546 50:03 6:14 573 3:39:08 5:34 268 2:00:14
484 728 Kate Galinus LANSDALE PA 6:42:23 6/11 F5559 386 43:42 3:53 529 3:29:10 4:37 450 2:21:03
485 617 Maggie Zhang NEW YORK NY 6:42:27 26/36 F3034 556 51:44 2:16 525 3:28:30 2:19 428 2:17:41
486 240 Leslie Rosen PURCHASE NY 6:42:48 23/30 F3539 369 43:13 7:49 495 3:24:03 10:23 424 2:17:21
487 616 Jane Rivers BRIDGEWATER MA 6:43:13 27/36 F3034 541 49:51 3:43 520 3:27:43 3:47 434 2:18:11
488 315 Mike Gillon DURHAM CT 6:43:32 33/35 M3034 485 47:24 2:42 514 3:26:36 3:08 465 2:23:43
489 408 Robert Greene MIDDLEBORO MA 6:44:16 84/92 M4044 464 46:29 3:08 538 3:30:46 3:05 448 2:20:50
490 218 Joanne Thorogood BASKING RIDGE NJ 6:44:20 24/42 F4549 444 45:35 6:07 552 3:33:14 4:46 405 2:14:39
491 137 Cecilia Vallee BRISTOL RI 6:44:25 7/11 F5559 595 1:01:00 5:20 555 3:34:00 4:19 264 1:59:48
492 368 Jeremy Daly NEW YORK NY 6:44:36 53/55 M3539 112 35:14 5:00 485 3:22:44 6:43 533 2:34:57
493 7 Michael Kineavy SOUTH BOSTON MA 6:44:52 20/23 M5559 331 41:47 4:41 486 3:22:49 5:50 504 2:29:47
494 732 Debra Holden ROCHESTER MA 6:45:01 8/11 F5559 501 47:59 2:36 396 3:09:44 4:39 553 2:40:06
495 493 Glen Modica PAWTUCKET RI 6:45:25 60/66 M4549 328 41:44 3:59 445 3:15:34 4:24 550 2:39:46
496 679 Victoria Conte PAWTUCKET RI 6:45:25 25/42 F4549 327 41:43 3:57 446 3:15:35 4:25 551 2:39:46
497 508 Mark Pennachio LEOMINSTER MA 6:45:31 61/66 M4549 559 52:23 4:36 425 3:12:45 4:55 507 2:30:54
498 329 Michael Bolton HANSCOM AFB MA 6:46:31 34/35 M3034 592 1:00:26 6:12 441 3:15:25 6:58 427 2:17:31
499 12 Ann Brophy MEDFORD MA 6:46:38 28/36 F3034 545 50:01 4:28 479 3:21:54 3:58 481 2:26:18
500 40 Kate Notman SHARON MA 6:46:40 12/20 ATHENA 220 38:55 2:34 522 3:28:08 3:57 520 2:33:08
501 404 Adam Daly PORTSMOUTH NH 6:46:46 85/92 M4044 70 33:31 18:42 483 3:22:35 2:58 471 2:25:02 4:00
502 282 Ronald Holmes SOUTH BOSTON MA 6:47:20 19/21 M2529 232 39:18 3:08 592 3:55:54 2:39 327 2:06:23
503 283 John Toomey SOUTH BOSTON MA 6:47:21 20/21 M2529 409 44:24 5:49 578 3:44:13 4:45 346 2:08:11
504 650 Angel Grant WALPOLE MA 6:47:27 33/40 F4044 416 44:41 4:09 508 3:25:58 3:58 500 2:28:43
505 646 Christina Pligavko SUDBURY MA 6:47:31 13/20 ATHENA 499 47:56 1:45 462 3:18:14 3:23 537 2:36:16
506 37 Suzanne McNamara BRANT ROCK MA 6:47:47 26/42 F4549 257 39:48 3:42 510 3:26:11 2:58 534 2:35:10
507 691 Jennifer Wayland CAMDEN ME 6:48:07 27/42 F4549 454 46:08 3:01 494 3:24:02 4:00 508 2:30:57
508 702 Sonia Calabrese NEW YORK NY 6:48:20 28/42 F4549 504 48:05 3:42 506 3:25:36 5:31 474 2:25:28
509 151 Jessie Owens HUDSON FALLS NY 6:48:24 29/36 F3034 494 47:41 2:58 524 3:28:27 2:34 487 2:26:46
510 729 Mary Hannon SARATOGA SPRINGS NY 6:49:10 13/18 F5054 576 56:33 3:24 490 3:23:31 4:25 422 2:17:18 4:00
511 369 Brian Goodman JAMAICA PLAIN MA 6:49:23 54/55 M3539 604 1:09:45 6:06 470 3:20:06 10:15 300 2:03:11
512 526 Matthew Von-Maszewski WESTBOROUGH MA 6:49:36 62/66 M4549 429 45:11 4:24 513 3:26:31 5:42 489 2:27:50
513 612 Melissa Hammond FAIRHAVEN MA 6:49:37 30/36 F3034 259 39:49 2:18 536 3:30:39 3:34 521 2:33:18
514 726 Cindy Bennett MARBLEHEAD MA 6:50:02 14/18 F5054 383 43:40 3:33 394 3:09:41 7:11 567 2:45:59
515 677 Marcia Salovitz BROOKLYN NY 6:50:43 34/40 F4044 479 47:03 2:37 471 3:20:18 3:29 542 2:37:18
516 618 Amanda Burgess NASHUA NH 6:51:13 24/30 F3539 510 48:14 4:59 530 3:29:11 4:04 469 2:24:47
517 395 Bill Mahoney RIVERSIDE RI 6:51:16 86/92 M4044 443 45:34 6:53 531 3:29:14 6:02 463 2:23:34
518 560 Jim Snyder WILBRAHAM MA 6:52:07 5/8 M6064 292 40:44 4:43 535 3:29:46 6:42 506 2:30:14
519 74 Amber Mundinger NEW YORK NY 6:52:44 31/36 F3034 213 38:45 4:24 547 3:32:44 4:21 518 2:32:31
520 158 Kimberlee McCarthy WORCESTER MA 6:52:46 25/30 F3539 577 56:36 8:58 562 3:35:32 9:26 289 2:02:16
521 642 Jutta Wolf WATERTOWN MA 6:52:47 14/20 ATHENA 580 56:47 7:30 327 3:02:46 6:14 549 2:39:32
522 556 Roger Young MARBLEHEAD MA 6:53:49 21/23 M5559 570 54:32 4:31 404 3:10:32 4:16 552 2:39:59
523 668 Kathia Lehman WESTON MA 6:54:03 35/40 F4044 283 40:37 4:40 571 3:38:16 7:47 458 2:22:44
524 13 Michele Brokmeier ROCKLAND MA 6:54:05 29/42 F4549 547 50:07 4:31 577 3:44:07 5:45 362 2:09:36
525 401 Dan Becker PEMBROKE MA 6:54:13 87/92 M4044 457 46:12 5:08 413 3:11:33 6:08 566 2:45:15
526 453 John Bennett HYDED PARK MA 6:54:56 63/66 M4549 181 37:49 8:31 417 3:12:06 6:44 574 2:49:48
527 681 Tonya Magnuson ELLINGTON CT 6:55:01 36/40 F4044 567 53:56 2:34 533 3:29:37 3:27 475 2:25:29
528 304 Nick Cyr HAMPTON NH 6:55:41 35/35 M3034 463 46:26 5:18 515 3:26:48 5:58 512 2:31:12
529 148 Michael Degroen DARTMOUTH MA 6:55:44 88/92 M4044 393 43:53 3:13 575 3:42:43 3:05 459 2:22:52
530 197 Angela Swift RIVERSIDE CT 6:55:50 30/42 F4549 503 48:00 3:35 528 3:29:08 4:07 509 2:31:01
531 167 Robert Marsh WEST BOYLSTON MA 6:56:10 24/25 M5054 552 51:32 3:43 481 3:22:23 4:41 525 2:33:53
532 696 Michele Subers MEDIA PA 6:56:19 31/42 F4549 519 48:40 4:13 511 3:26:14 5:15 516 2:31:59
533 585 Kathryn Driscoll SOMERVILLE MA 6:56:54 20/21 F2529 35 31:42 6:07 518 3:27:29 6:56 565 2:44:43
534 731 Marian Desimone BERNARDSVILLE NJ 6:57:19 9/11 F5559 473 46:53 4:00 527 3:28:54 5:26 517 2:32:07
535 566 Deborah Kellogg-Van Orden NORWALK CT 6:58:04 32/36 F3034 321 41:36 2:24 539 3:30:47 2:23 556 2:40:56
536 709 Kellie Graham REHOBOTH MA 6:58:20 32/42 F4549 502 48:00 4:37 560 3:35:13 3:56 484 2:26:35
537 135 Edward Soares SEEKONK MA 6:58:31 17/19 CLYDE 452 46:04 3:42 493 3:23:59 5:47 547 2:39:01
538 161 Elizabeth Goldrosen WHITMAN MA 6:58:33 33/42 F4549 516 48:28 5:00 569 3:37:21 6:15 451 2:21:30
539 700 Dawn Borysewicz BALLSTON SPA NY 6:58:42 34/42 F4549 529 49:22 3:02 502 3:25:19 3:28 544 2:37:33
540 25 Joseph Bazzinotti KINGSTON MA 6:58:45 64/66 M4549 596 1:01:07 7:53 424 3:12:40 6:01 511 2:31:06
541 692 Donna Wesoloski S DEERFIELD MA 6:59:21 35/42 F4549 379 43:31 2:31 532 3:29:14 3:05 557 2:41:02
542 765 Grace Coller SHELBURNE FALLS MA 7:00:05 15/20 ATHENA 357 42:43 2:48 558 3:35:02 3:53 535 2:35:41
543 386 Christopher Rondeau EAST PROVIDENCE RI 7:00:09 89/92 M4044 543 49:54 4:29 542 3:31:14 6:32 491 2:28:01
544 98 Paul Ford IPSWICH MA 7:00:54 65/66 M4549 378 43:27 5:22 551 3:33:08 5:59 519 2:33:01
545 717 Sandra Battersby DUXBURY MA 7:01:07 15/18 F5054 594 1:00:47 6:09 497 3:24:16 6:47 461 2:23:11
546 193 Barbara Casaceli HUDSON MA 7:02:01 36/42 F4549 280 40:34 3:11 566 3:37:06 3:57 541 2:37:15
547 715 Lucie Rice MARSHFIELD MA 7:02:39 37/42 F4549 180 37:48 3:02 586 3:50:20 3:14 494 2:28:17
548 270 Anne McArdle COVENTRY RI 7:03:31 16/18 F5054 591 58:25 6:21 500 3:25:09 7:50 476 2:25:47
549 767 Nicole Quinlan BOSTON MA 7:04:04 16/20 ATHENA 417 44:47 3:24 546 3:31:39 5:26 546 2:38:50
550 267 Dave Orlowski CLEARWATER BEACH FL 7:04:30 18/19 CLYDE 318 41:32 4:40 337 3:04:07 7:21 588 3:06:53
551 665 Helen Bingham REHOBOTH MA 7:05:38 37/40 F4044 285 40:39 4:56 597 4:09:26 3:58 332 2:06:42
552 225 Bonnie Hallinan DANVERS MA 7:07:08 1/4 F6064 404 44:18 3:54 567 3:37:08 3:07 545 2:38:43
553 247 Nikki Sabin MARBLEHEAD MA 7:07:12 38/40 F4044 359 42:51 2:38 572 3:38:30 4:12 548 2:39:02
554 116 Maryann Buma NORTHBRIDGE MA 7:08:38 10/11 F5559 440 45:30 4:14 574 3:40:56 4:22 523 2:33:38
555 376 Joshua Bridger WATERTOWN MA 7:09:08 90/92 M4044 564 53:01 7:05 534 3:29:38 4:47 531 2:34:38
556 736 Nancy Patterson MARSHFIELD MA 7:10:40 2/4 F6064 522 49:02 3:03 587 3:50:22 4:16 466 2:23:58
557 768 Julie Coppenrath CLINTON MA 7:11:03 17/20 ATHENA 550 51:23 3:32 557 3:34:09 5:20 538 2:36:40
558 643 Kathy Allen GILBERTSVILLE PA 7:11:15 26/30 F3539 396 43:59 4:01 565 3:37:01 3:57 559 2:42:19
559 496 Robert Sosa RUMFORD RI 7:11:25 66/66 M4549 365 43:02 4:37 559 3:35:10 4:15 564 2:44:24
560 669 Holly Porter MEDIA PA 7:11:42 39/40 F4044 482 47:16 4:01 581 3:47:05 4:58 495 2:28:24
561 258 Robert Gould, Jr WESTPORT CT 7:13:15 6/8 M6064 361 42:54 3:05 517 3:27:11 7:43 575 2:52:24
562 38 John Murphy ABINGTON MA 7:16:23 2/2 M6569 609 1:19:52 5:08 443 3:15:27 8:49 488 2:27:10
563 734 Melissa Tracey HARVARD MA 7:17:08 11/11 F5559 490 47:31 3:41 570 3:38:08 4:16 561 2:43:34
564 653 Jennifer Lapointe PLYMOUTH MA 7:17:29 40/40 F4044 560 52:23 5:27 564 3:36:52 5:47 540 2:37:02
565 67 Valerie Fristachi BAYSIDE NY 7:17:32 33/36 F3034 437 45:26 2:40 583 3:48:17 4:23 539 2:36:49
566 30 Shawn Dooley NORFOLK MA 7:17:59 19/19 CLYDE 460 46:18 5:09 455 3:17:24 7:23 582 3:01:46
567 255 Peter Cawley WESTPORT CT 7:18:13 7/8 M6064 399 44:04 7:17 456 3:17:26 5:24 585 3:04:04
568 65 Julie Chan NEW YORK NY 7:18:47 38/42 F4549 579 56:44 7:41 550 3:32:50 7:16 528 2:34:17
569 298 Mark Flaherty WEST NEWBURY MA 7:18:54 21/21 M2529 544 50:00 6:19 576 3:43:32 5:21 524 2:33:43
570 549 David Benevides Benevides SOMERSET MA 7:19:39 22/23 M5559 587 57:22 5:29 521 3:28:00 5:25 560 2:43:24
571 122 Amy Faraone BRISTOL RI 7:19:54 27/30 F3539 585 57:11 4:07 580 3:46:38 4:06 490 2:27:55
572 737 Deborah Jackson SALEM MA 7:21:11 3/4 F6064 497 47:51 1:42 540 3:31:05 5:48 578 2:54:46
573 35 Linda Honneus MARSHFIELD MA 7:22:04 4/4 F6064 602 1:07:18 4:14 480 3:22:15 4:10 563 2:44:09
574 32 Tina Green RAYNHAM MA 7:23:28 28/30 F3539 598 1:02:03 3:30 554 3:33:55 3:38 555 2:40:24
575 171 Jeff Caylor BRIDGEWATER MA 7:25:23 91/92 M4044 462 46:24 7:06 594 3:57:55 8:52 472 2:25:08
576 113 Kellie Armstrong JOHNSTON RI 7:26:37 18/20 ATHENA 461 46:20 6:30 553 3:33:36 5:39 577 2:54:34
577 629 Jennifer Greene BROOKLYN NY 7:27:43 29/30 F3539 535 49:46 3:48 548 3:32:49 4:37 579 2:56:45
578 157 Susan Leo-Johnson WORCESTER MA 7:28:51 39/42 F4549 377 43:26 3:21 582 3:48:07 5:42 570 2:48:17
579 209 Alan Levin LIVINGSTON NJ 7:29:38 8/8 M6064 179 37:43 3:47 489 3:23:11 4:42 594 3:20:16
580 199 Barry Stoner GLASTONBURY CT 7:36:46 1/1 M7074 533 49:34 5:29 561 3:35:16 6:01 580 3:00:27
581 429 Joseph Goddard CUMBERLAND RI 7:41:55 92/92 M4044 281 40:35 2:22 600 4:12:36 5:00 558 2:41:24
582 18 Joyce Leven SEEKONK MA 7:47:56 40/42 F4549 568 54:24 5:50 602 4:15:37 4:05 492 2:28:03
583 204 Ronald Klinger PROVIDENCE RI 7:50:29 55/55 M3539 493 47:35 3:39 579 3:44:53 5:28 590 3:08:57
584 57 Tovah Segelman SCOTCH PLAINS NJ 7:51:09 34/36 F3034 426 45:08 4:44 596 4:08:29 3:31 572 2:49:19
585 724 Yvette Nguyen BOLTON MA 7:57:29 17/18 F5054 600 1:03:15 12:20 549 3:32:50 6:47 583 3:02:19
586 94 Dan Boone HARVARD MA 7:59:04 25/25 M5054 526 49:13 5:09 590 3:55:03 3:05 587 3:06:36
587 721 Judy Graham-Garcia NEWMARKET NH 8:01:48 18/18 F5054 475 46:57 5:29 598 4:11:41 4:08 576 2:53:35
588 593 Alexa Muhs BROOKLINE MA 8:02:42 35/36 F3034 483 47:18 6:40 585 3:49:04 7:21 593 3:12:21
589 540 James Egan WORCESTER MA 8:06:42 23/23 M5559 608 1:12:29 7:23 568 3:37:12 6:17 584 3:03:21
590 594 Melissa Sparks WARWICK RI 8:09:50 36/36 F3034 582 56:56 3:14 589 3:54:51 4:18 591 3:10:32
591 764 Tessa Haynes BRIGHTON MA 8:10:58 19/20 ATHENA 548 51:10 6:24 603 4:20:07 3:48 573 2:49:31
592 567 Lauren Hillier RAYMOND ME 8:16:08 21/21 F2529 539 49:49 3:36 601 4:12:49 2:58 589 3:06:57
593 773 Veronique Lemelle WEST ROXBURY MA 8:20:54 20/20 ATHENA 605 1:10:14 6:51 591 3:55:45 6:35 581 3:01:32
594 631 Julieann Rainville WAYLAND MA 8:29:05 30/30 F3539 484 47:22