The Longest Day Ironman triathlon

15th August

1999
Swim 2.4 Miles,

1H 43m 37s

Cycle 112 miles,

6H 02m 47s

Run 26.2 miles

, 3H 37m 36s

Wolverhampton, England

Finish 11H 24m 00s
Never having competed in a triathlon or speaking with any triathletes, I had decided to compete in this Ironman triathlon. With a field of 200 competitors, it was larger than most of the ultra running events which often had as few as 10 competitors. On the Saturday evening, i travelled up and registered, having the bike checked for roadworthiness and rules explained in detail, then it was off to lake Gailey where the swim and transition area was to be held.
The bike park was fenced with 24 hour security, so it was safe to set up the bike in a stall and leave my prepared transition clothing in a numbered bag with all my cycle clothes.
6am Sunday morning 200 of us were ready to go in our wetsuits.. the course was a 800 metre square which needed 3 laps to be completed, and swimming breast stroke I chugged along at the back of the field, leaving the water at 1H 40 mins almost last.
Not feeling bad, I slowly got changed and then set off on the bike. Back on solid ground felt good and was able to maintain over 23 mph for the first hours and overtook many of the slow swimmers before settling into a rhythm and maintaining an average of 19 miles per hour. The course was a large loop with a small section which had to repeated twice, then return to Wolverhampton. there were many long gradual climbs which was why the average dropped to 19 mph but was able to maintain this speed through to the finish where I realised I had overtaken many cyclists finishing the 112 miles in 6H 01 minute.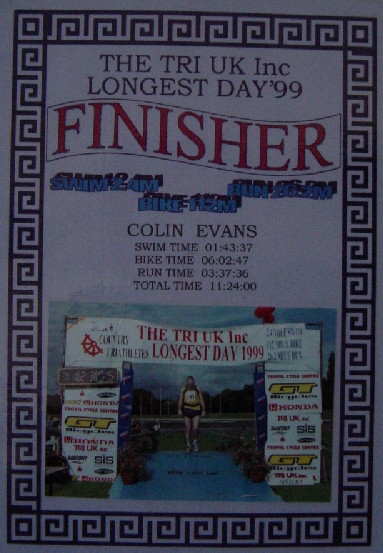 I spent at least 20 mins or more getting changed from cycle to running clothes, took time to try and eat some food as I knew there was still a full marathon to run....
To my amazement, I started jogging and realised that my running legs were in good shape... the triathlon bike has a much steeper vertical bar which means I cycled with the large thigh muscles, but the run you use the front Quads.
The first mile was fine, then lower back soreness set in after 112 miles on the bike, the muscles were sore, but this lasted about 2 miles then I was fine and completed the Marathon in 3H 40 mins including the transition time of 20+ mins. I overtook many triathletes on the run as they fell into exhaustion and were content to walk to the finish, and I was thrilled to cross the finish line in 11H 20 mins, 40 mins faster than i had predicted.