Great Floridian Iron Man Distance Triathlon 2012
20 October 2012
2.4 Mile swim; 112 Mile Bike; 26.2 mile run
14 Hour 21 min 18 sec
Website: www.greatfloridian.com
Location:

Rynne Beach in Lowell

Results: 86 out of 200
Finish Swim Swim Trn1 Trans Bike Bike Bike Cum Cum Trn2 Trans Run Run Pace
Place Name Age City/State Time Plc Time Plc #1 Plc Time Rate Plc Time Plc #2 Plc Time /mile
86 Colin Evans 41 West Boylston MA 14:21:18 115 1:28:55 139 9:06 83 7:05:24 15.8 84 8:43:25 154 14:42 82 5:23:12 12:21
I flew to Florida on the Wednesday and decided to camp in one man tent at Lake Loiusa state park campground just 15 miles from Orlando and 10 miles form the race.
Weather was hot, sunny and humid.. days in the mid 90 degrees and nights dropping to the mid 60's. I am so glad camped out and managed to climatize a bit to the heat.
The race started at 7.30am and was wetsuit legal, day before water was 80 degrees but wind and cold front over night dropped the water temp at surface to 76 degrees which is the magic number.
The swim went well.. not fast but pacing myself for the day.. finished the swim in 1H28.. 1st lap was clocked at 43 mins so second lap was slightly faster.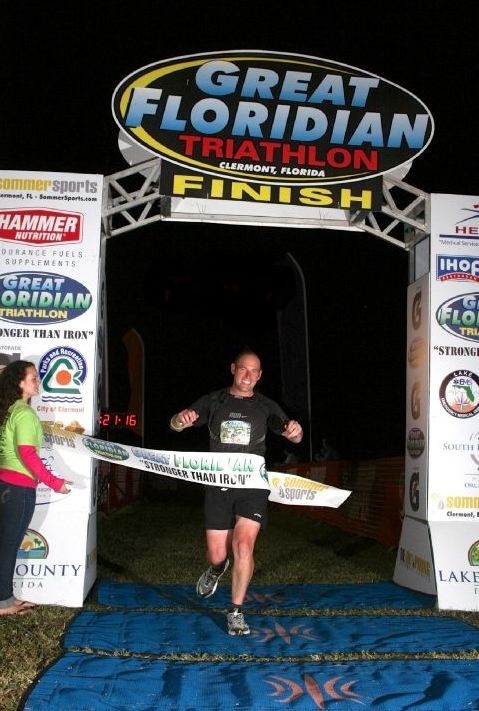 The transition to the bike went well. Was hoping to do sub 6 hours on bike before driving course day before.. the course was rolling hills and 3 laps of them.. with several bigger climbs thrown in for fun. Told chance 7H is more realistic if things go well. The bike support folks confirmed they have no spare parts for 650c wheels so if have issue.. will not be able to help. This was concern for whole bike ride..!!! The first lap average 19mph and the day was getting very hot with a 10-15mph wind... the only flat part of course had direct headwind making it as tough as going up a hill. Second lap was very slow.. just making sure complete the course and not burn out. Third lap was a bit faster. quarter way into 3rd lap was real dizzy so stopped and drank gatorade and pushed through to water station where this time I stopped, eat bananna and drank whole bottle water. no more dizzy.... to make sure did this at the remaining 3 water stops on route (10 miles apart).
After the bike I kind of relaxed... took 15 mins in transition and then started the run. walk and jog was the order. The socks \I changed into got very very hot when jogging.. and had to walk to let feet cool down.. this is not good as causes blisters and did this for the first lap.. averaging 5.5 mph. as came back tot he bags area asked for my bike bag and changed into the bike socks as I know they are tight fit. Sure enough.. no more hot feet :-) 2nd lap was no energy.. and walked and jogged but walked more than jogged. Third lap I jogged a lot more of the course.. especially once hit mile 20 onwards. the last lap was fastest lap as it was much cooler temps and could smell the finish was close.
Was great to cross the finish line with no issues :-)
Swim route: 2.4 miles
The swim was 1.2 mile loop in lake Minneola. The water was 76 degrees on race day as measured 18inch below surface and the course was 2 laps where after lap1.. you exit lake, cross timing mat and then proceed to start lap2.
Lake had a some waves / chop at start.
Bike route: 112 miles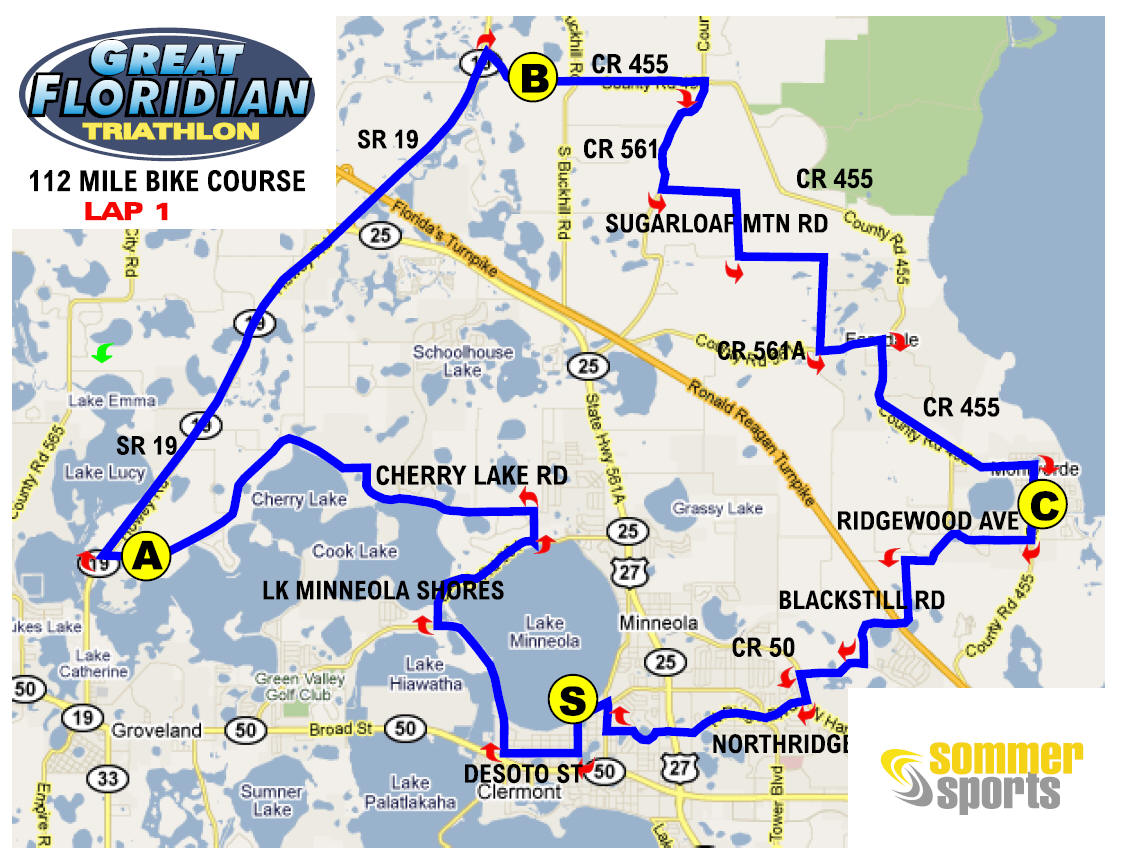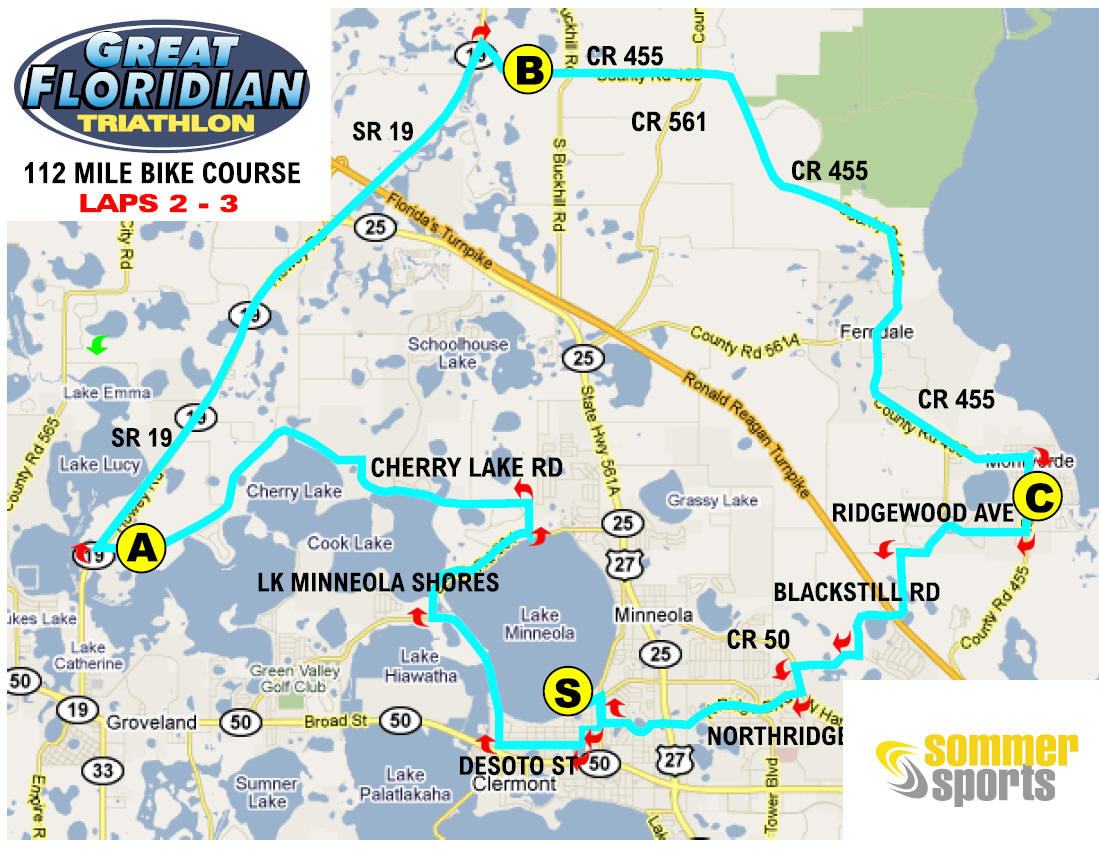 Run Course: 26.2 miles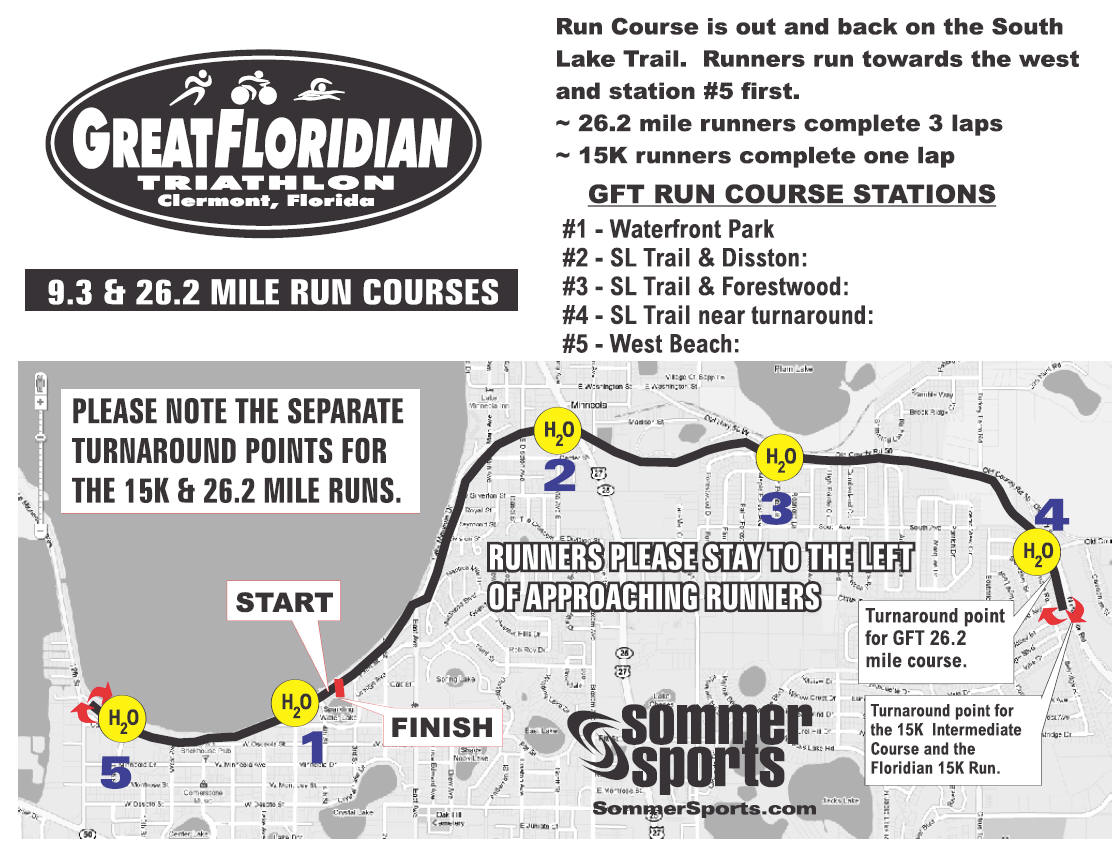 Results
GREAT FLORIDIAN TRIATHLON XXII
Swim 2.4 miles * Bike 112 miles * Run 26.2 miles
Saturday, October 20, 2012 - Clermont, Florida USA
>>> Produced by SOMMER SPORTS <<<
OVERALL RESULTS
--------------------------------------------------------------------
Finish Swim Swim Trn1 Trans Bike Bike Bike Cum Cum Trn2 Trans Run Run Pace
Place Name Age City/State Time Plc Time Plc #1 Plc Time Rate Plc Time Plc #2 Plc Time /mile PENALTY
===== ====================== === ===================== ============ ==== ======= ==== ===== ==== ======= ==== ==== ======== ==== ===== ==== ======= ===== =======
1 Andrew Johnston 40 Decatur GA 10:39:09 5 1:03:15 6 3:00 2 5:28:02 20.5 3 6:34:16 3 2:13 13 4:02:41 9:16
2 Steven Mifflin 33 Leesburg FL 11:02:23 49 1:19:32 12 3:38 9 5:55:30 18.9 13 7:18:40 2 1:40 4 3:42:04 8:29
3 Brian Wortham 33 Alpharetta GA 11:06:13 27 1:13:30 5 2:58 6 5:47:20 19.3 6 7:03:48 11 3:15 11 3:59:11 9:08
4 Ben Stephenson 23 Athens GA 11:14:25 57 1:20:55 9 3:05 23 6:16:53 17.8 22 7:40:52 44 5:15 2 3:28:19 7:58
5 Sean Hendryx 46 Clermont FL 11:22:28 25 1:13:08 4 2:47 12 6:00:35 18.6 11 7:16:29 4 2:16 15 4:03:45 9:19
6 Dean Sprague 49 San Diego CA 11:41:30 13 1:10:03 26 4:16 13 6:01:36 18.6 9 7:15:55 25 4:09 23 4:21:27 9:59
7 Chris Wyckoff 41 San Antonio TX 11:43:50 16 1:11:05 66 6:07 38 6:27:56 17.3 28 7:45:08 135 10:54 7 3:47:50 8:42
8 James Lawrence 36 Lindon UT 11:46:17 36 1:16:18 8 3:03 3 5:41:51 19.7 4 7:01:11 19 3:45 38 4:41:22 10:45
9 Robert Millican 50 St Simons Island GA 11:48:14 31 1:14:24 7 3:02 46 6:33:17 17.1 31 7:50:42 8 2:40 8 3:54:53 8:58
10 Brandon Labar 32 Jupiter FL 11:53:08 21 1:12:31 67 6:08 24 6:17:46 17.8 20 7:36:24 12 3:20 20 4:13:25 9:41
11 Jamie McLaughlin 38 Jacksonville Beach FL 11:55:58 78 1:23:42 141 9:12 25 6:18:13 17.8 32 7:51:06 106 8:40 9 3:56:13 9:01
12 Theoderick Mitra 39 Douglaston NY 11:56:47 125 1:30:10 28 4:19 21 6:12:53 18.0 29 7:47:21 43 5:03 16 4:04:23 9:20
13 James Brown 38 Sebring FL 11:58:54 35 1:16:09 129 8:23 7 5:49:04 19.3 7 7:13:35 45 5:17 37 4:40:03 10:42
14 Gary Williams 49 Liverpool 12:00:30 28 1:13:31 35 4:40 5 5:45:17 19.5 5 7:03:27 6 2:21 55 4:54:43 11:15
15 Angela Miller 35 Milton ON 12:02:06 118 1:29:12 16 3:51 31 6:23:27 17.5 38 7:56:29 9 2:45 14 4:02:53 9:17
16 Jorge Cascante 30 San Jose 12:02:13 59 1:21:12 42 4:56 11 5:58:42 18.7 17 7:24:48 7 2:39 32 4:34:47 10:30
17 Matthew Ridings 35 Jacksonville FL 12:03:18 147 1:37:00 25 4:09 49 6:34:25 17.0 61 8:15:33 5 2:16 6 3:45:30 8:37
18 Kayla Howell 26 North Palm Beach FL 12:03:58 29 1:13:41 40 4:51 32 6:24:42 17.5 24 7:43:13 82 7:25 19 4:13:21 9:41
19 James Barber 44 Minneola FL 12:04:02 131 1:32:29 52 5:27 4 5:42:03 19.6 14 7:19:58 23 4:03 36 4:40:02 10:42
20 Agustin Rodriguez 35 Oldsmar FL 12:04:30 150 1:38:18 2 2:18 64 6:46:03 16.5 74 8:26:38 1 1:14 3 3:36:39 8:17
21 Kurt Yockel 31 Chesapeake VA 12:07:02 37 1:17:15 76 6:19 29 6:21:06 17.6 27 7:44:39 37 4:54 21 4:17:30 9:50
22 Shannon Titzel 42 Anchorage AK 12:14:29 4 1:03:12 17 3:54 26 6:18:14 17.8 18 7:25:19 10 2:59 43 4:46:12 10:56
23 Greg Wright 31 Nashville TN 12:18:16 41 1:18:45 31 4:37 27 6:19:47 17.7 23 7:43:07 49 5:26 28 4:29:44 10:18
24 Benjamin Collins 31 Deland FL 12:19:37 9 1:07:39 33 4:38 14 6:04:01 18.5 10 7:16:18 40 4:58 58 4:58:23 11:24
25 Diane Labar 31 Jupiter FL 12:19:50 130 1:32:06 91 7:03 34 6:24:57 17.5 43 8:04:05 27 4:17 18 4:11:28 9:36
26 Allen Kuhn 46 St Petersburg FL 12:25:17 70 1:22:43 82 6:35 56 6:39:31 16.8 52 8:08:49 75 7:00 12 4:01:30 9:14
27 Pat Ruff 52 Plainfield IL 12:26:38 15 1:10:38 30 4:35 17 6:07:57 18.3 16 7:23:08 28 4:17 59 4:59:13 11:26
28 Nick Bonnici 29 Bradenton FL 12:27:10 44 1:19:19 60 5:46 33 6:24:52 17.5 30 7:49:56 48 5:20 30 4:31:56 10:23
29 Luc Overholt 22 Fort Pierce FL 12:36:46 117 1:29:09 56 5:37 50 6:34:48 17.0 55 8:09:33 78 7:12 22 4:20:02 9:56
30 Trevor Stultz 33 Deland FL 12:37:47 47 1:19:27 15 3:47 62 6:45:14 16.6 50 8:08:27 33 4:27 25 4:24:53 10:07
31 Brian Dahmer 33 Spring Hill FL 12:44:33 134 1:33:00 79 6:21 15 6:05:00 18.4 26 7:44:20 83 7:27 52 4:52:47 11:11
32 Lora Dehner 45 Farmington MO 12:46:46 60 1:21:12 68 6:09 8 5:50:39 19.2 12 7:17:59 20 3:46 84 5:25:03 12:25
33 Paul Kelly 38 Breckenridge CO 12:46:48 168 1:44:49 179 15:47 118 7:32:46 14.8 135 9:33:21 102 8:29 1 3:04:58 7:04
34 Bill Honey 47 Sebastian FL 12:48:09 92 1:25:47 119 7:50 53 6:38:13 16.9 56 8:11:50 80 7:16 27 4:29:04 10:17
35 Todd Woods 40 Bradenton FL 12:48:20 79 1:23:46 3 2:42 22 6:13:20 18.0 21 7:39:47 52 5:37 66 5:02:58 11:34
36 Jon Slowinski 39 Orlando FL 12:49:47 72 1:23:01 89 6:58 41 6:30:14 17.2 42 8:00:12 84 7:27 39 4:42:09 10:47
37 Ironman Billy Collier 59 Chattanooga TN 12:51:43 120 1:29:32 23 4:08 44 6:32:16 17.1 45 8:05:55 17 3:37 40 4:42:11 10:47
38 Josh Hayes 36 Cornelius NC 12:55:27 97 1:26:24 44 5:03 28 6:20:27 17.7 34 7:51:53 21 3:53 60 4:59:42 11:27
39 Juan Pablo Mora 36 San Jos? 12:55:42 22 1:12:37 105 7:32 43 6:32:15 17.1 35 7:52:23 151 13:03 46 4:50:17 11:05
40 Fredrik Elvhede 40 Charlestown MA 13:01:23 128 1:30:46 180 17:47 36 6:26:06 17.4 58 8:14:38 156 15:05 29 4:31:41 10:23
41 Robert Elliott 42 Chattanooga TN 13:04:33 83 1:24:06 22 4:03 65 6:46:09 16.5 57 8:14:17 22 3:57 44 4:46:19 10:56
42 David Miller 53 Middletown MD 13:07:50 66 1:22:11 149 9:52 60 6:43:24 16.7 60 8:15:27 155 14:47 35 4:37:37 10:36
43 Jason Barker 43 Dequeen AR 13:10:14 69 1:22:40 136 8:53 51 6:36:22 17.0 49 8:07:54 138 11:13 47 4:51:08 11:07
44 Johnny Blues 51 Land O Lakes FL 13:12:22 171 1:45:22 109 7:42 86 7:09:38 15.6 101 9:02:41 39 4:57 17 4:04:44 9:21
45 William Barnes 45 Boynton Beach FL 13:16:36 178 1:48:41 43 5:00 40 6:29:57 17.2 68 8:23:37 30 4:26 45 4:48:35 11:01
46 Brad Jones 39 Atlanta GA 13:18:41 20 1:12:26 61 5:53 77 6:58:09 16.1 62 8:16:26 116 9:22 53 4:52:54 11:11
47 Shawn O'Brien 43 Sun Prairie WI 13:19:22 177 1:48:34 49 5:19 39 6:29:34 17.2 67 8:23:26 32 4:26 41 4:43:31 10:50
48 David Gregory 58 Ringgold GA 13:24:49 151 1:38:21 48 5:18 57 6:41:07 16.8 71 8:24:45 41 4:59 56 4:55:06 11:16
49 Brooke Cadiente 31 Mesa AZ 13:25:29 101 1:27:04 75 6:18 66 6:46:18 16.5 64 8:19:39 90 7:54 57 4:57:58 11:23
50 Chip Clifton 35 North Palm Beach FL 13:25:44 65 1:22:08 59 5:46 35 6:25:53 17.4 37 7:53:46 152 13:27 79 5:18:33 12:10
51 Dennis Hetland 51 Fargo ND 13:25:49 63 1:21:44 57 5:40 69 6:49:34 16.4 63 8:16:57 76 7:07 64 5:01:45 11:32
52 Kevin Swenson 51 Gulf Breeze FL 13:27:16 140 1:34:06 65 5:59 19 6:11:31 18.1 33 7:51:35 62 6:15 87 5:29:28 12:35
53 Guillermo Gomez 43 Santa Ana 13:29:22 136 1:33:13 74 6:18 61 6:45:13 16.6 69 8:24:42 29 4:22 62 5:00:19 11:28
54 Richard Chackman 27 Hollywood FL 13:29:27 123 1:29:45 29 4:20 90 7:12:43 15.5 88 8:46:46 72 6:48 34 4:35:53 10:32
55 Andrew Solomon 39 Short Hills NJ 13:33:34 12 1:09:37 38 4:48 59 6:43:22 16.7 39 7:57:46 54 5:39 88 5:30:10 12:37
56 Dave Clovis 48 Albuquerque NM 13:36:34 129 1:31:13 69 6:12 87 7:09:48 15.6 89 8:47:12 51 5:33 42 4:43:50 10:50
57 Hernan Garcia 42 Cocoa FL 13:38:05 46 1:19:23 50 5:20 129 7:43:18 14.5 113 9:08:00 69 6:40 24 4:23:26 10:04
58 Jen Davis 35 Palm Beach Gardens FL 13:39:51 93 1:25:48 71 6:12 100 7:22:50 15.2 92 8:54:49 119 9:26 33 4:35:37 10:32
59 Brian Oneill 38 Palmdale CA 13:41:28 26 1:13:16 64 5:58 47 6:33:48 17.1 36 7:53:02 38 4:54 100 5:43:33 13:07
60 Scott Steinhilber 32 Sanford FL 13:45:11 55 1:20:47 107 7:34 79 6:59:37 16.0 75 8:27:56 95 8:18 72 5:08:59 11:48
61 Alfred Lamothe 43 West Worwick RI 13:46:34 189 1:54:15 158 10:22 1 2:17:12 49.0 1 4:21:47 160 339:36 5 3:45:11 8:36
62 Edward Fox 49 Acton MA 13:46:41 99 1:26:57 118 7:50 88 7:11:08 15.6 87 8:45:54 111 8:57 50 4:51:52 11:09
63 Kevin Kramer 33 Sarasota FL 13:46:51 132 1:32:47 135 8:50 82 7:03:37 15.9 86 8:45:12 126 10:14 48 4:51:25 11:08
64 Jody Koehler 42 Cedar Park TX 13:48:19 163 1:42:07 126 8:17 97 7:19:44 15.3 114 9:10:06 15 3:35 31 4:34:39 10:29
65 Bryan Stewart 39 Stoney Creek ON 13:52:03 116 1:29:02 58 5:42 152 8:15:12 13.6 146 9:49:55 35 4:39 10 3:57:30 9:04
66 Brian Richardson 44 Anchorage AK 13:53:47 58 1:21:08 36 4:43 45 6:32:39 17.1 40 7:58:29 36 4:49 109 5:50:29 13:23
67 Kevin Darmer 34 Thornton CO 13:55:16 62 1:21:39 11 3:35 58 6:41:49 16.7 48 8:07:02 53 5:39 95 5:42:37 13:05
68 Patrick Lennon 48 Sarasota FL 13:55:42 77 1:23:38 132 8:35 85 7:09:25 15.6 81 8:41:37 100 8:27 68 5:05:39 11:40
69 Travis Jacob 42 Boise ID 13:59:19 159 1:39:53 53 5:29 67 6:46:24 16.5 77 8:31:46 50 5:28 80 5:22:07 12:18
70 Pete Moya 52 Jupiter FL 14:00:54 68 1:22:28 95 7:11 75 6:56:57 16.1 73 8:26:35 140 11:15 81 5:23:06 12:20
71 Matthew Killian 34 Annapolis MD 14:02:34 126 1:30:19 128 8:17 104 7:25:23 15.1 103 9:03:58 73 6:55 49 4:51:42 11:08
72 Joon Yang 34 Hauppauge NY 14:03:09 145 1:36:51 81 6:31 91 7:13:15 15.5 96 8:56:36 71 6:48 61 4:59:46 11:27
73 Bryan Piersol 34 Ashburn VA 14:09:18 148 1:37:02 20 3:59 72 6:53:07 16.3 78 8:34:06 18 3:40 90 5:31:33 12:40
74 Jason Buckner 32 San Franscisco CA 14:10:40 11 1:09:19 46 5:12 73 6:54:13 16.2 51 8:08:42 143 11:31 108 5:50:28 13:23
75 Tom Laitinen 37 Honolulu HI 14:11:16 81 1:23:48 54 5:33 71 6:52:52 16.3 66 8:22:13 55 5:40 99 5:43:23 13:07
76 Todd Jenkins 39 Sanford FL 14:13:39 109 1:27:57 116 7:48 30 6:23:24 17.5 41 7:59:08 110 8:53 117 6:05:39 13:58
77 Whitney Kessler 49 Naperville IL 14:14:37 45 1:19:19 51 5:25 103 7:24:58 15.1 91 8:49:41 66 6:28 78 5:18:28 12:10
78 Charlie Krueger 28 Ronkonkoma NY 14:17:00 42 1:19:05 117 7:48 93 7:13:52 15.5 79 8:40:44 118 9:26 70 5:08:51 11:48
79 Sean Coate 40 Sandy Springs GA 14:17:04 95 1:25:56 172 12:37 96 7:19:31 15.3 98 8:58:03 150 12:57 69 5:06:04 11:41
80 Monica Kruckow 33 Charlotte NC 14:17:12 144 1:36:38 130 8:24 89 7:11:44 15.6 97 8:56:44 121 9:34 74 5:10:56 11:53
81 Michael Boehmer 51 Florence KY 14:17:33 91 1:25:34 115 7:47 120 7:33:28 14.8 111 9:06:48 93 8:06 65 5:02:40 11:34
82 Tanner Copeland 23 Athens GA 14:18:54 185 1:51:17 87 6:54 131 7:47:59 14.4 144 9:46:09 81 7:17 26 4:25:28 10:08
83 Timothy Maynard 53 Mobile AL 14:19:00 43 1:19:10 113 7:45 55 6:38:34 16.9 44 8:05:28 104 8:35 116 6:04:57 13:56
84 Diane Stokes 46 Northborough MA 14:20:09 111 1:28:26 14 3:41 48 6:34:14 17.0 46 8:06:20 26 4:13 118 6:09:37 14:07
85 David Goff 50 St Pete FL 14:20:41 73 1:23:06 155 10:13 132 7:48:18 14.3 124 9:21:36 64 6:25 51 4:52:41 11:11
86 Colin Evans 41 West Boylston MA 14:21:18 115 1:28:55 139 9:06 83 7:05:24 15.8 84 8:43:25 154 14:42 82 5:23:12 12:21
87 Joseph Kitchel 42 Miami FL 14:21:40 142 1:35:26 152 9:59 76 6:57:29 16.1 83 8:42:54 105 8:36 89 5:30:10 12:37
88 Matthew Goforth 36 Lake Park FL 14:24:24 100 1:26:59 96 7:12 112 7:30:48 14.9 105 9:04:58 68 6:40 76 5:12:47 11:57
89 Stephen Ellis 51 Cochranville PA 14:26:01 179 1:49:05 154 10:12 94 7:17:12 15.4 120 9:16:28 92 8:05 63 5:01:29 11:31
90 Joshua Williams 24 Chesapeake VA 14:26:47 64 1:21:50 142 9:13 20 6:12:27 18.0 25 7:43:30 112 9:01 140 6:34:18 15:03
91 John Long 52 Rio Rancho NM 14:31:41 48 1:19:31 18 3:58 95 7:18:13 15.3 82 8:41:40 74 6:59 96 5:43:03 13:06
92 Craig MacIntyre 47 Shawnee OK 14:33:04 85 1:24:17 106 7:33 68 6:48:08 16.5 65 8:19:57 131 10:21 114 6:02:47 13:51
93 Kevin Aldrich 52 Villa Park IL 14:33:28 86 1:24:26 34 4:40 130 7:45:43 14.4 118 9:14:47 31 4:26 77 5:14:16 12:00
94 David Jr. Dahmer 27 Brooksville FL 14:34:51 122 1:29:36 162 10:27 98 7:20:34 15.3 99 9:00:36 79 7:13 86 5:27:03 12:29
95 Amanda Letheren 23 Lilburn GA 14:35:43 154 1:38:59 55 5:34 123 7:36:10 14.7 122 9:20:42 58 5:47 73 5:09:15 11:49
96 Anthony Pearson 47 Amory MS 14:39:36 75 1:23:19 80 6:23 92 7:13:44 15.5 85 8:43:26 42 5:02 98 5:43:09 13:06
97 Tiffany Gallup 39 Naperville IL 14:47:37 192 1:57:51 63 5:56 105 7:25:57 15.1 131 9:29:43 63 6:21 75 5:11:33 11:54
98 Robert Abate 46 West Palm Beach FL 14:48:15 89 1:24:39 62 5:56 54 6:38:17 16.9 53 8:08:51 70 6:42 138 6:32:43 15:00
99 Sheryl Fox 45 Acton MA 14:52:25 141 1:35:01 148 9:46 138 7:55:38 14.1 138 9:40:23 96 8:23 67 5:03:40 11:36
100 Suzanne Cespedes 32 San Jos? 14:52:52 165 1:42:25 100 7:18 143 8:01:44 13.9 147 9:51:26 89 7:52 54 4:53:36 11:13
101 Jeff Bever 50 Westminster CO 15:05:11 82 1:23:53 138 9:04 119 7:32:51 14.8 108 9:05:47 146 12:18 104 5:47:07 13:15
102 Jeff Chandler 32 Fort Pierce FL 15:06:02 23 1:12:40 19 3:59 78 6:58:20 16.1 59 8:14:58 158 17:21 139 6:33:44 15:02
103 Joseph Velazquez 36 Seminole FL 15:06:44 181 1:49:11 151 9:57 81 7:03:37 15.9 102 9:02:43 128 10:16 111 5:53:46 13:31
104 Kendel Prescott 52 Decatur GA 15:06:58 107 1:27:47 98 7:12 134 7:51:46 14.2 128 9:26:44 14 3:34 91 5:36:42 12:52
105 Curt Brandt 52 Brandon FL 15:07:54 153 1:38:57 39 4:51 63 6:45:19 16.6 76 8:29:06 94 8:14 136 6:30:35 14:55
106 Brian Blanchard 26 Tampa FL 15:07:56 110 1:28:03 93 7:09 116 7:32:25 14.9 112 9:07:36 141 11:20 106 5:49:01 13:20
107 Brett Ferguson 55 Cornelius NC 15:09:19 14 1:10:36 101 7:18 110 7:30:27 14.9 90 8:48:20 98 8:23 120 6:12:37 14:14
108 Domingo Fornoles 41 Clermont FL 15:11:12 133 1:32:54 99 7:14 80 7:00:52 16.0 80 8:40:59 61 6:06 132 6:24:09 14:40
109 John Trapp 29 Riviera Beach FL 15:12:36 96 1:26:15 156 10:17 109 7:28:42 15.0 106 9:05:13 132 10:33 105 5:48:50 13:19
110 Chris Burden 39 Delray Beach FL 15:15:37 155 1:39:19 153 10:04 84 7:07:11 15.7 95 8:56:34 85 7:34 119 6:11:30 14:11
111 Sam Bertolino 36 Orlando FL 15:17:04 94 1:25:53 111 7:43 114 7:32:08 14.9 107 9:05:43 97 8:23 115 6:02:59 13:52
112 Daniel Maloney 22 Palm Bay FL 15:17:22 34 1:15:48 173 12:52 139 7:55:59 14.1 126 9:24:38 122 9:38 97 5:43:07 13:06
113 Petr Utrata 52 Burlingame CA 15:17:46 19 1:12:08 163 10:50 146 8:04:35 13.9 129 9:27:32 87 7:51 94 5:42:25 13:05
114 Karen Alexeev 60 Gulfport FL 15:20:40 173 1:46:23 144 9:14 135 7:52:22 14.2 145 9:47:58 108 8:44 83 5:23:59 12:22
115 William Keros 46 Dallas TX 15:22:59 172 1:46:08 133 8:38 126 7:37:47 14.7 133 9:32:32 123 9:46 93 5:40:43 13:01
116 Penny Quinn 52 Baltimore MD 15:25:53 143 1:35:55 88 6:56 151 8:11:24 13.7 150 9:54:14 56 5:41 85 5:25:59 12:27
117 Keith Runyan 52 St Pete Beach FL 15:27:58 113 1:28:39 104 7:27 124 7:36:15 14.7 116 9:12:19 77 7:08 112 6:00:32 13:46
118 Michelle Buczkowski 40 Winter Garden FL 15:28:55 119 1:29:26 123 8:12 108 7:28:41 15.0 110 9:06:18 113 9:04 122 6:13:34 14:16
119 Steven Boyne 54 Ponte Vedra FL 15:29:26 98 1:26:29 150 9:53 140 7:56:18 14.1 134 9:32:39 144 11:59 103 5:44:50 13:10
120 David Seay 50 Amory MS 15:30:23 193 2:02:13 92 7:07 106 7:25:57 15.1 137 9:35:17 57 5:45 107 5:49:22 13:21
121 Michael Brown 54 Newburgh IN 15:39:08 52 1:20:04 102 7:23 156 8:24:27 13.3 148 9:51:52 107 8:40 92 5:38:36 12:56
122 Renee Tercsak 33 Orlando FL 15:39:35 114 1:28:43 131 8:24 147 8:06:00 13.8 140 9:43:06 145 12:11 102 5:44:19 13:09
123 Eric Doss 32 Beaufort SC 15:44:03 50 1:19:42 78 6:21 127 7:38:27 14.7 104 9:04:28 101 8:29 137 6:31:07 14:56
124 Jenny Albrecht 36 Mobile AL 15:44:14 71 1:22:55 70 6:12 52 6:37:43 16.9 47 8:06:49 133 10:34 152 7:26:53 17:04
125 Maria Colfer 46 Tampa FL 15:44:21 156 1:39:24 86 6:47 125 7:37:02 14.7 125 9:23:12 99 8:26 121 6:12:44 14:14
126 Thomas Breiding 50 Orlando FL 15:48:08 196 2:15:55 160 10:26 107 7:26:57 15.0 149 9:53:17 134 10:52 101 5:44:00 13:08
127 William Moore 47 Sebring FL 15:50:55 183 1:50:10 73 6:16 117 7:32:43 14.8 130 9:29:09 16 3:36 128 6:18:11 14:27
128 John Wragg 62 Mississauga ON 15:51:58 61 1:21:23 140 9:06 74 6:55:31 16.2 72 8:25:59 136 11:09 151 7:14:51 16:36
129 Dennis Caveglia 59 Leechburg PA 15:52:46 149 1:37:44 125 8:13 115 7:32:10 14.9 121 9:18:06 86 7:41 133 6:27:00 14:47
130 Walt Prescott 59 Decatur GA 16:00:25 195 2:08:32 147 9:44 157 8:29:09 13.2 159 10:47:25 24 4:04 71 5:08:57 11:48
131 Sarah Greyer 27 Winter Park FL 16:01:29 106 1:27:40 103 7:25 128 7:40:23 14.6 119 9:15:27 46 5:18 141 6:40:46 15:18
132 Ashley Stephens 24 Canton NC 16:02:21 162 1:41:30 137 8:56 148 8:06:10 13.8 152 9:56:35 147 12:26 110 5:53:21 13:30
133 Andrew Dickman 48 Naples FL 16:04:46 80 1:23:47 110 7:43 144 8:02:19 13.9 136 9:33:48 124 9:53 130 6:21:06 14:33
134 Joan Donohue 55 Columbia SC 16:08:39 102 1:27:10 159 10:24 122 7:36:05 14.7 117 9:13:38 65 6:28 143 6:48:34 15:36
135 Todd Hopkins 36 Mount Dora FL 16:10:41 166 1:43:30 94 7:10 136 7:53:21 14.2 141 9:44:00 120 9:28 127 6:17:14 14:24
136 Adriana Garcia 38 Homestead FL 16:12:23 108 1:27:57 121 7:55 149 8:06:55 13.8 139 9:42:45 142 11:23 129 6:18:16 14:27
137 Vasilis Toxavidis 42 Attleboro MA 16:15:55 167 1:43:55 171 12:27
138 James Geurts 47 Odessa FL 16:16:13 137 1:33:16 124 8:12 102 7:24:29 15.1 109 9:05:56 109 8:45 146 7:01:32 16:06
139 Ted Cassimatis 46 Farmington MO 16:20:39 127 1:30:26 114 7:47 113 7:31:56 14.9 115 9:10:08 139 11:13 145 6:59:19 16:01
140 Beau Bearden 44 Atlanta GA 16:22:41 56 1:20:51 108 7:34 153 8:16:50 13.5 143 9:45:14 114 9:07 135 6:28:21 14:50
141 Aaron Laine 41 Bradenton FL 16:22:50 176 1:48:23 165 11:07 137 7:54:55 14.1 151 9:54:25 149 12:41 125 6:15:45 14:21
142 Robert Dombrowsky 51 Brick NJ 16:23:31 157 1:39:28 157 10:17 155 8:24:08 13.3 156 10:13:53 88 7:51 113 6:01:48 13:49
143 Sharon Rosin 49 Orlando FL 16:35:12 197 2:16:07 134 8:42 133 7:48:22 14.3 154 10:13:09 91 8:03 123 6:14:01 14:17
144 Michael Schoenfeld 51 Orange Park FL 16:43:55 187 1:52:40 176 14:38 141 7:57:28 14.1 153 10:04:46 157 15:22 131 6:23:49 14:39
145 Joe Nash 34 Chicago IL 16:47:32 161 1:41:04 161 10:27 121 7:34:56 14.8 127 9:26:26 159 18:15 147 7:02:53 16:09
146 Robert Gazella 61 Lansing MI 16:48:25 186 1:52:35 122 7:59 111 7:30:45 14.9 132 9:31:18 103 8:33 149 7:08:36 16:22
147 John Ricca 63 Plano TX 16:50:02 103 1:27:21 177 15:17 158 8:37:05 13.0 157 10:19:42 153 13:54 126 6:16:28 14:23
148 Julie Goforth 44 Lake Park FL 17:17:58 194 2:03:02 83 6:36 145 8:03:41 13.9 155 10:13:19 148 12:32 144 6:52:08 15:44
149 Raphael (rafe) Katkin 61 Burke VA 17:39:34 188 1:53:53 178 15:23 159 8:52:51 12.6 162 11:02:06 130 10:20 134 6:27:09 14:47
150 Kimberlee Mellon 57 Estero FL 18:06:40 184 1:50:33 164 10:54 161 9:06:42 12.3 164 11:08:08 127 10:15 142 6:48:18 15:36
151 Peter Lefferts 57 Naples FL 18:22:05 170 1:45:10 170 12:03 162 9:08:18 12.3 163 11:05:31 115 9:11 148 7:07:24 16:19
152 Glen Jusczyk 37 Dennisport MA 18:25:29 174 1:46:46 175 13:49 160 9:01:30 12.4 161 11:02:04 129 10:18 150 7:13:08 16:32
153 Henry Delbridge 30 Melbourne FL 18:43:34 67 1:22:21 143 9:14 163 9:23:26 11.9 160 10:54:59 117 9:24 153 7:39:12 17:32
154 Keith Albert 54 Wellington FL 18:46:10 190 1:55:10 167 11:27 154 8:20:53 13.4 158 10:27:30 67 6:37 155 8:12:04 18:47
155 Lisa McFadden 42 Seminole FL 135 1:33:03 37 4:46 42 6:31:25 17.2 54 8:09:13
156 David Woods 60 South Bend IN 24 1:12:55 84 6:37 142 8:01:33 14.0 123 9:21:03 60 5:57 154 8:00:00 18:20
157 Kenneth Koehler 33 Sebring FL 84 1:24:12 168 11:35 150 8:08:37 13.8 142 9:44:23 125 9:55 124 6:14:29 14:18
158 Zachary Giegel 38 Frederick MD 30 1:14:04 47 5:18
159 Brian Kimberlin 29 Port Saint Lucie FL 18 1:11:48 21 4:01 10 5:58:06 18.8 8 7:13:54 34 4:38
160 Andres Tovar 33 Port St Lucie FL 8 1:06:41 13 3:40 18 6:10:28 18.1 15 7:20:48 47 5:19
161 Ken Huhn 39 Oswego IL 51 1:19:53 32 4:37 16 6:06:56 18.3 19 7:31:25 13 3:27
162 Frank McAlonan 35 Boynton Beach FL 105 1:27:35 77 6:20 99 7:21:06 15.2 93 8:55:00 59 5:54
163 Joseph Bradfield 55 Groveland FL 90 1:25:10 174 13:00 101 7:24:29 15.1 100 9:02:37 137 11:10
164 Sean McClean 43 Orlando FL 180 1:49:07 2 5:58:43
165 Miguel Aguilar Mora 32 San Jose 87 1:24:29 120 7:54 70 6:52:22 16.3 70 8:24:43
166 Shannon Small 49 Houston TX 198 2:21:27 97 7:12 37 6:27:45 17.3 94 8:56:23
167 John Jones 63 Oviedo FL 191 1:56:11 169 11:50 164 9:42:44 11.5 165 11:50:44
168 Jeffrey Hoh 30 Tallahassee FL 1 59:11 41 4:54
169 Andres Alfaro 43 Santa Ana 17 1:11:19 10 3:28
170 Brian Miller 37 Millon ON 6 1:04:20 1 1:35
171 Z-Man Garlepp 56 Burnaby BC 33 1:14:50 112 7:44
172 Kenneth Langlands 60 Kansas City MO 40 1:18:32 72 6:14
173 Kevin Green 42 Beaufort SC 54 1:20:31 85 6:41
174 Trent Steinhauer 31 Lawrenceville GA 104 1:27:28 45 5:08
175 Aaron Rapier 39 Plainfield IL 121 1:29:32 90 7:00
176 Jayson Bass 37 Sebring FL 138 1:33:25 27 4:19
177 Kathi Langlands 60 Kansas City MO 160 1:40:28 145 9:39
178 24 4:09
179 Jerry Skirvin 41 Orange Park FL 164 1:42:10 146 9:43
180 Peg Murphy 46 Port St Lucie FL 175 1:47:24 127 8:17
181 Kim Hutto 45 Orlando FL 169 1:45:02 166 11:22
182 Shawn Rogers 40 Huntersville NC 7 1:06:06
183 Evan O'Sheehan 16 Hollywood FL 2 1:00:32
184 Brian Fredley 44 Daytona Bch FL 3 1:01:59
185 Mark Behrens 40 Orlando FL 10 1:08:07
186 Sean Hylton 41 Mobile AL 32 1:14:33
187 Charles Popper 39 Windermere FL 38 1:18:09
188 Lisa Hertz 27 Winter Haven FL 39 1:18:25
189 Emily Jetton 33 Orlando FL 53 1:20:09
190 Greg Shamrock 52 Mt Dora FL 74 1:23:13
191 Wynne McFarlin 50 Orlando FL 76 1:23:22
192 Jennie Webster 48 Winter Park FL 88 1:24:32
193 Patty Connor 51 Okahumpka FL 158 1:39:49
194 Duane McRorie 37 Apopka FL 112 1:28:29
195 Sherry McRorie 41 Apopka FL 124 1:29:56
196 Leslie Cain 52 Orlando FL 139 1:33:34
197 Juan Velez 40 Orlando FL 146 1:36:56
198 Kim Capps 46 Orlando FL 152 1:38:56
199 Nancy Stuparich 51 Oviedo FL 199 2:23:41
200 Steven Block 35 Longwood FL 182 1:49:53