Merrimack River 10M trail run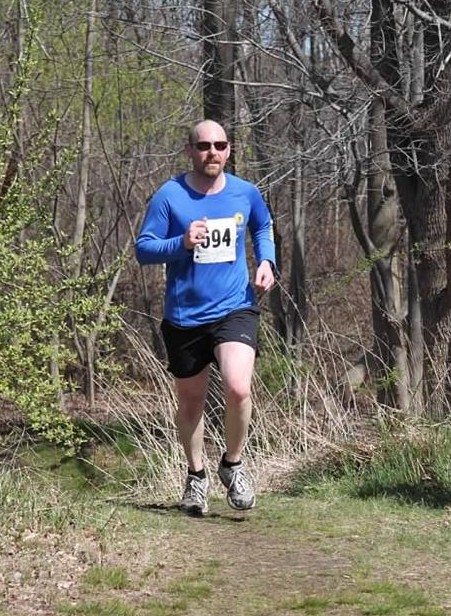 Start: Wyndham trailhead; River trail - Andover, MA, US
Out/Back for 10m on the Merrimack river trail. From the Wyndham Hotel to the Tewksbury town line. Flat first and last three miles with a very hilly middle four miles.
Weather was warm and sunny... trail was bone dry, very little mud... quite lot of loose leaves etc on the steep inclines. If wet would have worn ice bugs with deep treads but as so dry, wore normal road shoes.
started at back and first mile very slow due to people in front.. then overtook many and ran hard through the hills.. at 7m kept running and pushed the last mile home.. worked at 165 heart rate.
Lose another 20 pounds and will be much faster :-)
Was very relaxed friendly race, good trail running atmosphere.. the run along river through the trees was great.
Merrimack River 10 mile Trail Race - 21st annual
Andover, MA, April 14, 2012 Results
Place

First

Last

Time

Sex

Age

Bib

Town

Team

1

Kevin

Tilton

0:59:13

M

30

689

N. Conway, NH

CMS

2
Tim
Van Orden
0:59:29
M
43
692
Bennington, VT
CMS
3

Todd

Callaghan

1:01:26

M

42

697

Beverly, Ma

GCS

4

Danny

Ferreira

1:02:47

M

29

621

Concord, NH

GCS

5

John

Dudley

1:02:56

M

33

765

Jamaica Plain

6

Andy

Scott

1:03:20

M

21

770

Merrimac, Ma

7

John

Kinnee

1:03:39

M

33

687

Ayer

NMC

8

Jorg

Schneider

1:03:39

M

43

702

TSG reutlingen

9

Ryan

Aschbrenner

1:03:51

M

34

713

Nashua, NH

10

Rob

Hult

1:06:04

M

42

682

Harvard

11

Justin

Costa

1:06:10

M

32

680

Providence, RI

TNT

12
Nicholas
Cotton
1:06:48
M
44
759
13

Keith

Obrien

1:08:30

M

48

774

Dracut

GLRR

14

Tom

Brown

1:09:02

M

26

686

Beverly

CMS

15

Brad

Birkel

1:09:10

M

33

718

Roslindale

16

Brodie

Miles

1:09:39

M

38

667

Belmont

17

Jason

Reed

1:09:58

M

33

762

SanBruno, Ca

Excelsior Running Club

18

Stanislav

Trufanov

1:10:01

M

30

690

Somerville

19
Gabriel
Flanders
1:10:19
M
36
760
Kearsarge, Nh
20

Christopher

Dunn

1:10:32

M

43

740

Strafford

Acidotic Racing

21

Matt

Ridout

1:12:07

M

32

671

Somerville

Somerville RR

22

Giant

Parlin

1:12:17

M

36

647

Falmouth, ME

Trail Monster Running

23

Mark

Wimmer

1:12:46

M

41

714

Windham, NH

24

Brad

Beveridge

1:12:58

M

38

771

Tuftonboro, Nh

25

Michael

Cusson

1:13:06

M

50

613

Chelmsford

26

Richard

DeChellis

1:13:53

M

42

615

Brockton

27

Jeremaih

Fitsgibbon

1:15:15

M

55

725

Bedford, nh

acidotic Racing

28

Alexander

Hayman

1:15:22

M

26

629

Cambridge

29

David

Loutzenheiser

1:15:34

M

45

684

Cambridge

CRC

30

Joseph

Peterson

1:15:45

M

26

710

Merrimack, Nh

31

Ryan

Boatman

1:16:08

M

24

663

Peabody

32

Andrew

Corrow

1:16:18

M

45

610

Durham, NH

Acidotic Racing

33

Mary

Pizarro

1:16:23

F

29

292

Norwood

NETT

34

Kristppher

Sortwell

1:16:45

M

31

706

Dayville, Ct

Willimantic Fighting Frogs

35

Steve

Whittey

1:17:01

M

55

748

Gloucester

Team Gloucester

36

Scott

Spence

1:17:33

M

47

696

Groton

Grey Wolves

37

Ted

Cowles

1:17:58

M

53

611

W. Granby, CT

Hartford TC

38

Emma

Barclay

1:18:07

F

37

259

Falmouth, ME

Trail Monster Running

39

Jeffrey

Saeger

1:18:17

M

62

677

Dedham

NEOC

40

David

Bidler

1:18:59

M

29

679

Scarborough, ME

Trail Monster Running

41

Brad

Pechacek

1:19:24

M

50

772

Andover, Ma

42

Jennifer

Brooks

1:19:52

F

32

436

Gloucester

43

Domenic

Naples

1:20:00

M

45

773

Marlboro

HCS

44

Max

Bukoulec

1:20:42

M

18

720

Tyngsboro, MA

THS

45

Kevin

Robinson

1:20:58

M

28

653

Winchester

46

Adrienne

Clark

1:21:00

F

38

452

Belmont

NETT

47

Greg

Whyman

1:21:31

M

42

705

Merrimac, Ma

48

Peter

Noyes

1:22:25

M

51

643

Marshfield

Marshfield RR

49

Matt

Cooney

1:22:46

M

40

703

brookline, Ma

50

Paul

Comeau

1:22:49

M

50

666

Plaistow, NH

WCRC

51

Giovanni

Parmigiani

1:22:58

M

53

648

Brookline

52

Mike

Cesarini

1:23:05

M

37

608

Duxbury

Marshfield RR

53

Gary

Jewett

1:23:07

M

45

632

Beverly

Team Gloucester

54

Nathan

Augustine

1:23:18

M

38

602

Westbrook, ME

Trail Monster Running

55

Richie

Blake

1:23:21

M

43

746

Tyngsboro, MA

Acidotic Racing

56

Michael

Clark

1:23:22

M

35

739

Providence, RI

57

Cody

Robson

1:23:24

M

16

775

Tyngsboro, MA

THS

58

Roy

Chan

1:23:42

M

31

609

Watertown

59

Tanya

Eggert

1:23:46

F

42

270

Machesny Park, IL

Coyotes

60

Thomas

Parker

1:23:49

M

45

645

Nashua

61

John

Londa

1:24:00

M

55

635

Lunenburg

62

James

Banyas

1:24:09

M

48

662

N. Hampton, NH

WCRC

63

Chester

Ruszczyk

1:24:18

M

47

769

Acron, Ma

64

Charles

Hanson

1:24:20

M

50

704

Ayer, Ma

65

Tom

Dolan

1:24:28

M

44

617

Andover

66
Earl
Littlefield
1:24:34
M
41
634
Pembroke
67

Francesca

Dominici

1:24:53

F

43

266

Brookline

68

Scott

Croumie

1:25:11

M

40

776

Burlington, Ma

69

Dimitar

Vlassarev

1:25:11

M

29

699

Somerville

70

Abby

Jackson

1:25:27

F

31

273

Newmarket

WCRC

71

Chris

Scott

1:25:32

M

61

711

Merrimac, Ma

72

Michaela

Moran

1:25:34

F

17

439

Atkinson, Nh

73

Karl

Furstenberg

1:25:36

M

67

737

Lyme Ctr, Nh

74

Evan

Sussman

1:25:44

M

32

659

Charlestown

75

Clay

Schwabe

1:25:45

M

32

730

Charlestown

76

Joseph

Anderson

1:25:50

M

32

601

Pembroke

77

Bob

Rogan

1:25:59

M

47

778

Littleton, Ma

78

Ian

Reynolds

1:26:01

M

22

650

Hopkinton

79

Linda

Brodette

1:26:12

F

44

261

N. Andover

80

Joseph

Reddy

1:26:55

M

50

685

Warwick, RI

TNT

81

Daryl

Kincaid

1:27:10

M

52

683

Newbury

WCRC

82

Zach

South

1:27:14

M

30

756

Gloucester

Team Gloucester

83

Eva

Kopf-Ridout

1:27:18

F

32

422

Somerville

Somerville RR

84

Randy

Miller

1:27:47

M

41

668

Chelmsford

85

Dave

Geary

1:28:17

M

46

747

Gloucester

86

Kelly

Aschbrenner

1:28:18

F

37

441

Nashua, NH

Gate city Striders

87

Henry

Richards

1:28:24

M

45

745

Belmont

88

Rahul

Raina

1:28:24

M

35

728

Chelmsford

East india RC

89

Mike

Walker

1:28:25

M

17

777

Tyngsboro, MA

90

John

Burke

1:28:26

M

24

664

Burlington

91

John

Hollister

1:28:46

M

45

631

Cambridge

92

Marc

Cobery

1:28:49

M

43

665

Windham, NH

93

Peter

Rinaldi

1:28:57

M

38

673

Trumbull, CT

94

Dorin

Neacsu

1:29:02

M

47

641

Westford

95

Brett

Peters

1:29:17

M

37

757

Southboro, ma

96

Sean

Kenny

1:29:35

M

39

719

Chelmsford

E streeters

97

Tad

Stewart

1:29:36

M

41

658

Winchester

98

George

Zahka

1:29:43

m

36

766

Hyde Park, Ma

99

Joshua

Haines

1:29:49

M

39

624

Acton

100

Sal

Genovese

1:29:57

M

47

781

Marblehead

101

Dave

McLaughlin

1:30:09

M

38

741

Lynn

102

TJ

Hughes

1:30:10

M

33

742

Providence, RI

103

Muffy

White

1:30:54

F

39

425

Gloucester

104

David

Stark

1:30:57

M

27

729

Sherborn, Ma

105

Richard

Georato

1:31:05

M

44

717

Brentwood, Nh

106

Regina

Otoole

1:31:29

F

37

450

107

Curtis

Child

1:31:30

M

29

712

Brockton

Pain Killers

108

Brian

Gallagher

1:31:31

M

62

623

Rochester, NH

Rochester Runners

109

Adam

Olson

1:31:36

M

40

644

Windham, NH

110

Peter

Robinson

1:32:41

M

36

652

Boston

Wheelworks Multisport

111

John

Robertson

1:32:49

M

65

676

Mendon

TVFR

112

Caitlin

Moran

1:33:15

F

29

454

Brookline

113

Robin

Allen-Burke

1:33:22

F

51

451

Wolfboro

Acidotic Racing

114

Heather

Fish

1:33:24

F

33

455

Boston, Ma

115

Bill

Rooney

1:33:25

M

47

654

Hanover

116

Richard

Benoit

1:33:27

M

44

754

Greenfield, Nh

117

Phil

Cunningham

1:33:41

M

39

612

Belmont

118

Brandon

Benoit

1:33:43

M

19

707

Greenfield, Nh

119

Ronald

Desmarais

1:33:46

M

49

616

Billerica

GLRR

120

Bob

Segal

1:33:54

M

59

656

Somerville

Mystic Runners

121

George

Gilder

1:34:11

M

72

724

tyringham, Ma

123

Ian

Fownes

1:34:14

M

45

744

Cumberland, Ri

124

Philip

Dunn

1:34:25

M

64

768

Gloucester

Team Gloucester

125

Kent

Rissmiller

1:34:30

M

58

674

Jefferson

126

Bob

Gannon

1:34:40

M

43

758

Salem, Nh

127
Colin
Evans
1:34:58

M

40

694

128

Guy

Caracciolo

1:35:03

M

41

715

Wrentham, Ma

129

Heidi

Chauvin

1:35:11

F

38

442

Kearsarge, Nh

130

Merrill

Sweet

1:35:20

M

46

750

Osterville, Ma

131

Douglas

Harvey

1:35:27

M

32

627

Salem

132

Bridget

Peterson

1:35:27

F

42

279

Norwell

133

Jennifer

Schultis

1:35:48

F

43

437

Sharon, Nh

NETT

134

Kevin

Robinson

1:35:53

M

56

651

N. Yarmouth, ME

Trail Monsters

135

Robert

McLeod

1:36:01

M

44

752

Milton, Ma

136

Kristen

Jilek

1:36:04

F

46

274

Brookline

137

Tom

Mitchell

1:36:16

M

49

669

Beverly

Team Gloucester

138

Henry

Mitchell

1:36:16

M

15

670

Beverly

139

Eirette

Santiago

1:36:25

F

35

458

Hollis, Nh

140

Paul

Hennessey

1:36:33

M

62

733

Melrose, Ma

NMC

141

Mariano

Santangelo

1:36:40

M

43

751

Derry, Nh

Acidotic Racing

142

Cheryl

Michael

1:36:50

F

51

438

Henrico, Va

143

Chris

Morrow

1:37:14

M

43

640

Nashua, NH

144

Gus

Iarrobino

1:37:15

M

47

716

Dedham

Pain Killers

145

Jeff

Hattem

1:37:19

M

60

628

Natick

GFRC

146

Sharon

Seabury

1:37:20

F

44

400

Wakefield

147

Scott

Hicks

1:37:34

M

41

767

Marlborough, Ma

148

Kelly

Luethje

1:37:41

F

34

434

Boston

149

Gary

Reuter

1:37:58

M

73

738

Kittery, ME

Acidotic Racing

150

Steve

Johnson

1:38:07

M

44

761

Andover, Ma

151

Bryan

Tedford

1:38:22

M

18

727

Gloucester

152

Keri

Bassingthwaite

1:38:41

F

33

457

Nothingham, Nh

Acidotic Racing

153

Steve

Wozniak

1:38:49

M

35

660

Raynham

154

Matt

Flynn

1:38:57

M

54

622

Chatham

155

David

Fabizio

1:38:59

M

49

753

Methuen, Ma

steviebracing

156

Wesley

Magnus

1:39:24

M

29

722

157

Kathleen

Furlani

1:39:31

F

63

429

Broad Brook, CT

Empire One

158

Ania

Childress

1:39:59

F

36

459

hamden, Ct

159

Douglas

Gray

1:40:26

M

37

681

Medford

Acidotic Racing

160

Patty

Duffy

1:40:48

F

43

268

Springfield

161

Sara

Pragulski-Walsh

1:40:49

F

33

293

Worcester

Harriers/Cyclonauts

162

Kevin

Yetman

1:40:50

M

42

661

Wilmington

MVS

163

Scott

Berkley

1:40:54

M

43

604

N. Reading

164

Brian

Ristuccia

1:40:58

M

33

675

Tewksbury

165

Chuck

McAllister

1:41:04

M

36

700

Haverhill, MA

MVS

166

Graham

McShane

1:41:24

M

30

638

Weymouth

Momo

167

Michelle

Devan

1:41:25

F

35

265

S. Boston

Momo

168

Kerri

Descheneaux

1:41:25

F

34

453

Methuen, Ma

169

Steve

Smith

1:41:26

M

60

723

Methuen, Ma

170

Michelle

Zabka-Gubiotti

1:41:27

F

40

418

Medford

171

Lindon

Steadman

1:41:29

M

31

755

Rowley, Ma

172

Carolyn

Shreck

1:41:42

F

39

415

Hampton, NH

173

Kim

Dwight

1:41:57

F

42

269

W. Newbury

WCRC

174

Adena

Schutzberg

1:41:58

F

48

300

Somerville

Somerville RR

175

Jim

Boucher

1:42:20

M

56

708

Concord, ma

176

Sarah

McLaughlin

1:42:22

F

37

433

Lynn, Ma

177

Sue

Corvi

1:43:16

F

42

264

Arlington

178

Carlene

Hempel

1:43:17

F

40

272

Concord

179

Annette

Florczak

1:43:17

F

38

426

Roslindale

180

Joseph

Mansour

1:43:20

M

50

779

methuen, Ma

181

David

Sorrells

1:43:39

M

52

678

Harvard

182

John

Elkaliouby

1:43:42

M

66

619

Hampstead, NH

GDTC

183

Kelly

Sampar

1:43:47

F

32

299

Medford

Somerville RR

184

Tom

Speidel

1:43:49

M

51

763

NuttingLake, Ma

186

Becky

Zumbach

1:44:03

F

32

419

Ashland

187

Amber

McHugh

1:44:06

F

31

447

Burke, Vt

188

Meghan

Panteleakos

1:44:11

F

34

446

Dorchester, Ma

189

Amy

Reynolds

1:44:15

F

25

297

Somerville

190

Gretchen

Reynolds

1:44:16

F

27

296

Cambridge

191

Alan

StGermain

1:44:24

M

57

732

Haverhill, MA

MVS

192

Elena

Russo

1:44:37

F

35

449

Newbury, ma

193

Penny

Matel

1:44:38

F

52

276

Hampton Falls, NH

194

Ted

Ridout

1:45:19

M

69

672

Wayland

GFRC

195

Blake

Newell

1:45:29

M

52

642

Lowell

196

Ed

Kirby

1:45:57

M

75

731

Brookline

197

Mike

Cash

1:46:56

M

27

607

Kennebunk, ME

198

Linda

Usher

1:47:34

F

63

430

Upton

199

Doug

Usher

1:47:35

M

56

691

Upton
200

Carol

Comeau

1:47:38

F

56

420

Plaistow, NH

WCRC

201

Alice

McGonigle

1:47:38

f

58

432

Byfield

WCRC

202

Mike

Dubra

1:48:32

M

51

618

Pembroke

203

Dana

Conneally

1:49:05

M

37

749

Boston, Ma

204

Christopher

Mack

1:50:11

M

40

637

Medford

Somerville RR

205

Jay

Short

1:50:34

M

46

657

Byfield

206

Kristen

Bouchard

1:50:38

F

42

440

Portsmouth, NH

WCRC

207

William

Conway

1:50:39

M

35

780

Burlington, Ma

208

William

Harned

1:50:55

M

62

709

Kensington, Nh

209

Patty

Loubris

1:51:00

F

48

275

York, ME

Acidotic Racing

210

Cindy

Bennett

1:51:01

F

53

260

Marblehead

Dead Horse Beach Club

211

Liz

Martin

1:51:38

F

31

423

Dracut

212

Chris

Condo

1:52:04

M

50

698

Hudson, Nh

213

Stephanie

Thompson

1:53:53

F

28

435

Sandwich, Ma

214

Elizabeth

Buckley

1:54:33

F

30

263

Quincy

215

John

Parker

1:54:59

M

72

646

Milford

TVFR/NE 65+

216

Chris

Harrison

1:55:32

M

58

626

Boston

L Street

217

Michele

Eggers

1:56:14

F

45

443

Hartford, Ct

Run For justice

218

Sarah

Frevald

1:56:35

F

33

456

Boston, Ma

219

Craig

Fifield

1:57:12

M

38

743

Nashua, NH

220

Tim

Wade

1:57:30

M

60

693

Chatham

221

Xar

Adelberg

1:57:37

F

30

448

Readfield, Me

misanthropic NeanderthalCollective

222

Bevy

Reynolds

1:57:48

F

18

295

Hopkinton

223

Beth

Reynolds

1:57:54

F

56

294

Hopkinton

224

Eugene

Metto

1:57:58

M

51

639

S. Hampton, NH

225

Michael

Rosenfeld

1:58:31

M

60

695

Mt Vernon, Nh

226

John

Loring

1:59:27

M

64

636

Jamaica Plain

227

Sheryl

Smith

2:00:16

F

50

424

Gloucester

228

Diane

Levesque

2:00:54

F

58

431

Rochester, NH

Rochecter runners

229

Steve

Bennett

2:00:57

M

56

603

Marblehead

Dead Horse Beach Club

230

Dan

Holmes

2:01:27

M

58

764

Lowell

231

Donna

LaCroix

2:05:14

F

42

445

Methuen, Ma

232

Bonnie

Hallinan

2:06:45

F

62

421

Danvers

233

Elisabeth

Westner

2:06:52

F

33

417

Andover

MVS

234

Allen

Hoffman

2:08:55

M

70

630

Sterling

CMS

235

Stan

Vassallo

2:09:52

M

62

701

N Andover

236

Richard

Busa

2:23:33

M

82

606

Marlboro

237

MaryLou

White

2:23:30

F

56

428

Bolton, CT

238

Robert

Schrater

2:23:57

M

63

655

Salem

239

Donna

Drinkwater

2:35:46

F

48

267

Wilmington

240

Jeremy

Nault

2:41:36

M

31

721

Peabody